31 August 2016
Newsletter Articles
CMS Students Gain National Recognition
Year 9 Short Film Project
Centralian Middle School has the community stirred by the release of a short film in which Year 9 students interpret the school values Respect, Responsibility and Fairness. Students worked alongside a recording artist to sing and compose the accompanying soundtrack, 'Raise My Head Up High'. School Principal, Eddie Fabijan, explains his reason for commissioning this short film, "after listening to the students and to the wider Alice Springs community I saw the importance of providing opportunities for CMS students to be part of the film process from start to finish, one that creates a legacy of their involvement and success at school".
One of the participants in the film, Year 9 student, Harmony Rothwell-Rawlins, described her experience as " excellent...now I have the taste for it, I want to be more involved in filmmaking". Wendy Cowan, English, Pastoral Care teacher and producer of the film explains how, "the project sits at the heart of CMS's teaching strategy to engage students in all aspects of their learning, from exploring and interpreting the school values, storyboarding their ideas through to performing as actors and singers".
The short film will be shown to Year 9 parents' at a special evening event. A shortened version of the film will live on student social media as well as local television infomercial. Media partner for the short film, CAAMA, described the relationship with CMS as a "two way exchange", Nicolas Lee, Executive Producer at CAAMA goes on to explain that he is "very happy for the collaboration to develop further as this program well fits within and works in support of CAAMA's mission to develop young local Indigenous talent for entry into mainstream media employment".
Key Dates:
9th September – Interschool Athletics Carnival
10th September - Year 8 Fundraiser Chalk n Talk Café 9am -12pm
13 – 16th September – Year 7 Camp to Glen Helen
16th September - Interschool Cross Country
28th September - Year 8 Fundraiser Trivia Night
5 - 12th November – Year 8 Camp to Top End Adventure Camp
6 - 11th November – Year 9 Camp to Adelaide
Final Immunisation Dates: Term 3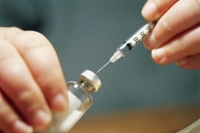 The final round of immunisations for 2015 will be held at CMS on the following dates. These immunisations are for years 7 and 8.
Tuesday 6th September
Wednesday 7th September
If you have any questions please contact Kathryn Howit, Health Promoting School Nurse on 89502504.
Reclink AFL Grand Final
CMS Students lend a hand…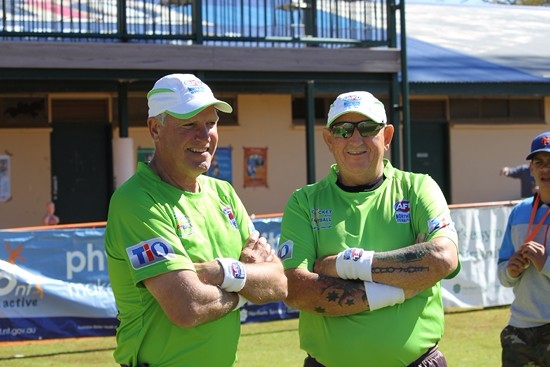 A selection of students attended the Relink AFL Grand Final at Traeger Park last week. The day was enjoyed by both students and staff. Students volunteered their time as boundary umpires and a great lunch was shared by all.
Reclink Australia is a non-profit organisation whose mission is to provide and promote sport and art programs for people experiencing disadvantage. Established in Victoria in 1990, Reclink Australia operates nationally providing over 3,800 activities and 58,000 participation opportunities for disadvantaged Australians annually.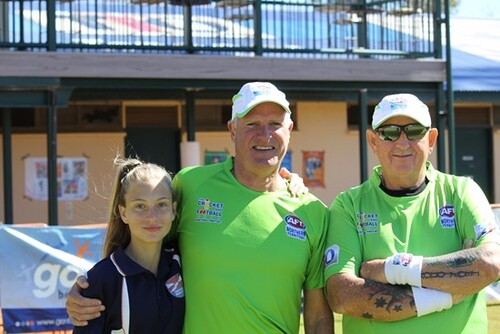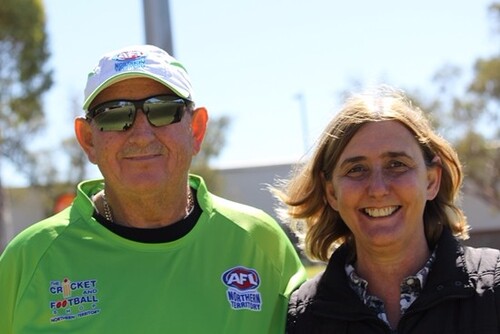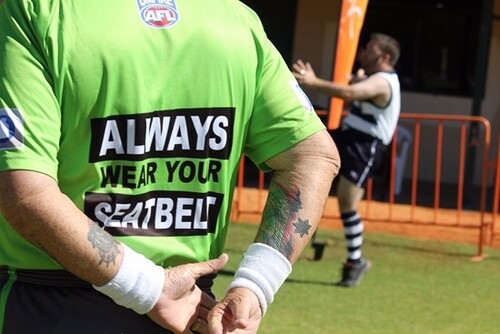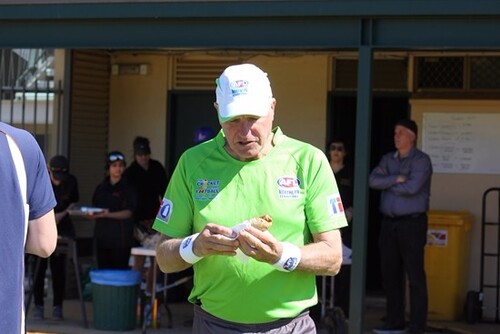 New Library Management System
Action Required to Update Student Details
The Library is updating our management system to something much simpler and user-friendly that will allow students better access to educational resources, flexible account management and the ability to search our catalogue from any internet connected device.
Our new management system called OCLC Worldshare is located outside of the Northern Territory therefore, we require your consent to transfer and store your child's information in this new system.
To allow your child to continue to use library follow the link below and fill in the online form.
http://www.cms.nt.edu.au/library
School Perception Survey for Parents/Carers
Please follow the link to have your say…
https://www.schoolsurvey.edu.au/s/CMSParents2016
School Perception Survey for Students
This is your chance to have a say at your school
https://www.schoolsurvey.edu.au/s/CMSStudent2016
Chalk and Talk Café
Year 8 & 9 Camp Fundraiser
Come down to Centralian Middle School and support our Year 8 and 9 students by enjoying a barista made coffee and cake or a delicious breakfast at our vibrant school café. Our students have also created art work that will be available to purchase. All sales go towards sending our students to camp
Year 7 Camp
13 - 16th September
Students will be camping at the Glen Helen Homestead. Please return forms and payments ASAP.
Please contact Ben Balmer for more information ben.balmer@ntschools.net.
Year 8 Camp
5 - 12th November
Students will be visiting the Top End Adventure Camp. A Trivia Night fundraiser will be happening on Wednesday 28th of September from 7pm.
Please contact Annie Thompson for more information annie.thompson1@ntschools.net.
Year 9 Camp
6 - 11th November
Students will be visiting Adelaide. Please note that the cost of this camp has reduced from $1050 to $600 due to fundraising, payment for Year 9 camp needs to be received by the end of September. For more information please contact Wellington Pasi on wellington.pasi@ntschools.net.
Poly Farmer
You may have heard of the Polly Farmer Foundation...but what's it all about?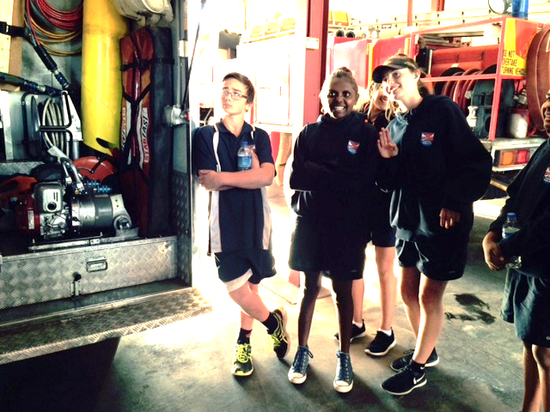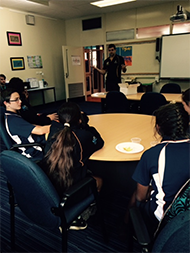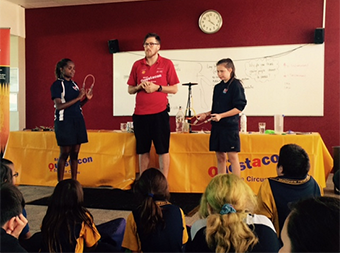 The Graham (Polly) Farmer Foundation (PFF) is a school educational support program for indigenous students who have the capacity, interest and potential to go on and complete their secondary education. The PFF runs a free after-school learning centre in partnership with CMS for Year 7 – 9 students every Monday to Thursday inclusive from 3 - 5pm. Students are provided with afternoon tea, tutorial support and transport home by school bus. Our aims are to generate positive aspirations, enhance skills and support students to achieve their potential.
In addition to our ongoing support of current students, we have been working hard to identify potential applicants. Invitations have been sent to a number of families. Please contact Wendy Cowan at CMS if you would like your child to be a part of the program. To be eligible your child needs to follow a process that includes completing an application form, have good school attendance and be working towards or achieving good grades.
Since the beginning of Term 3, in addition to regular homework support, we have also focussed on learning life skills based around the school values of Respect, Responsibility and Fairness. Students have been modelling excellent behaviour and good manners in public places during a range of educational activities and excursions.
The Shell Questacon Science Circus on the 8th August was hands on and lots of fun. Our learners were transfixed by science in action. Some of our students were even lucky enough to be chosen to perform.
Next was a visit to the Alice Springs Fire Station on the 15th August to learn about safety and equal opportunity careers in the Fire Service. Female Fire fighter Judi McGrath made a fascinating presentation on what it takes to have a career in the Fire Service, as well as Home and Road Safety awareness. Students toured the station and had the opportunity to use some of the specialised equipment. They were a credit to themselves and their families and the program and school.
Matthew Graham, Coordinator Student Service Team, Wirltu Yarlu, University of Adelaide shared the 'Big Dream's presentation to help our students to understand about goal setting and recognising personal strengths.
Next Monday Simpson's Gap excursion to consolidate their learning of the Rock Cycle and also to explore career opportunities in the Parks and Wildlife Service.
Maths Competition
CMS students had the opportunity to work with Matt Skoss in hands on maths activities. They worked collaboratively to solve detailed mathematical problems. They were given the opportunity to participate due to their knowledge of maths and commitment to learning about maths. This opportunity allowed the students to participate in activities to develop their understanding of the complex nature of maths. Matt Skoss the coordinator and presenter of the workshop said the students had excelled in the workshop and had developed skills needed to work mathematically. Another workshop is planned for term 4.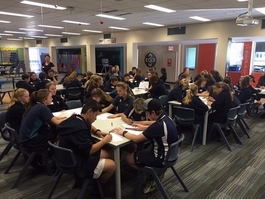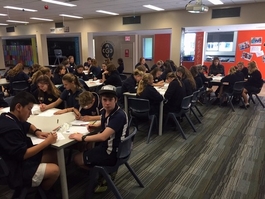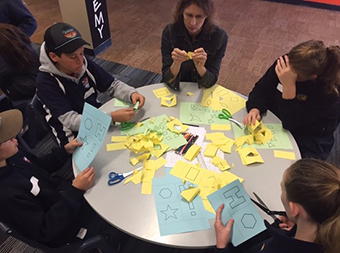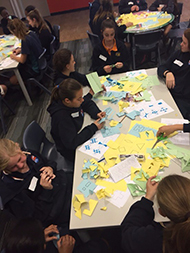 News From Clontarf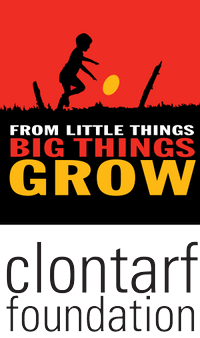 We have had a massive couple of weeks in Clontarf at Centralian Middle School. Our boys have been brilliant when performing a range of different activities and tasks. We had a gym session in the school's Fitness Centre, about 10 fellas joined in with Peter Drover particularly proud of how he looked in the gym's mirrors.
We took to the lush expanses of Jim McConville Oval last Tuesday morning where nearly 30 fellas turned up bright and early for footy training taken by the knowledgeable Luke Adams. Dave Thomas took some fellas to Ross Park Primary School on both Tuesday and Thursday lunchtimes to run some excellent primary clinics. The younger students much enjoyed the games run by our guys. Cheyne Miles took the year 9 boys down to the Todd River during contact time to volunteer with setting up for the Henley On Todd. So impressed by the Miles-led charge, Rotary asked as back to continue helping with the set up.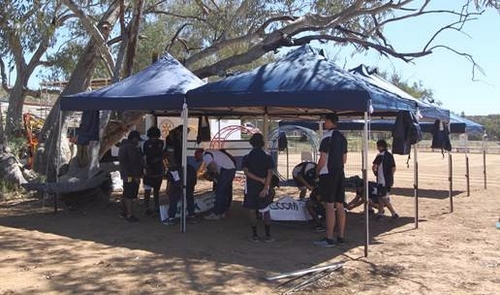 A highlight was a lunchtime game of Volley Ball against the Girls Academy crew at CMS. We won the day despite the best efforts of Sissy, Sam and the Girls Academy team.
After school on Wednesday we once again strode the lush grass of Jim McConville in a 9-a-side game of footy. Special thanks must go to Mr McGhie for joining in and setting up some brilliant handball chains for the orange team.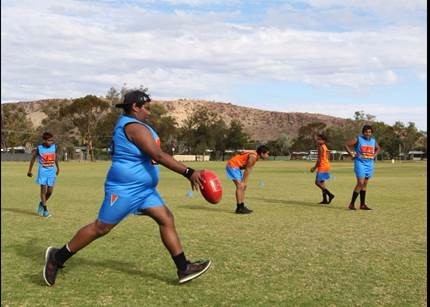 Thursday morning kicked off nice and early for a hike up some hills during the East Side Challenge. Each team had to carry some backpacks with breakfast and water as well as a flag to the top where we enjoyed some food as the sun rose.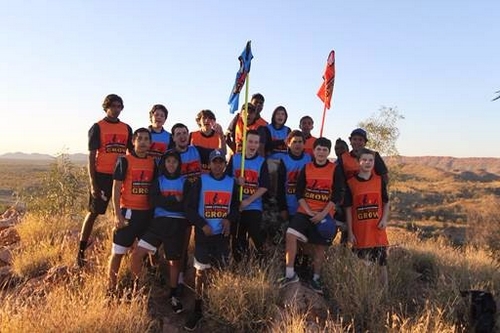 Ten year 8s kindly volunteered during Thursday contact time at the Redback Mountain Bike Race. The boys were superb in directing traffic and participants as well as cutting up fruit and handing out water.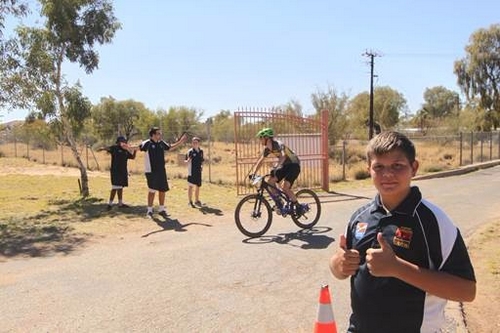 Friday saw Cheyne take a couple of year 9s to Gillen Primary School to help out at their athletics carnival. The younger students really appreciated the efforts of our guys. The year 7s finished the week by visiting the new netball stadium for a workplace visit. Scope's Peter Walsh showed us around the amazing new facility and explained the many jobs available in the construction industry. No doubt this planted a seed in our young students' minds.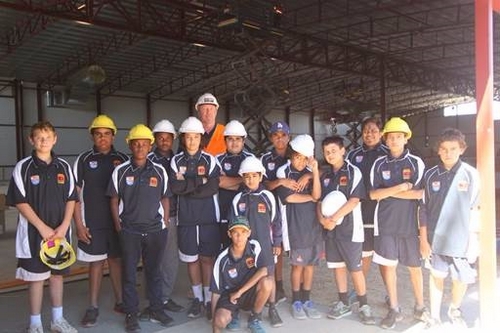 By any measure, our guys have been busy and should be commended for their efforts at school and around town. If you get a chance, have a chat to them about their week as they should have some good stories to tell.
CMS Clontarf Academy
Centralian Middle School
Community News
Colouring in Competition
Yeperenye Shopping Centre are running a Red Centre NATS Colouring in Competition for children up to 16 yrs. Lots of prizes to be won including tickets to the Red Centre NATS, Alice Springs Cinemas and Yeperenye Shopping Centre Gift Cards.
Entries can be picked up from Wendys, Alice Springs Camera House and Radio Rentals.
http://www.yeperenye.com.au/