10 February 2017
Newsletter Articles
Welcome to 2017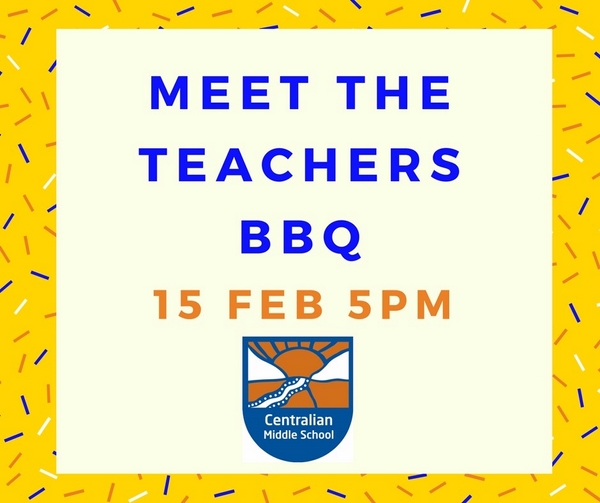 Important dates
Weds 15 February – Meet the Teachers BBQ @ CMS from 5pm – please come in and join us
Thurs-Fri 16 and 17 February – Student Leadership camp
Thurs-Fri 23-24 February – Clontarf camp
Fri 3 March – Student Free School Development Day
Mon-Fri 20-24 March – Year 9 VET Intensive program
From the Principal
What a great start we have had this year!
I am delighted to return to Centralian Middle School after four years away. Many of you will know that I have spent the last four years as the Principal of Bradshaw Primary School, where many of our students have come from. Prior to this, I was an Assistant Principal, Curriculum Co-ordinator, Team Leader and teacher at CMS and at Alice Springs High School before this.
Centralian Middle School is a very important school in this town. Our vision is 'to challenge every learner to achieve success in a safe and supportive community where diversity is valued' and this vision underpins everything that we do. We work very hard to provide high quality learning experiences in a safe environment to ensure each learner obtains the skills to be able to take advantage of the opportunities available in this town and beyond.
We have the benefit of students attending here from all walks of life. The richness that this brings to our community is tremendous and the capacity to learn from and about each other significant. Our students are forming the relationships that they will carry forwards into their adult lives in Alice Springs and beyond.
There are many families that I am yet to meet. Please seek me out and introduce yourselves. We know that students do best when home and school work closely together. Please also introduce yourself to your child's homegroup teacher and team leader. These are key contacts for you to help support your child's learning and to resolve any issues that may arise. Next week we have out Meet the Teacher Barbecue on Wednesday at 5pm – please join us at this time.
We have many new students and families joining the school this year and I am sure that you will welcome them warmly into our school. In particular I would like to welcome our Year 7 students who have made their first steps into secondary education. This is a big transition but rest assured we have the support in place to help you to be your best and excel in your learning.
We also have a number of new and returning staff. Welcome to:
Cassie O'Bree, who returns from parental leave as our Assistant Principal
Kristi Beynon, who returns as our Senior Teacher for Positive Behaviour
Stefanie Farr, who joins us as a Year 7 Maths and Science teacher
Bec Gibb, who returns to us as a Year 7 English Teacher and pedagogical coach
Elizabeth Hills, who joins us as a Small Group teacher in Year 7
Sarah McCord, who joins us as a Year 8 English and Humanities teacher.
Monica Russell, who joins us as a Year 8 Health and PE teacher
Jack Talbot, who joins us as a Year 9 English and Humanities teacher
Tenneil Wark, who returns as a Special Ed Support Officer with our Diverse Learners Class
Lachlan Cohen, Emily Webster and Ashika Biar, who are assisting with covering teacher absence across the school
Our new staff have included a short introduction in the newsletter.
Next week we have our Student Leadership Camp involving our School Captains, House Captains, Vice Captains and Student Representative Council Members. This is an important leadership training opportunity for our young people which will help to sharpen their skills for their roles over the next year. I am very much looking forwards to joining with our leaders for aspects of the program.
I hope you enjoy reading our first newsletter of the year and look forward to meeting you next Wednesday at our Meet the Teacher event.
Kind regards
Paul van Holsteyn
Visit from the Minister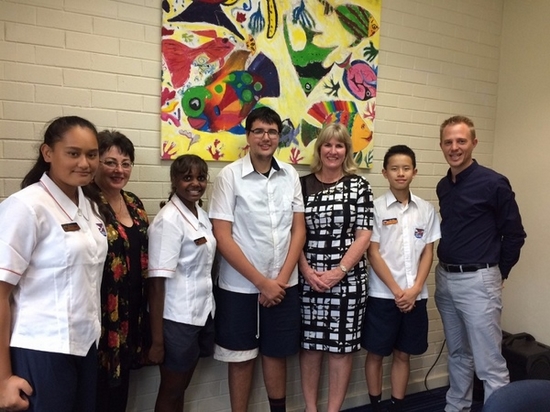 Centralian Middle School welcomed Education Minister the honourable Eva Lawyer MLA and Chief Executive Vicki Baylis met with our student leaders last week. Our guests were very supportive of our school improvement agenda and commended our student leaders.
We look forward to welcoming them into our school again soon.
Year 7
What a busy start to the year it has been! I am really happy with how students and new teachers are settling in to the school. I would like to welcome new families and returning families to the school and give a brief introduction into what Year 7 will be focusing on this term.
This term in Year 7 we will be concentrating on developing the tools we need for learning. We have high expectations for our learners, which start with being at school on time every day, being prepared for learning, having the correct uniform and equipment and coming with a positive frame of mind.
We will be continuing to develop our language of learning, what it means to be a learner, and how we can see students succeed to be the person they would like to become.
Our staff in Year 7!
Rebecca Gibb
I am Bec Gibb. I began teaching in Victoria in 2006 and have taken my profession on a few adventures overseas and around Australia since then. I have worked at CMS over the past 7 years in a few different roles. I spent the last 18 months working with teachers in bush and town schools and sometimes sitting at a desk in the education department office. I am very happy to be back at CMS this year to teach year 7 English to 7-1 and also to work with teachers and support them with their teaching and learning
Laryssa Montgomery and Sherri Bryers
Laryssa and Sherri will be job sharing this year. Laryssa has previously worked at Centralian Senior College in Alice Springs, and Sherri has come from MacKillop Catholic College in Darwin. We have been at Centralian Middle School for just under a year and we both have a strong knowledge in Humanities and English curriculum.
We will be teaching English and Humanities to 7-2 and 7-4 and will share the Homegroup responsibilities of 7-2
Stefanie Farr
My name is Miss Stefanie Farr, and I am thrilled to be a Grade 7 Maths and Science teacher for 7-1 and 7-3 in 2017. I'm brand new to Alice Springs, and was previously a science researcher on the Gold Coast in Queensland.
Gwenyth Broug
My name is Gwenyth Broug. I teach Year 7-1, 7-3 and 8-3 Humanities at Centralian Middle School. I have a Masters of Environmental Education from Melbourne University and I have taught in Top End and Central Australian Schools since 2001 commencing teaching at CMS in January 2016.
Ben Balmer
HI! I have been teaching in Alice Springs since 2005 and have taught at Anzac Hill High and now CMS. During the first half of 2010 I spent 6 months as School Sport Coordinator for what was then Desert Storm. I teach HPE and am the Year 7 coordinator. I took the opportunity to stay as Year 7 coordinator this year to further develop my skills and knowledge in working with young children.
I will be teaching HPE to 7-1 and 7-3 along with an Extra PE class for all classes throughout the year.
Julie North
Ms North will be teaching 7-3 Homegroup and Home Economics across all Year levels, we welcome her to the year 7 team after teaching in the small groups centre at CMS in 2016.
Owen Gale
Owen Gale grew up in Adelaide and lived in Darwin and other parts of the NT before coming to Alice Springs. He previously served in the Australian Army for a number of years then went on to work as an environmental scientist and tour guide. Has a keen interest in all reptiles and loves living and working in Alice Springs. Owen will be teaching Year 7 Maths and Science.
Liz Hills
Liz will be working with the year 7 small groups students. Liz has previously worked as a teacher in WA and is now based in Alice Springs. Liz is passionate about diversity and inclusion and specialises in program adaptation. She is excited about the new school year!
Year 8
My name is Wellington Pasi. I have been at CMS since 2009. I am going to be your child's team leader for 2017. I am looking forward to building on what Ben Balmer has done in 2016.I would like to acknowledge the great work he and the Year 7 team have done in preparing these great young men and women for Year 8.
Our new teachers for 2017 include:
Sarah McCord
I have recently moved to Alice Springs to teach Year 8 English and Humanities at CMS. Whilst I spent part of my childhood in the NT, my family moved to Broome, WA when I was a eleven and it is now the place I call home. I have had the opportunity to live and study in Melbourne, Vic, and work abroad as an ESL teacher in low socio-economic schools in Hanoi, Vietnam.
On returning to Australia at the start of 2016, I completed a Master's degree in Applied Linguistics. It has been wonderful returning to the NT, and meeting the staff and students of CMS. I look forward to meeting more of the school community in the coming weeks.
Monica Russell
I have recently moved to Alice Springs from Victoria, where I was working at Mittagundi Outdoor Education Centre as a Program Leader. Previous to Mittagundi I was studying at Federation University (formally known as University of Ballarat). I am excited to be joining CMS, and am delighted to join the H/PE team. I am looking forward to all the wonderful opportunities that I may encounter while in Alice Springs.
The year 8 team will be focusing on a number of issues among which are;
I am passionate about a number of issues among which are;
Diverse and productive classrooms
Students' wellbeing
A rich and challenging curriculum which supports low level students and extends the high achievers.
I believe:
Every student has the right to learn.
No student should stop/disrupt other students' learning.
Every student has the right to feel safe.
Parental and stakeholder involvement in students' education results in a strong partnership with the school resulting in better outcomes for students.
In the 2017 I will be expecting:
All students to be in school uniform
Be in possession of adequate stationery. (Back to school vouchers can be used for this)
Your support in making sure that all homework/assignments are handed in on time. Assistance will be provided for students who will be seen to be struggling.
Once again I am looking forward to working with you and wish you a successful 2017.
Regards, Wellington Pasi
Year 8 Coordinator (2017)
Year 9
Welcome back to all our wonderful year 9 students and a special welcome to all new students to year 9 this year. We are in for an exciting and jam packed year and are thrilled to have such a motivated and driven group of students as the leaders of our school. As always the year 9 teachers will continue to hold high expectations of all students and will begin to encourage them to take more ownership of their actions.
Year 9 students will be working this year to develop our school wide positive behaviour matrix and will be role models to ensure we have a positive culture here at CMS. With every new year comes change and this year is not an exception. The year nine team this year is made up of:
Annie Thompson - Team Leader
Leah Carroll- 9.1 Home Group Teacher, English and Humanities
Jack Talbot- 9.2 Home Group Teacher, English and Humanities
Stephen Ryan- 9.3 Home Group Teacher, Design and Technology
Bonnie Chapman-9.4 Home Group Teacher, Maths and Science
Kate Axten- 9.5 Small Group Teacher
Fiona Hunter/Shelly Caspani- Student Support
Other teaching staff working with year 9's this year:
Ian Shepherd- Maths
Laarni Gaces- Science
Monica Russell- Health and Physical Education
We would like to welcome both Jack and Monica to Centralian Middle School as new teachers to Alice Springs and welcome Laarni back to CMS. Jack has been kind enough to give us a little blurb about himself.
Jack Talbot
"I was born in Darwin and grew up in Alice Springs. There's actually a teacher here on staff who taught me when I was in high school - but I won't dob them in! Since leaving Alice, I've spent the last 8 years living in Victoria. I went to university in Melbourne and then moved to the small regional town of Horsham where I began my teaching career. I've been teaching English and Humanities for the two years now and love the fact that my job is one that gives me opportunities to continue learning every day. I'm really excited to be back in my home town - Alice is such a beautiful place and I will NOT miss those Victorian winters."
This year the structure of year 9 has altered slightly from previous years to allow students in the Small Group Centre (SGC) the opportunity to join mainstream classes. All year 9 students including the SGC class is located in the classrooms at the bottom of A block. This allows for easy transition between classes for all students. In previous years each home group has been allocated a classroom and teachers move between the rooms to deliver lessons to students. This year students have been given the responsibility to move between classrooms to each subject, this is in preparation of what to expect next year when the move on to the senior college.
LOTE and elective classes will be running as they have in previous years. All students will continue with the LOTE class they have been participating in since year 7. As for Electives on day one of the term students were given the option of 5 different elective classes. Most students were given their first preference. These options included; Home Economics, Design and Tech, Visual Arts, Dance and Advanced P.E.
Over the years at CMS we have formed a great partnership with the Charles Darwin University VET program. This is a program that is open to all year 9 students who wish to try their hand at a hospitality or trade pathway. VET will be running in intensive blocks with a total of 4 throughout the year. Students who which to participate are expected to attend these intensive blocks in the time allocated. The first intensive will be in week 8 of term 1. Students who have expressed interest in a VET pathway have been given a form which needs to be filled in and returned as soon as possible to secure a place. If your child has not received a form and would like to have a go at VET please remind them to get a form from their homegroup teacher or myself ASAP.
Last but not least planning for our year 9 camp is currently underway. It is our aim this year to plan a trip that all students are given the opportunity to attend. Information will be distributed to students as we get closer towards the end of term 1.
I look forward to a productive and successful year. If you have any questions or concerns please do not hesitate to contact me via email annie.thompson1@ntschools.net or phone 8950 2500. I will endeavour to keep you updated at the beginning of each term with what is happening in year 9.
Kind Regards
Annie Thompson
Year 9 Coordinator
Some reminders
We need your support around a few things:
All students have to be in full school uniform every day.
School starts at 8.30.
Students need to have books, pens and pencils to be prepared for learning. A stationery pack is available from Student Access.
Students are not to have mobile phones between 8.30 and 3.00. Students can drop them off in the office or keep them switched off on their person during the day. Please do not call or text your child during the day. If you need to urgently contact your child, please call the office.
Soft drinks and energy drinks are not appropriate drinks for at school. These will be removed from students.
Healthy drinks and food is available for purchase from the canteen on a daily basis.
Teaching Teams
The Leadership Team
Mr Paul Van Holsteyn
Principal

Ms Cassie O'Bree
Assistant Principal
Ms. Kristi Beynon
School Wide Positive Behaviour Support
Senior Teacher

Mr. Ben Balmer Year 7 Senior Teacher

Mr Wellington Pasi Year 8 Senior Teacher

Ms Annie Thompson Year 9 Senior Teacher
Mrs Rachel
Helliwell Student
Support Senior Teacher

Mrs Carol
Watson Business
Manager

Ms Kirsten
Wilson
Counsellor
Year 7 Team
Mrs Sherri Bryers
English/SOSE

Mrs Laryssa
Montgomery
English/SOSE

Ms Rebecca
Gibb English
Mrs Gwenyth Broug
SOSE

Mr Owen Gale
Maths/Science
Mrs Elizabeth Hills
Small Groups

Ms Stefanie Farr
Maths/Science
Year 8
Mrs Gwenyth
Broug SOSE

Mr Al Dunbar
Maths/Science
Ian Shepherd
Teacher

David Douglass
Science

Mr Hans
Westermann
Small Groups
Ms Sarah McCord
English/SOSE
Year 9
Bonnie Chapman
Maths/Science

Laarni Gaces
Science

Kate Axten
Small Groups
Annie Thompson
Senior Teacher
and Health/PE

Leah Carroll
English / SOSE

Ian Shepherd
Maths
Art/Design & Technology
Natalie O'Connor
Dance
Stephen Ryan
Design and Technology

Stone Lee
Visual Arts

Julie North
Home Economics
Student Support
Rachel Helliwell
Student Support

Kathryn Howitt
School Nurse

Kirsten Wilson
Counsellor

Denise Casey
Home Liaison Officer
Jamahl Hayes – AIEW

Barry
Georgopoulos –
Small Groups
Support

Shelly Caspani –
Small Groups Support

Fiona Hunter –
Small Groups Support
Tenniel Wark –
Small Groups
Support

Nola Hunter –
Small Groups
Support

Astrid Joyce
Library

Annie Lewis
Administration
Julia Pearson
Administration

Vicki-Lee Smith
Canteen

Joe Breen
IT Supportt

Carolyn Bindle
Science
Technician
Support
From the School Counsellor
We are fortunate to have Kirsten Wilson, a School Counsellor on site. She has a background in Family Support and Children's counselling. Kirsten recently completed her Masters of Narrative Therapy and Community Work and has a Bachelor of Social Work. She has been living and working in the Central Australian region both in Alice Springs and remote communities since 2009. Kirsten is passionate about finding ways to support young people to access education that is appropriate and suitable for their individual needs. Through many discussions with young people she has built a good understanding of the complexities of young people's lives and works in a way that supports young people explore different ways of responding that help them to engage in their education in a positive way.
Uniforms
Please visit Student Access between 8am – 8.30am or 3pm-3.30pm to buy uniforms. The Back to School Voucher expires on the 1st April 2016.
Instrumental lessons
We are very fortunate to work in partnership with the NT Music School to provide instrumental lessons and band opportunities to students at CMS at a very low price. Lessons are available for guitar, bass, drums, flute, clarinet, saxophone, trombone and trumpet. Additionally there will be a 'Rock School' program and a choir starting next week. It costs $50 per year to register with the Music School and all lessons are provided free. Choir is also free. Students were given sign up forms this week and additional forms are available from the office.
We would like to see 40 students participating in instrumental lessons this year.
Clontarf Academy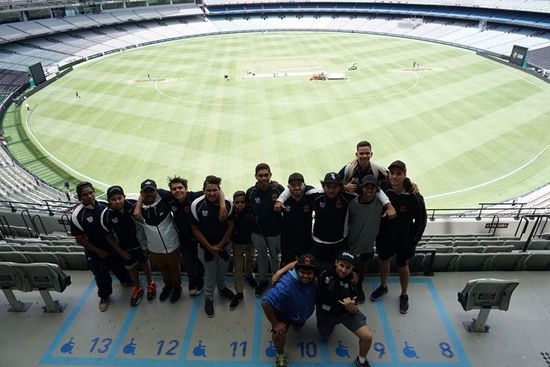 Clontarf would like to welcome everyone and express our excitement about starting off 2017 at the Clontarf Academy. I just wanted to give a quick update on what we are up to for the next couple of weeks in Clontarf.
Morning Training kicked off on Thursday at 7am with Cricket in the Hall. It was great to see 19 guys up bright and early, and even more pleasing to see that a number of new year 7s were keen to get involved.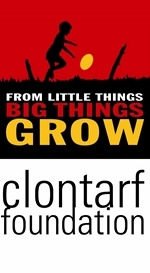 Next week the Imparja Cup is on and we aim to have 20 students participating in the Schools Division of the Imparja Cup on Wednesday morning. If there are any keen cricketers, make sure you come and sign up.
Every second Friday at lunchtime for term 1 we have planned activities that both staff and students can be involved in. This kicks off on Friday the 10th February at 12:30 with Staff & Student Kickball in the Hall. Dust off your runners and come on down!
We look forward to getting to know new students and running some great programs, please feel free to contact us anytime!
Liam (and Luke and Dave)
| | | |
| --- | --- | --- |
| Liam Quinn | David Thomas | Luke Adams |
Girls Academy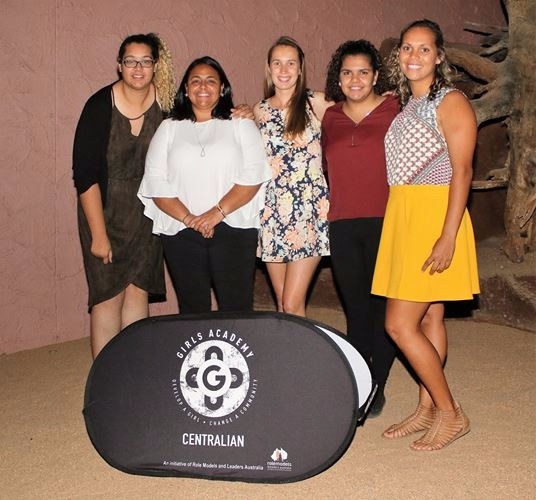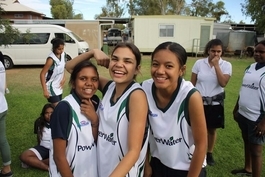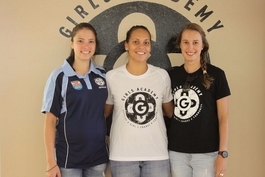 Girls Academy would like to welcome all families and students to 2017 Term 1 at Centralian Middle School. It's exciting to see new faces around the school and we look forward to getting to know our new members of the school in Year 7, as well as other new members of the school in year 8 and 9. We are glad to see our existing members of the Academy back at school looking a little taller and more mature than last year.
Term 1 Program Outline
This term in the Centralian Girls Academy we will be kicking off our activities in Week 2. Our contact times will be a single lesson each week starting with Year 8's on Monday, Year 7's on Tuesday and Year 9's on Friday. Our after-school activities will include cooking, arts/crafts, sports & games on Tuesday and Thursday afternoons and will finish in Week 9. We would like to get to know our Year 7 students and make them feel welcomed into all aspects of our program, so we have made Week 2 after-school activities strictly Year 7's only.
Staffing
We would like to announce that the Centralian Girls Academy has 2 new staff members to welcome on board. Our new Program Manager Nicolette Dunn has worked at the Middle School for the past 5 years as the Development Officer. Our new Development Officer Lateesha Jeffrey has joined the Girls Academy Team for Term 1 and brings with her a wealth of knowledge working with the Palmerston Girls Academy and other Girls Programs. We wish Nicolette and Lateesha the best in 2017.
Special Thanks
We would also like to give a very big, special thanks to Samarra Schwarz for all her blood, sweat and tears that she has put into the Centralian Girls Academy over 5 years as the Program Manager. The staff and girls are going to miss you. We wish you the best in your future and new job as the Administrative Coordinator at the Central Australian Aboriginal Congress.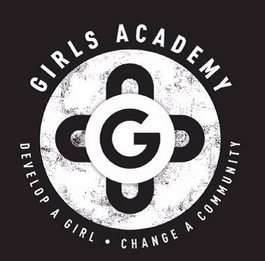 Nicolette Dunn Program Manager,
Sam Hoogeveen-Hill,
Lateesha Jeffrey
Polly Farmer 'Follow the Dream'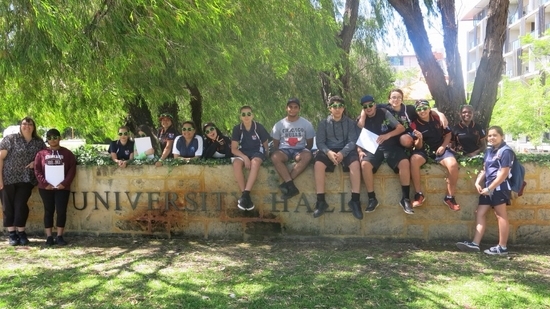 University of Western Australia
Polly Farmer 'Follow the Dream' program is starting back on Monday 6th February with a jam-packed program. Come and check it out….you will be enthused and ready to roll-up your sleeves to engage in exciting learning opportunities.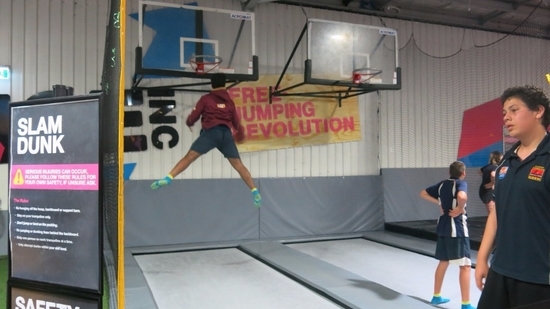 Feeling the jumping revolution!
The end of year Perth camp was a jam-packed, fun-filled adventure. Students met and worked with artists, police officers, academics, cultural custodians, scientists as well as having time to practice their ice-skating and trampolining skills.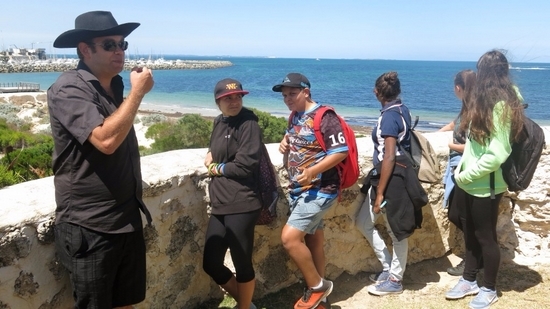 Indigenous history tour of Freemantle, Perth
Snake Season, please be vigilant
Alice Springs is home to some of the world's most venomous snakes. The Northern Territory is unique in Australia in the fact that it covers the cost of the Reptile Removal Service, effectively making it a free service.
A well-trained, well resourced, dedicated team are on stand-by 24 hours a day, seven days-a-week, year in-year out to assist with the removal of wayward reptiles including highly venomous snakes and the occasional very large Perentie (Goanna). A dedicated 'snake phone' can be called at any time on 0407983276.
We have spoken with all of our students around snake safety and the procedures that we will follow at school if a snake is sighted.
Tip: put this number into your mobile phone now. We ask that you ring us, watch the snake from a safe distance, do not disturb it and wait till we arrive. The beauty of Alice Springs is that it is a compact town. It does not take us very long to get anywhere which results in good capture ratios.
Tennis at CMS