24 February 2017
Newsletter Articles
Important dates
Fri 3 March – Student Free School Development Day
5pm Tuesday 14 March – School Council Annual General Meeting
Mon-Fri 20-24 March – Year 9 VET Intensive program
28 &29 March - Immunisations for Year 7 & 8 students
From the Principal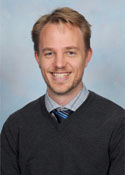 Paul Van Holsteyn
It has been a busy and productive few weeks at CMS. It is pleasing to see that classes have settled down to learning and the tone, routines and processes are in place across the school to support this.
One highlight of the last fortnight for me was accompanying our student leaders on their leadership development camp. We took 43 SRC representatives, House Captains and School Captains from Years 7 to 9 away for two days of leadership development. There was a particular focus on developing the relationships within the group as well as consideration of what is leadership, what are my strengths and areas to develop and how can we act to positively impact on the school. You might have heard our school captains reflecting on the camp last Saturday morning on ABC radio! These leaders will continue to meet fortnightly with Ms Axten and Ms Kirsten. Particular thanks to Ms Axten, Ms Kirsten and Ms Farr for organising and accompanying the camp.
Our Music and enrichment programs have commenced for the year. Dance lessons are in place for all students as an enrichment opportunity and some groups and individuals are considering entering in the Eistedfodd. Ms O'Connor works with these students and interested students can talk with their Team Leader about participating.
We work in partnership with the NT Music School to provide instrumental and band music opportunities and there is more information further in this newsletter about this. We would love to see 40 CMS students participating in these opportunities.
We have also brought together a choir – we have around 20 students working with Steph Harrison and Ms O'Bree on Mondays during lesson 4. There is room for more. Interested students should catch up with Ms O'Bree.
Polly Farmer has also kicked off for the year. We have two Polly Farmer programs operating at CMS – the Maths and Science Centre for Excellence program which is open to students in Years 4-6 from our feeder primary schools and the Follow the Dream which is an after school learning club that operates four afternoons per week and is open to all Aboriginal students at CMS. I strongly encourage students to join the Follow the Dream program as it is a phenomenal learning opportunity. Students work with a number of teaching and tutor staff in a supportive environment. Enrolment forms can be picked up from the Front Office.
Next week we have a student-free School Development Day on Friday (5th March). We have two of these days over the year and they are integral to our professional learning and school improvement agenda. Next week we are commencing a new journey on Relationships Based Learning. We have Laurayne Tafa joining us for the day from New Zealand. Laurayne is an internationally recognised facilitator and expert in this area; we are very lucky that she is working with us. Relationships Based Learning brings together and unifies the work we have already undertaken around Visible Learning and School Wide Positive Behaviour Support. We appreciate that it can be difficult to make alternative arrangements for your children on days like this and we thank you for doing so.
We have the Annual General Meeting for our School Council coming up at 5pm on Tuesday 14th March. School Council is made up of parent, staff and student representatives. It is a very important body within the school as it sets the school's strategic direction and provides high level advice to the school about how we are operating. We are looking for new parents to join the council - no qualifications or experience is required. Meetings are in the evening once monthly – its not a huge commitment and can help you to gain new insights into the school and help you to shape where the school is going. Please call me if you would like to discuss School Council or any other matter.
Thanks to everyone who attended our Meet the Teachers night last week. This was an informal opportunity for families and staff to meet and start developing a relationship which will be vital to supporting our students to succeed over the year. We know that students do well when home and school work closely together and we look forward to continue developing those relationships over the year.
International Women's Day is coming up on Wednesday 8th March. The Girls Academy program are leading our celebrations and there will be opportunities for family and community members to join us for this important day. More details to follow.
Lastly, we are currently considering how we will celebrate Harmony Day this year. This day recognises and celebrates the diversity within our community, our society and out nation. The slogan, 'everyone belongs', speaks very strongly to what we endeavour to achieve at Centralian Middle School. Harmony Day is 21st March. Let me know if you have any thoughts about how we can celebrate the day.
Warm regards
Paul van Holsteyn
Teaching & Learning
Students are assessed using the Australian Curriculum. The Australian Curriculum sets the expectations for what all Australian students should be taught, regardless of where they live or their background. For Transition to Year 10, it means that students now have access to the same content, and their achievement can be judged against consistent national standards. An achievement standard describes the quality of learning (the depth of understanding, extent of knowledge and sophistication of skill) typically expected of students as they progress through schooling. Students are then assigned an A to E grade based on a 'collection' of evidence across the year. This assessment schedule provided explains what assessment students will be completing in Term 1 for each of their core subjects.
If you have any questions please contact the school to speak to your child's teacher.
Merit Cards
Congratulations to Son-J Padam on successfully completing 5 merit cards!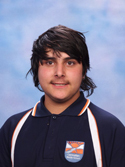 Son-J Padam
Canteen Update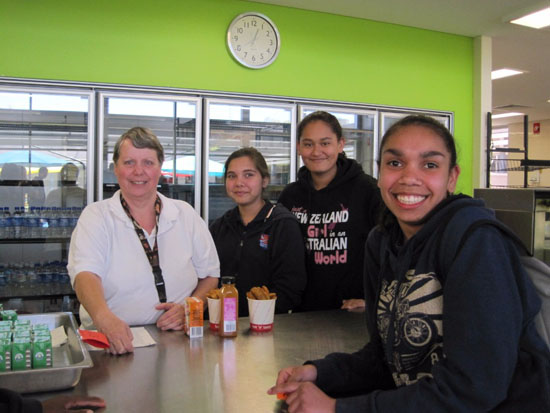 The canteen is now open for breakfast from 7:45 – 8:15 am. There is a selection of hot and cold food including egg and bacon sandwiches, fruit and juices.
This service will only continue if popular among students.
Annual General Meeting
New members needed for 2017
Centralian Middle School AGM will be held on Tuesday 14th March at 5 pm in the CMS staffroom.
All parents welcome to attend the AGM, we also require new members for 2017. If you are interested in joining or would like to find out more please phone Carol Watson on ph: 89 502 509
Leadership Camp
Last week 43 student leaders participated in the first school camp of the year. The two day camp was action packed with students having the opportunity to get to know each other and participate in teambuilding activities, discussions about what a leader at CMS looks like and be the first group to ever camp overnight in the Nocturnal House at the Alice Springs Desert Park.
Students participated in an intensive leadership program that built on their skills as a leader and enabled them to discuss the roles and responsibilities associated with their positions. Below we have included some feedback from a few of the students that participated:
Jamie Campbell (Year 8 SRC) said that "the two things I have learnt over the last two days are working together as a team and all leaders names." Teambuilding activities were a large component of the camp. Cody Hodgins (Earth Vice-House Captain) learnt that "When you work in teams it's easier than by yourself." Annie Li (Year 9 SRC) said that the camp helped her "learn some important qualities you need to be a leader." She looks forward to "making the school environment a better place and improving how the student voice can be heard." Jemma Morick (Year 8 SRC) wants to work on ways that as a team we can "accept people for who they are and they may actually have amazing ideas you just have to listen." And Stephen Hoare (Earth House Captain) said "I have learnt that I am able to communicate with the other leaders of the school and I have also learnt that I am able to build strong relationships with my peers. I have learnt to have patience."
Our student leadership team for this year have some strong goals that they are aiming to work on Nikiah Tommy (Year 7 SRC) is looking forward to being a strong and kind leader and working on her confidence. Liesha Bosel-Cross (Air Vice-House Captain) has set a goal for this year to "not be shame to talk to people such as big groups because we are a team and shouldn't back out of anything." Lance Norman (Year 9 SRC) is looking forward to working on his listening and speaking skills and growing more confidence with public speaking. While Jarita Robertson (Fire Vice-House Captain) is looking forward to working on strategies that allow her to make conversation with people she does not know.
We are incredibly proud of our 2017 Student Leadership group and have some big plans for this year.
We look forward to sharing their progress with you all throughout the year.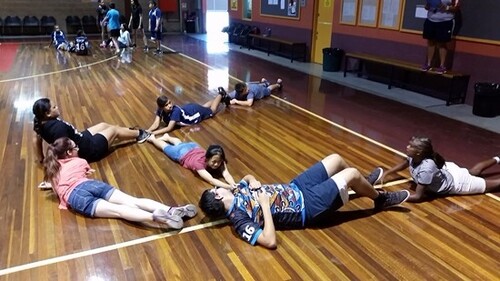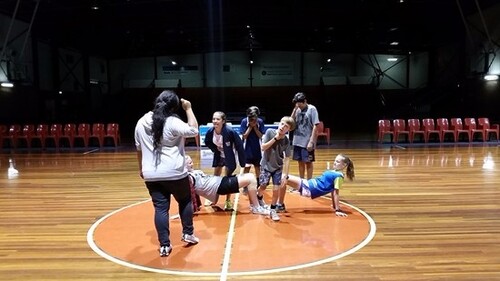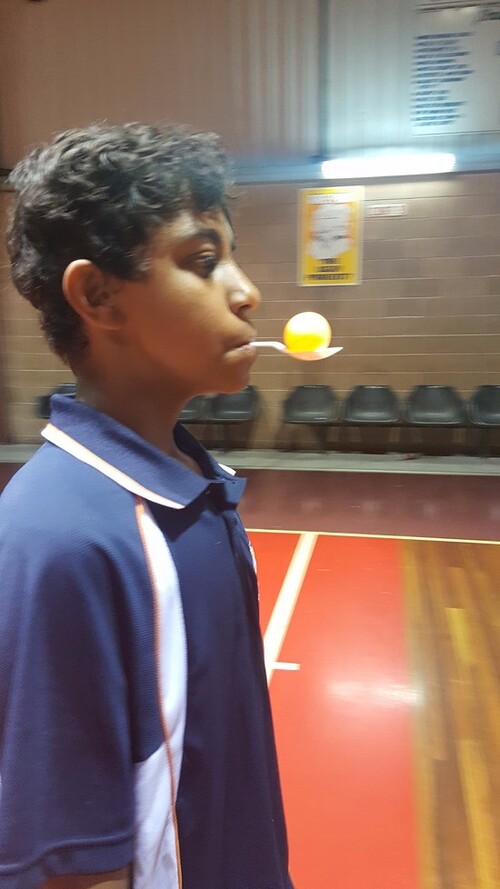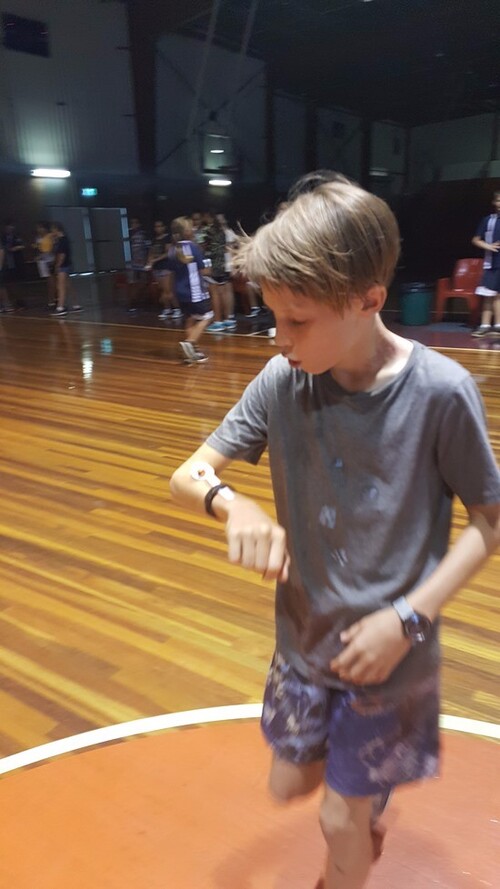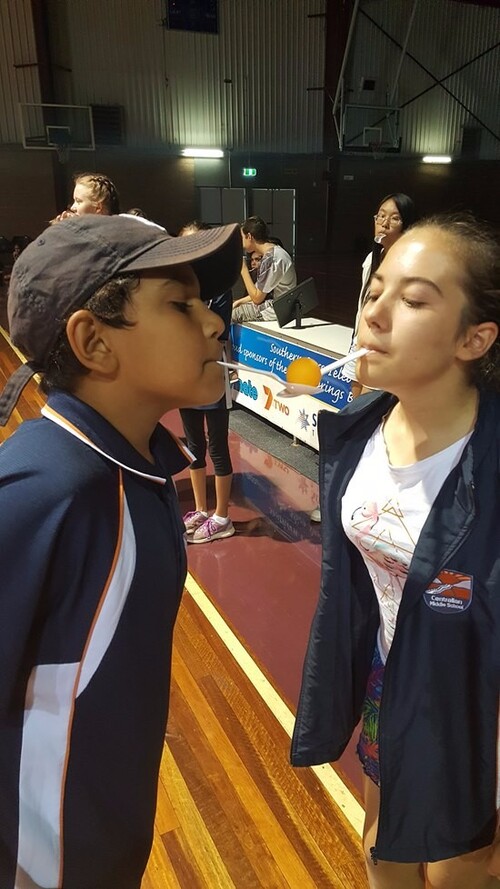 Rock School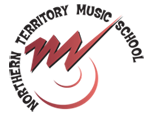 New to Alice this year, NTMS' exclusive program for middle and high school students, Rock School.
This will be offered during the day for CMS students and after school on Fridays from 3:30 to 4:30 for all middle and high school students in Alice Springs. The Friday session is by audition only.
Letters were distributed at meetings in Week 2. Year Level Coordinators and the Front Office staff have additional letters if required.
If you have any questions, please contact Caleb Goodman at caleb.goman@ntschools net or the friendly staff at our Darwin office on 08 8963 5550 or nt.musicschool@ntschools.net. The NT Music School's vision is, "Everyone Can Play".
Instrumental Program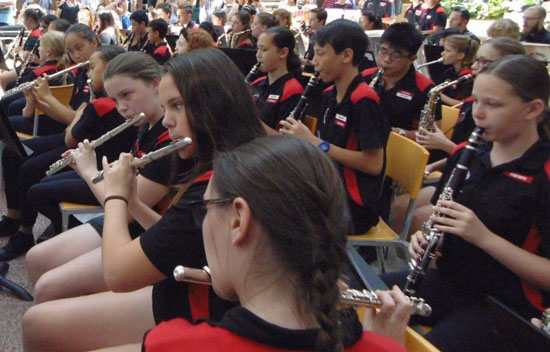 Make music a part of your child's life with the Northern Territory Music School (NTMS). Students receive weekly instrumental instruction free of charge! The annual registration fee is just $50.00.
Only students attending NT Government schools have access to the NTMS program. Lessons are offered from Year 5 upwards. Year 4's will be accepted once Year 5 and 6 students are placed. Our instrumental program includes flute, clarinet saxophone, trumpet, trombone, guitar and percussion.
Brochures can be picked up at your school's front office or visit our webpage via the link below, click on the 'Enrolment Form' and sign your child up online. It's that simple.
If you have any questions, please contact the friendly staff at our Darwin office on 08 8963 5550 or nt.musicschool@ntschools.net. The NT Music School's vision is, "Everyone Can Play".
Year 7 Update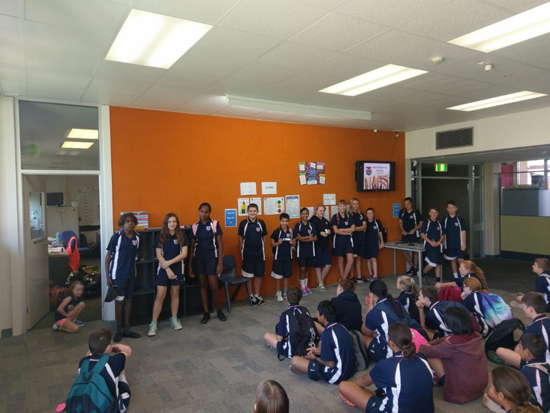 The year 7's have settled in well to learning at CMS. It's great to see so many students here at school regularly and being active within the school
We would like to congratulate the following students for becoming year 7 members of the SRC:
Ayesha Gamboa
Falcon Padam
Hope Heremaia
Abraham Lennie
Sarah Rankin
Witani Armstrong
Kaidence Fishook
Dokota Strawbridge
Iniko Stanley
Laine Clarke
Roy Assan
Kingsley Tilmouth
Nikiah Tommy
I would also like to congratulate many year 7s for their outstanding use of the merit system we have in place, as you can see by the photo many students are using our merit cards and being recognized for great things within the school.
I would like to remind all parents and students that in our year 7 space it is expected all students are on time to class and are expected to be doing the best they can. We are beginning to see students arriving to school without the correct equipment for school so please ensure that all children come equipped to school with the adequate books, pens or pencils required for learning.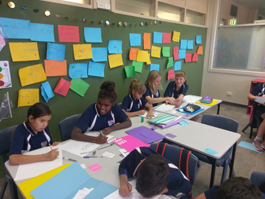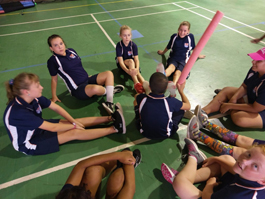 7.5 have been loving learning all about robotics!
7.5 is Cool!!!
Our class is 7.5.We are in a small class. We have eight people in our class. Five of us are teenagers and we have two adults and one bird.
We are learning about the school values, safety, how to become good citizens with good personalities and to become good parents.
Our classroom is safe because we stick together and help each other. We have daily routines.
We start and end the day with positive attitudes.
Blade "I like reading and playing on the computer with Red"
Cliffy "It's nice and peaceful. We are greeted by our teachers warmly and kindly."
Blake "You can learn every day. We respect teenagers and the teachers."
Jayden "I like it. There's a small group of people here. I think it's nice because people don't stare at me. I follow expectations in this class."
Miss Nola "I see a lovely group of students who are going to try their best. They know what is expected and respect us and follow SWPBS. Miss Liz is being fair to all and we are making it the most positive and best class in the school. The kids are great to each other, helping out each other."
Miss Liz "We have all become good friends. I like how we can be honest with each other in a nice, respectful way. I think our classroom looks amazing! Our class has worked hard to make it bright, colourful and to show people all of the things we do. I know that we are going to have a great year!"
All of the people on our class are kind and helpful.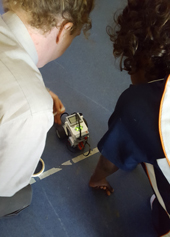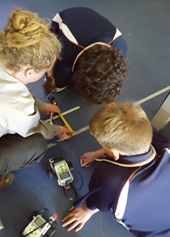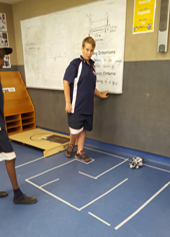 Year 9 ADPE Community First Aid Training
On Monday CMS were fortunate to have had two visitors deliver a first aid training session with Year 9 Advanced PE students.
Regina and Mark from St John Ambulance brought with them an ambulance and first aid equipment to educate our students on dealing with various situations. Our visitors were generous to allow our CMS students to explore and investigate the numerous amounts of life-saving and emergency equipment found in the vehicle.
Regina and Mark demonstrated the emergency lights on the vehicle, how a patient is safely transported onto the bed, they discussed the tools and equipment in the vehicle and linked the practices used by paramedics to contemporary events and scenarios that relate to the students.
The second half of the session saw students inspect the various components of a standard first aid kit. Students gained practical experience with using and understanding the use of bandages, burn-aid, emergency blankets, saline solution, and several other items.
CMS are very grateful to have had Regina and Mark help students gain an insight into emergency practices and first aid. Regina has been working closely with CMS and will hopefully continue to deliver educative lessons with CMS as a valuable member of our community.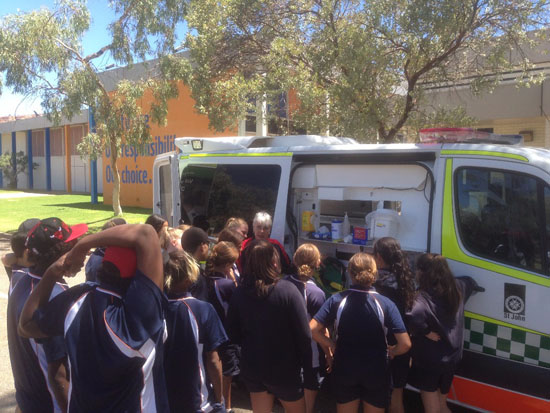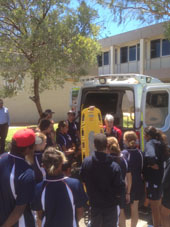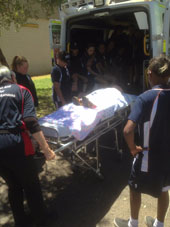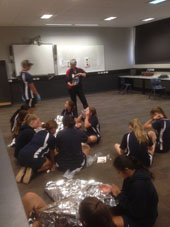 Immunisations
Immunisation consent forms were sent home to families in week 2, please return to school ASAP. If you need a replacement form, please contact Kathryn Howitt on ph: 89 502 513
https://nt.gov.au/wellbeing/healthy-living/immunisation/child-vaccinations
Polly Farmer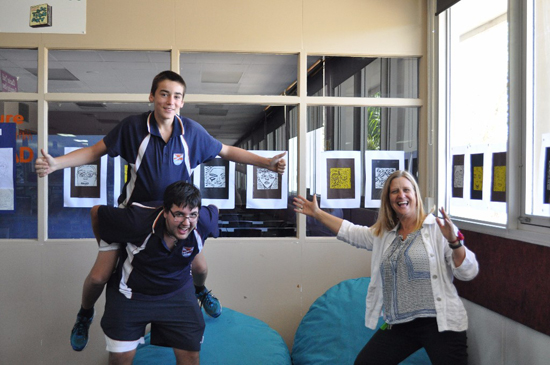 What a productive start to the year at the Polly Farmer 'Follow the Dream' program!
SELF EXPRESSION!
Art exhibition at CMS, inspired by a visit to the Western Australian Art Gallery.
Following up from the successful 2016 Perth trip "Follow the Dream' students have put on an impressive display of their prints in the CMS library. As part of the Western Australia trip students spent a morning at the Art Gallery viewing, talking about and creating art. Students' art pieces are inspired by the portraits of the Australian artist, Mike Parr. Check them out before they tour to Centralian Senior College.
Former 'Follow the Dream student Mahlia Armstrong talked to CMS students about her journey from Centralian Senior College to Flinders University, SA.
One of the mottos of the Polly Farmer program is to 'Dream Big'. To do this students are provided with a range of opportunities to test out their interests in order to develop academic and social strengths. Hearing how other role models chart this journey is key to providing pathways for students to know how to follow their own aspirations. Mahlia Armstrong, a 2015 Polly Farmer student, gave a personal account of her journey after successfully completing Year 12 to follow her passion in the creative arts at Flinders University, Adelaide.
The Follow the 'Dream Program' welcomes two new tutors this year – Jen Kreusser and Dustin Hunter. Jen, a teacher has an impressive background in and a passion for the environmental sciences. Dustin, a former CMS tutor who now works at Centralian Senior College brings a wealth of experience in working on targeted learning programs.
News from Clontarf
The year kicked off with the Imparja Cup where two CMS teams competed in the school's division. Despite some strong showings from the likes of Levi Thomas, Jimmy Bruce, and Jonathon Doolan, our teams could only scrounge together one win for the day. And this was in the game where we played each other! Nevertheless, the fellas had a good time preparing by playing cricket in the hall after school and were impressed by the exploits of Tennant Creek who took out the competition. The Titans will be back and better in 2018!
Our first staff and student activity occurred in week two when we packed out the hall for a game of kickball. It was great to see some teachers there with Stefanie Farr and Stephen Ryan the stand out performers. Over 50 students got into the game and it was a brilliant way to relax on a Friday lunchtime after a busy first fortnight back at CMS. This week we'll be out on the basketball courts for some more action.
Some likely lads sweated it out in the school gym last Monday after school. The high octane session got the heart racing and helped to build strength. Jace Moldrich is taking no time in settling in and his planking is a sight to behold. We have another gym session on Monday in week 5 so if you're looking to get fitter after the summer months come on down.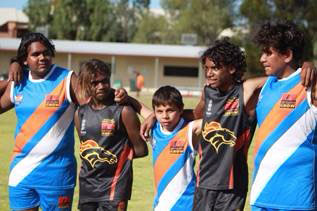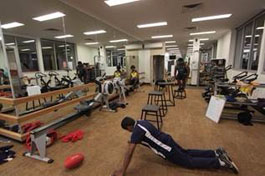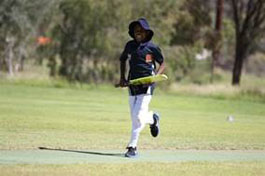 Health Checks began in style with fellas making their way to Ingkintja Men's Health Clinic. All were given a clean bill of health and we will continue to take 4-5 students each Tuesday morning so that they too can have peace of mind.
Our first football match of the year was played in terrific heat at Yirara College. The likes of Ashton Turner, Reicho Campbell, Tyrhys Miller and Reggie Gallagher played superbly showing the great relationships developing between old students and new. The CMS Titans began the game well before Yirara Brumbies hit back hard. With seconds to go Josh Hayes took a mark up forward and nailed the set shot to draw the game. We'll have another hit out in week 5.
Water safety is of paramount importance for everyone with year 7s the first to take a splash this year. A trip to Alice Springs Aquatic and Leisure Centre meant that 15 new year 7 students were able to complete Water Safety Assessments. All passed with flying colours, or should I say green because that is the band that they are now entitled to wear!
Contact times this term are focused on Education and Employment. Clontarf staff shared their educational and employment journeys, hoping to inspire and encourage the students on theirs. The importance of attendance has been a key point with Clontarf students being told they should attend at least 90% of the time so they get the most out of school.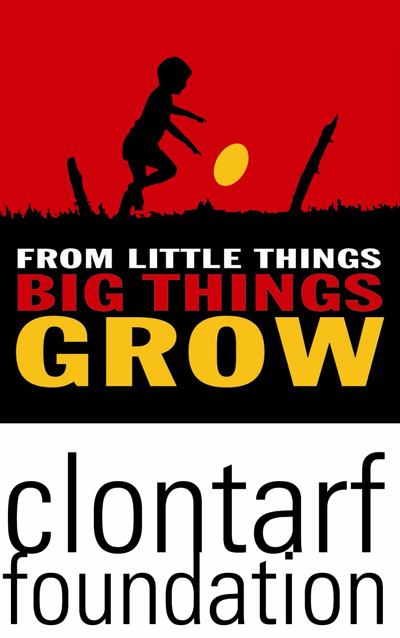 News from Girls Academy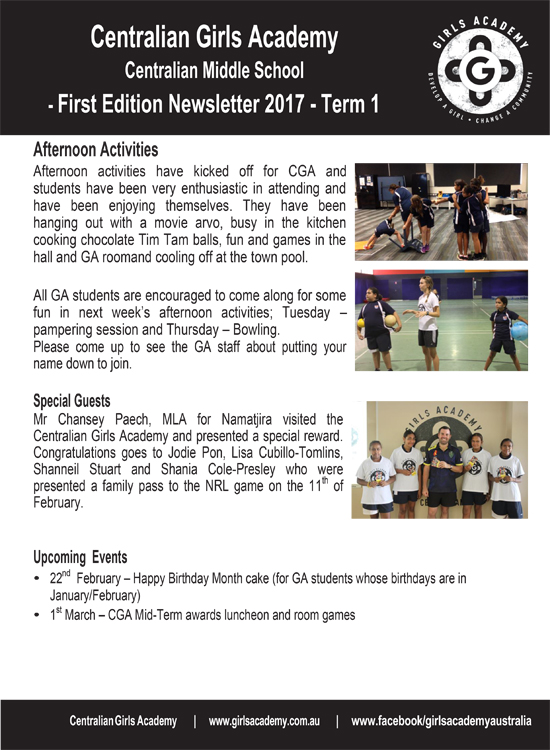 Uniforms
Please visit Student Access between 8 am – 8.30am or 3pm-3.30pm to buy uniforms. The Back to School Voucher expires on the 1st April 2016.
Some reminders
We need your support to ensure the school day runs smoothly:
All students have to be in full school uniform every day.
School starts at 8.30.
Students need to have books, pens and pencils to be prepared for learning. A stationery pack is available from Student Access.
Students are not to have mobile phones between 8.30 and 3.00. Students can drop them off at the office or keep them switched off on their person during the day. Please do not call or text your child during the day. If you need to urgently contact your child, please call the office.
Soft drinks and energy drinks are not appropriate drinks for at school. These will be removed from students.
Healthy drinks and food are available for purchase from the canteen on a daily basis.
Community News
LEGO Club
There is something for everyone at the LEGO Club!
All you need is a willingness to have fun and create!
For ALL ages, FREE
No bookings required
Date: 23 Feb
Time : 5:00pm to 6:00pm
Event Location: Alice Springs Public Library
Young Writers' Club
Week Four - Crafting Catchy Dialogue
Learn to build and create amazing stories at the Young Writers' Club!
Ages 7 – 12, FREE
Bookings required, 8950 0555
Date: Wednesday, February 22, 2017 -
Time: 15:30 to 17:00
Event Location: Alice Springs Public Library