28 April 2017
Newsletter Articles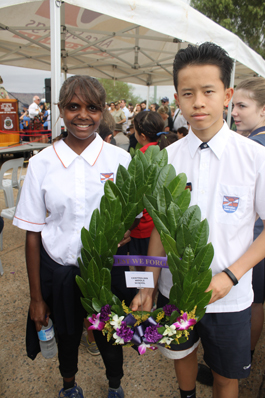 Tiara Doolan and Sean Xiao at the ANZAC Day March, 2017
Important dates
1 May – May Day Public Holiday
5 May – Year 7 Geography excursion to Telegraph Station
9-11 May – NAPLAN
18 May – School Council Meeting
17-19 May – Clontarf camp for Year 7s
21 May – Polly Farmer students present the first chapter of their graphic novel at the NT Writers Festival.
6 June – Year 9 Transition Visit to Centralian Senior College
12 June – Queens Birthday Public Holiday
15 June – School Council Meeting
13-16 June – Year 9 VET program
21 June – school reports and learning conferences
23 June – Last day of Term 2
From the Principal
Dear Families
It has been great to see all of our learners back for Term 2. Term 2 is a time when students typically make significant gains in their learning and I am excited to see what our students achieve.
At the end of last term, we sent home a school report, assessment schedule for Term 2 and contact information for our staff. These are key documents – please put the assessment schedule on your fridge so that you and your young person can be reminded of tasks and dates throughout the term. If you have any questions or concerns, please contact your young person's teacher. We know that students do better when school and home work closely together. If you did not receive these documents, please call the school so that we can update your postal address and resend.
I was fortunate to join our students in the ANZAC Day March on Tuesday. This is a very important day in our nation's calendar and I was proud of how our students represented the school and paid their respects. Thanks to Clontarf and Girls Academy who supported many of our students to attend.
Our focus as a staff this term continues to be on positive behaviours. These are the behaviours that allow our students to fully and productively engage in learning.
We have had some staff changes this term.
Annie Thompson is continuing to take leave so we have recruited Lachlan Grant to take her Health and Physical Education teaching load. Kate Axten is continuing as the Team Leader for Year 9.
Lateesha Jeffrey from Girls Academy is a proud new mum and Rhiannon McEwen has returned to the school to backfill her role while she is on leave.
Naomi Brennan will be joining the school. She is an experienced Maths teacher and a teaching and learning leader and is joining us from Nhulunbuy High School. Naomi will be teaching a Year 8 and 9 Maths class, coaching our teachers in Maths and arranging Maths Enrichment opportunities for our students and upper primary students in our feeder schools. We are very excited to be able to provide this focus on and opportunities in Maths for our learners.
Carly Phillips joined the school late last term as a Year 9 English and Humanities teacher. We didn't include her photo in the last newsletter so you can put a face to a name below!
Suddenly the weather seems to have cooled down. If students are wearing a jumper, it must be a CMS jumper. Students are required to remove all other jumpers. CMS jumpers are available for sale from Student Access. Students can wear a plain navy blue or white t-shirt or long sleeve t-shirt underneath their CMS polo shirt. No brand or writing can be visible.
Finally, I'd like to congratulate two staff – Kirsten Wilson recently celebrated a milestone birthday and Natalie O'Connor just got married!
I hope you enjoy the contents of this newsletter and as always please do not hesitate to contact me if you have any questions.
Warm regards
Paul van Holsteyn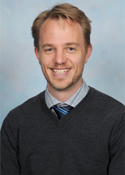 Paul Van Holsteyn
Teaching & Learning
NAPLAN
NAPLAN testing will be taking place in Week 4 this term. NAPLAN is not a test that students can prepare for in the same way they might prepare for an end of term test. Teachers and students have been preparing all year through the normal curriculum. NAPLAN tests skills that develop and improve over time.
It is important that we come to school well rested and with a positive attitude. If you have any questions regarding NAPLAN please contact Cassie O'Bree.
Check out this awesome movie made by Taminmin College students - Nailing NAPLAN.
https://www.facebook.com/TaminminCollege/videos/vb.418414451592417/759977760769416/?type=2&theater
Congratulations Reggie Gallagher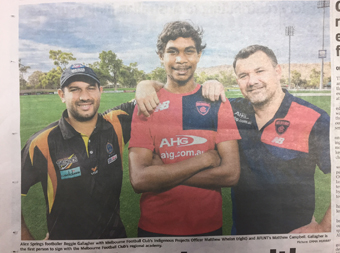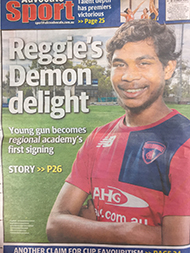 Year 9 student Reggie Gallagher has become the first person from Alice Springs to be signed to the Melbourne Football Club's regional academy program! The program will set up a pathway from the red centre to the AFL for indigenous and multicultural juniors. This is an amazing achievement for Reggie and CMS looks forward to supporting him as he progresses through the program, congratulations Reggie!
Business Expo
Year 7s spent Term 1 being introduced to the new topic of Business and Economics. As part of this unit, students were to create a mock business, that would be displayed in the Year 7 breakout space for others to view. In Week 10 the year 7s showcased their business ideas. The business ideas ranged from, hiring a didgeridoo player for party events, cupcakes, lolly shops and microchipped kittens! One group even went as far as having a raffle with jelly cups as prizes. A huge effort by everyone and a few budding entrepreneurs in the making.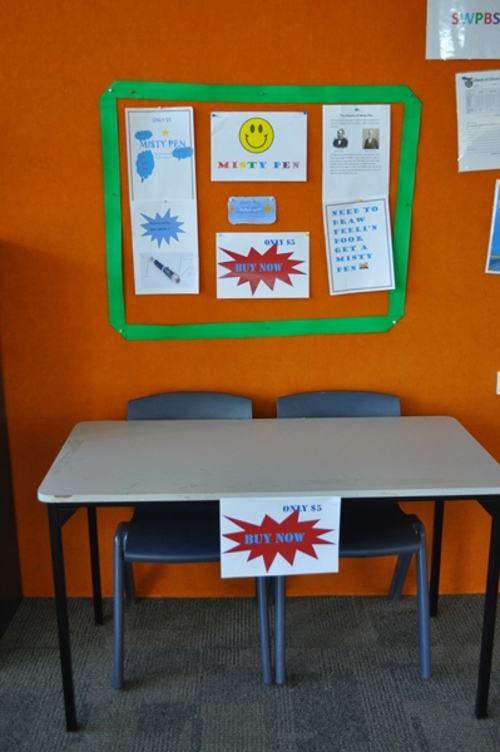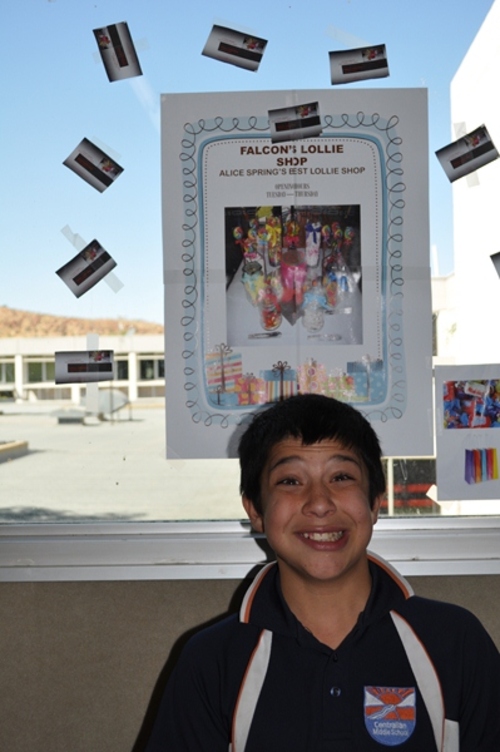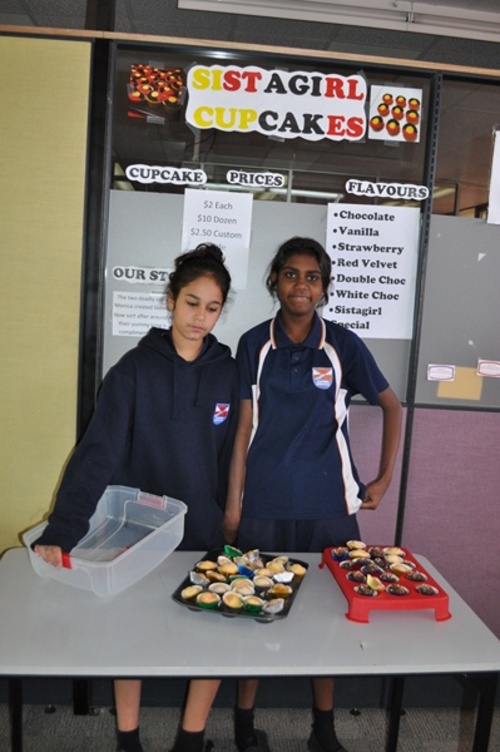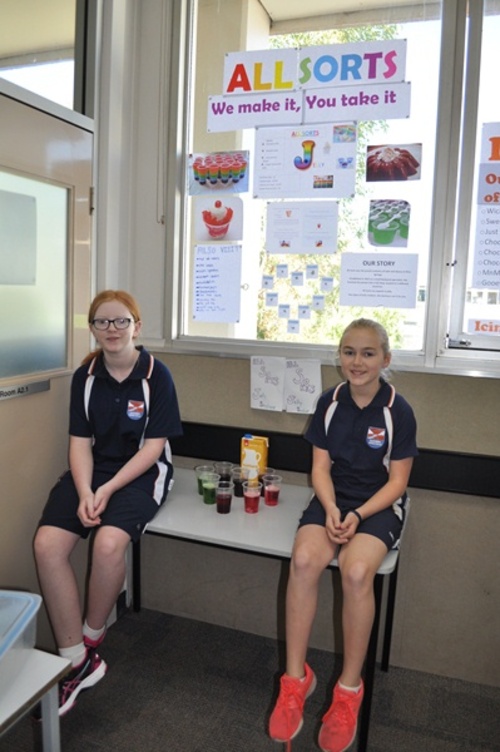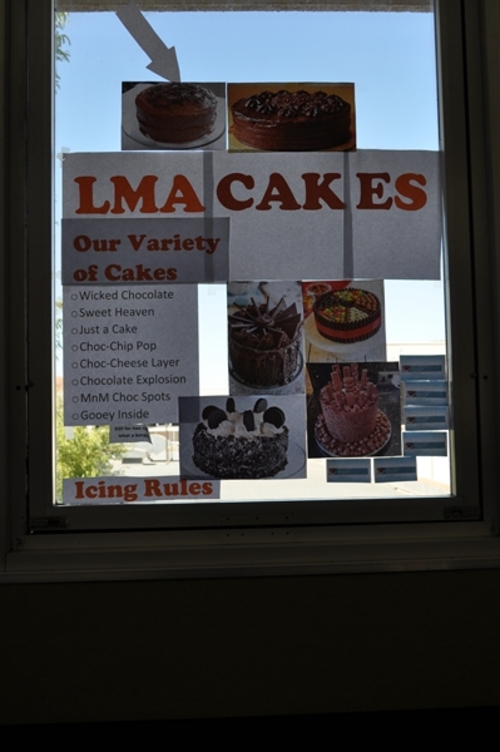 Year 7 Update
The Year 7's have been busy already this term. Humanities teachers have been busy organising their excursion to the Telegraph station. At the end of last term students in year 7 participated in the Business Expo which was very productive for teachers and students to be involved in.
This term the teachers and students are finishing their work with the Social Emotional Learning program, once this program has been finalised students will be learning about our Student Values Matrix.
Year 7 teachers are working hard to ensure your child is aware of our expectations for learning and behaviour. We are focussing on students being able to follow our school expectations and understanding our school values.
We are also looking forward to our year 7 overnight camp shortly – keep an eye out for more information.
ANZAC Day
Our school captains, Girls Academy, Clontarf students and CMS staff participated in the ANZAC Day March on Tuesday 25th of April. Our students walked from Todd Street to ANZAC Hill to attend the Day service. We would like to thank our student for recognising the service and sacrifice of all Australians who have served in war. We look forward to this event growing in the future and recognise the importance of our students attending such community events.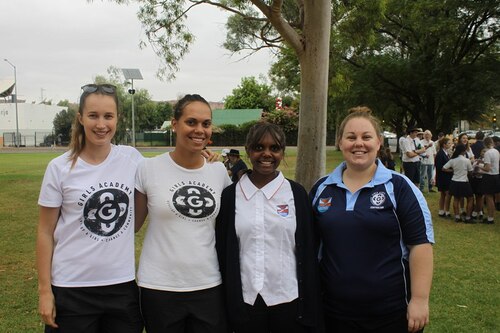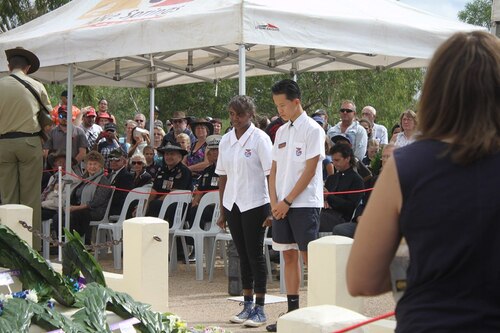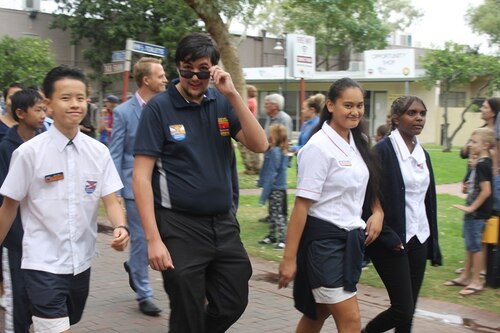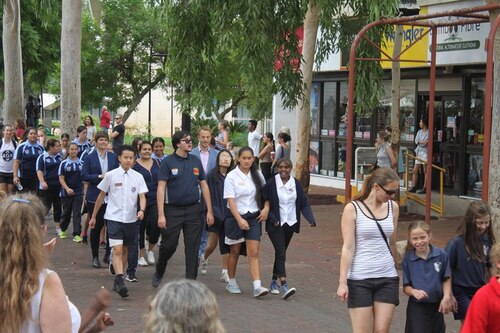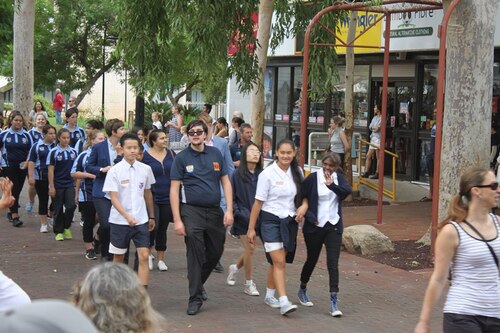 New Staff
Welcome to Mr. Lachlan Grant and Ms. Carly Phillips!
CMS would like to welcome two new teacher to our team, Mr Lachlan Grant will be teaching year 9 Physical Education and Ms Carly Phillips is teaching Year 9 English and Humanities.
| | |
| --- | --- |
| | |
| Mr Lachlan Grant | Ms Carly Phillips |
13 Reasons Why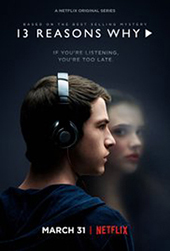 A Letter was sent home this week that addressed a new television series currently on Netflix called '13 Reasons Why'. This television series contains very concerning themes and has generated a lot of conversations among students at CMS and online on social media. If you did not receive this letter please download below.
Centralian Middle School has a counsellor who can provide support if you or your young person requires. Please call the school to access this support.
Alternatively, the following agencies provide support:
Headspace: 1800 650 890
Kids Help Line: 1800 551 800
Alice Springs Hospital: 8951 7777
2018 School Dates
Term and semester breaks will be changing from next year. Currently we have breaks in a 1, 4, 1, 6 model, meaning that we have a one week break after Term 1, 4 weeks in the middle of the year and 1 week after Term 3. From 2018, government schools in the territory will shift to a 1, 3, 2, 6 model which means a three week break in June/July and a longer two week break after Term 3, with the Christmas break the same at six weeks.
Term 1 will run for 11 weeks, Terms 2 and 3 for 10 weeks and Term 4 for nine weeks.
The decision to change the school term dates is a direct result from feedback provided through the three rounds of consultation conducted throughout 2015 and 2016. A comprehensive consultation process was undertaken to ensure that final decision was well informed by the community and is intended to provide the best possible educational outcomes for Northern Territory students.
The new pattern reflects evidence-based research that identifies students' school attendance and participation in learning is generally at a highest point at the start of the school year. The new school term dates and holiday breaks have been approved for a five-year period, commencing in 2018. Please find attached the school calendars for the next five years for your records.
News from Clontarf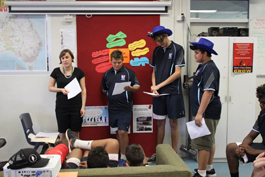 The Clontarf Academy has had a great start to the term and it has been great to see the fellas again. We've been lucky enough to have B from Central Australian Aboriginal Legal Aid Service (CAALAS) come in during contact times with the Year 7s and 9s to discuss how the guys should interact with law enforcement, as well as what their rights are when dealing with the law. It was a great, informative session and the lads were really engaged. Levi Thomas, Layne Kunoth and Glenn Clarke were really involved and put their hand up for some role play which was really positive.
Alongside CAALAS we also had a visit from Ex AFL player Matthew Whelan and home grown talent Matthew Campbell on Wednesday. The lads enjoyed a hot dog lunch and a great chat with the speakers as they discussed their own personal pathways to the AFL and the importance of being a good bloke. Their talk was capped off with the fantastic news that our own Reggie Gallagher has been signed on to the Melbourne Demons Development Squad and will be given great opportunities to develop his skills while also getting a taste of what it takes to cut it as a professional in the big time. A lot of work still to be done by the big fella but we couldn't be prouder of him and we are sure he will put his best foot forward.
Polly Farmer
Compact Signing
Each year Polly Farmer students sign a compact to renew their commitment to study, attendance and leading by example. This year all three Polly Farmer initiatives based across CMS and CSC - Maths and Science and Follow the Dream programs - ran a joint compact signing session. This was to let families, students and staff know that Polly Farmer programs are connected and provide a learning pathway across primary, middle and senior secondary education in Alice Springs.
The compact signing session was a huge success with many families turning up to sign compacts, a practical show of support to their child's academic achievements.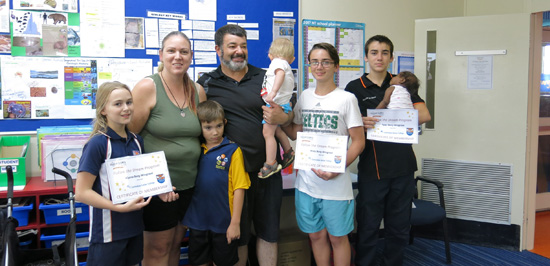 Alyssa, Tyler and Riley Borg-Wingrave with their family at the compact signing.
| | |
| --- | --- |
| Seraphina Newberry and family attended the compact signing evening | Alyssa is a Year 7 student, Tyler, Year 9 both at CMS. Riley is in Year 10 student at CSC. |
| | |
| --- | --- |
| Caleb (Year 8, CMS) and Mia Broome (Year 11 CSC) with their mum and younger sister proudly display their signed compacts. | Caleb took this opportunity to show his mum the excellent science project he completed during a Polly Farmer session. |
| | |
| --- | --- |
| Seraphina Newberry and family attended the compact signing evening | Alyssa is a Year 7 student, Tyler, Year 9 both at CMS. Riley is in Year 10 student at CSC. |
| | |
| --- | --- |
| Caleb (Year 8, CMS) and Mia Broome (Year 11 CSC) with their mum and younger sister proudly display their signed compacts. | Caleb took this opportunity to show his mum the excellent science project he completed during a Polly Farmer session. |
Graphic Novel - 'Mixed Feelings'
On the 21st May, Follow the Dream students will present the first chapter of their graphic novel , Mixed Feelings at the NT Writers' Festival. This is an amazing opportunity to show a wider audience the creative and literacy work that Follow the Dream students have been working on with scientists cultural custodians, artists and their teachers.
Graphic Novel Creatives include:
Declan Miller - graphic designer and script writer
Billie Robb, Katie Martin, Seraphina Newberry, Tiara Doolan - watercolour artists
Tyler Borg-Wingrave, Caleb Broome, Alyssa Mason - science researchers.
Synopsis of the graphic novel plot: Central Australia is a place of mixed cultural stories, all living in close proximity to one another. Sometimes these stories get on well together, sometimes not. Mixed Feelings is a graphic novel about Pam a young Indigenous woman who happens to have a father who can time travel. Setting out to find out how western scientific and cultural stories are woven together they test their own mettle as they meet the phantoms of their past, present and future. CMS Polly Farmer Follow the Dream students present their first chapter on the inland sea and megafauna, as experienced from Simpsons Gap.
DATE OF PRESENTATION: Sunday May 21
WHERE: Olive Pink Botanic Garden
TIME: 11:00 - 11.30am
http://ntwriters.com.au/wp-content/uploads/2017/04/WritersFestival_ProgramPlanner_eversion.pdf
(See page 27)
Creative Writing Workshops with Science Environment Writers Meg Mooney and Nicole Gill
Follow the Dream students taking part in an adaptations game as part of their preparations for two science and creative writing sessions with environmental scientists as part of the NT Writers' Festival.
Follow the Dream students are taking part in two science writing sessions in partnership with the NT Writers' Festival. Two science writers, local environmentalist and poet, Meg Mooney and Nicole Gill, a Tasmanian writer and environmental management specialist will work with students to write about how local endangered animals survive in the desert. Over two days students will visit the Desert Park, and go on the nocturnal tour followed by a follow-up session in the classroom. Watch out for samples of students work in the next edition of the CMS newsletter.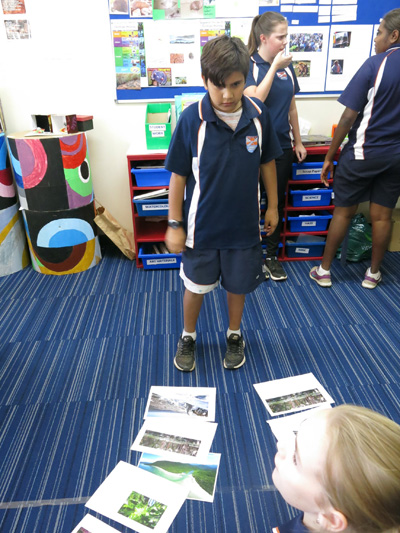 Facebook
We are now LIVE!
Head on over to 'like' it to keep in touch with school news, highlights and achievements of our wonderful students. We encourage people to like and share our posts.
Please read the terms of engagement before posting comments.
https://www.facebook.com/CentMS/
Some reminders
We need your support to ensure the school day runs smoothly:
All students have to be in full school uniform every day. This includes a CMS jumper. Students will be required to remove non-school jumpers.
School starts at 8.30.
Students need to have books, pens and pencils to be prepared for learning. A stationery pack is available from Student Access.
Students are not to have mobile phones between 8.30 and 3.00. Students can drop them off at the office or keep them switched off on their person during the day. Please do not call or text your child during the day. If you need to urgently contact your child, please call the office.
Soft drinks and energy drinks are not appropriate drinks for at school. These will be removed from students.
Healthy drinks and food are available for purchase from the canteen on a daily basis.