12 May 2017
Newsletter Articles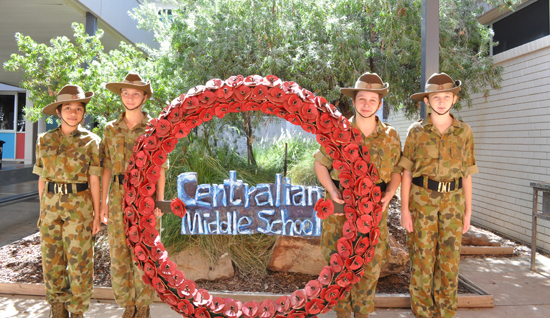 ANZAC Day Assembly at Centralian Middle School
Important dates
18 May – School Council Meeting
21 May – Polly Farmer students present the first chapter of their graphic novel atthe NT Writers Festival.
6 June – Year 9 Transition Visit to Centralian Senior College
12 June – Queens Birthday Public Holiday
15 June – School Council Meeting
13-16 June – Year 9 VET program
21 June – School reports and learning conferences
23 June – Last day of Term 2
From the Principal
Dear families
It has been a big week for our Year 7 and 9 students as they have completed the National Assessment Program in Literacy and Numeracy (NAPLAN). It has been great to see our students do their best across each of the assessments. We are recognising students who completed all assessments through a raffle that we will draw at our next assembly; we have 8 $50 K-Mart vouchers as prizes and everyone who completed each assessment has a chance!
The NAPLAN assessments provide us with important information about our students' learning progression that we use to review and refocus our teaching our efforts. Families will receive individual reports on how their young person has gone in September.
A big thanks to Girls Academy, Clontarf and Denise & Jamahl who organised breakfast for our Year 7 and 9 students on each of the testing days.
There are a number of exciting events on the horizon. Next week we have a dance group performing in the Eisteddfod and some of the Year 7s involved in the Clontarf program are going on a camp to Tennant Creek. The following week we have students engaged in the NT Writers Festival and the week after that we have our Athletics Carnival on Friday 2nd June at Rhonda Diano Oval. Families are very welcome to join us for this event.
Some of our students are going to the shop on Milner Road before and after school, including some who travel on the bus. This is not allowed for students who travel on the bus – when they arrive they need to remain in the school grounds until school starts and after school they should go straight to the bus interchange. We also have concerns around some of the items students are choosing to purchase – soft drinks and energy drinks are not permitted at school and high sugar and high caffeine beverages do not support young people to learn. Please speak with your young person about this. We have also tightened up some of our in and out of bounds areas in the school during the school day and more information is included in the newsletter about this.
Finally, to all our mums, aunties, grandmothers and female carers, we hope you have a fantastic Mother's Day on Sunday. Our young people are very fortunate to have your support.
Warm regards
Paul van Holsteyn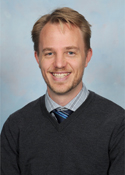 Paul Van Holsteyn
Teaching & Learning
NAPLAN tests were conducted this week for all year 7 and 9 students. Clontarf, Girls Academy and Denise and Jamahl provided breakfast for all students to help prepare for testing. Students completed four separate tests including, numeracy, writing, reading and language conventions. We are very proud of the hard work and dedication exhibited by our year 7 and 9 students and we would also like to extend a thank you to families for supporting the process.
Students who attended all tests and works consistently throughout will be placed in raffle to win 8 Kmart vouchers, prizes will be drawn at the next assembly.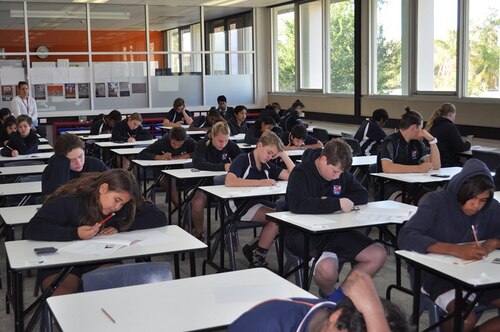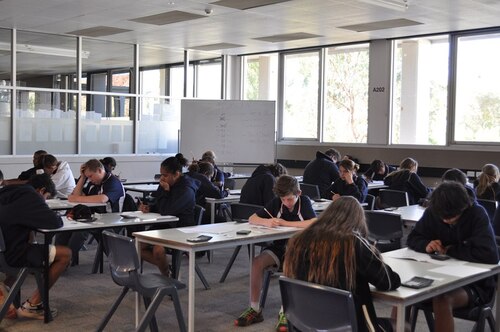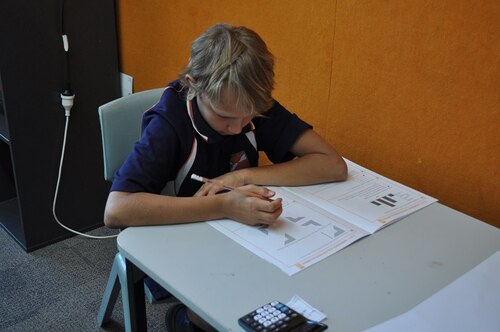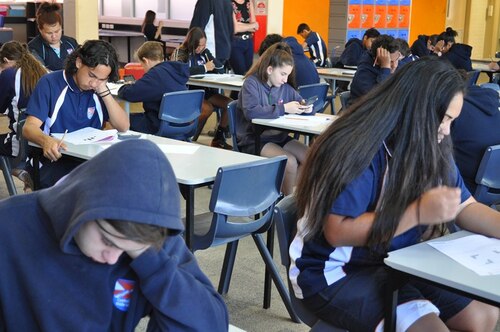 Awards
Centralian Middle School would like to acknowledge the following students for their hard work and dedication, Keep up the positive energy!
Year 7 Students
Takeisha Selmes - For giving her best to every task that is placed before her.
Angus Scrutton – For his dedication to his school work and always being respectful of his teachers. Keep up the amazing work!
Justin Turner – For always being friendly and working hard in class.
Year 8 Students
Jemma Morick – For helping, leading her peers in maths. Being respectful and focusing on your learning.
Tony Nguyen – For being respectful and focusing on your learning. Being kind and helpful to the whole class.
May Polak
Jessie Woolford
Tyler Cawthorne
These students are FAIR because they always share, they are RESPECTFUL of their teachers, fellow classmates & school property. They are RESPONSIBLE because they consistently come to class and give 100% effort.
Patrick Findlay 8.3 for showing responsibility, fairness and respect.
Taylah Lankin- For consistently showing respect within the classroom.
Jordan Karpany – For increased attendance
Year 9 Students
Alexander Cobern for the high level of critical thinking and understanding you are showing during English and Humanities.
Ariki Lowe for his preforming skills when working on SEL in pastoral care.
Travis Kenny – For always demonstrating a positive attitude towards his learning and respecting his peers and teachers.
Year 7 Excursion
On the 5th May, the Year 7 cohort went on a Geography fieldtrip. This excursion was designed to introduce the students to fieldwork. Fieldwork is any geographical study that takes place outside the classroom, or as geographers say, 'in the field'. The Telegraph Station was the students opportunity to gather primary data for the Humanities unit titled, Water in the World.
The students participated in stations set up around The Telegraph Station. They were:
Discover how far down the water table was in the Todd River
Observe human and wildlife in the area
Draw maps
Identify trees along the bank
One of the local Rangers, Mike Rawnsley gave an informative talk and tour about Indigenous and Non-Indigenous use of water in the area. We appreciate him taking time out for our CMS students. A big thank you to Alex Price for organising the Ranger to come and speak with us on this day.
We would also like to thank COLES Alice Springs for donating two boxes of fruit for the day. A big thank you to the staff that attended – Laryssa Montgomery, Sherri Bryers, Owen Gale, Stephanie Farr, Ben Balmer, David Thomas, Sam Hill, Nola Hunter and Alex Price.
An informative morning, enjoyed by all and a good start to students knowledge on fieldwork.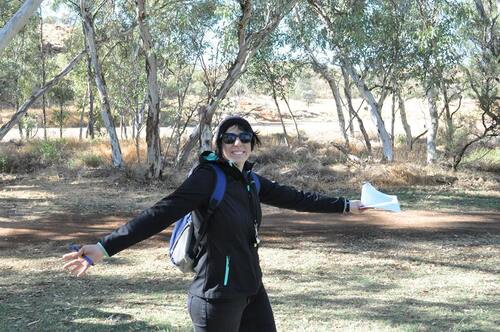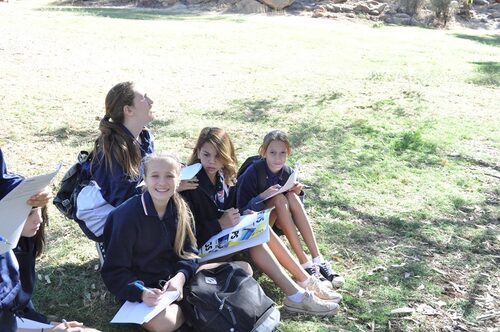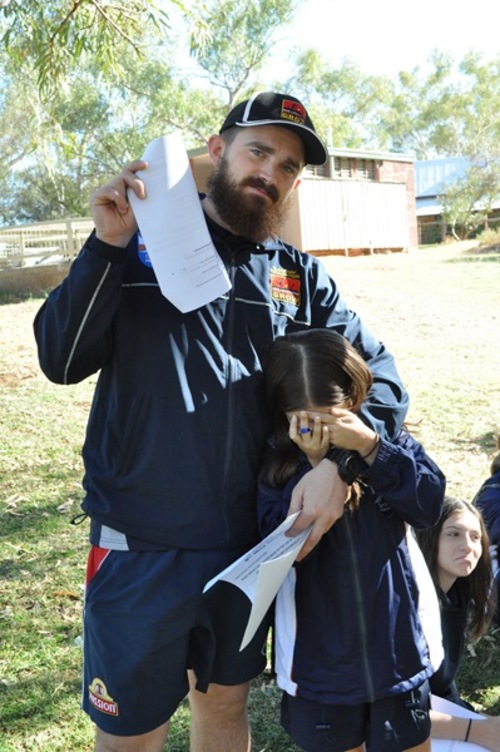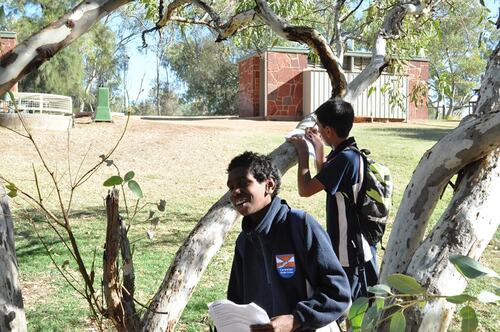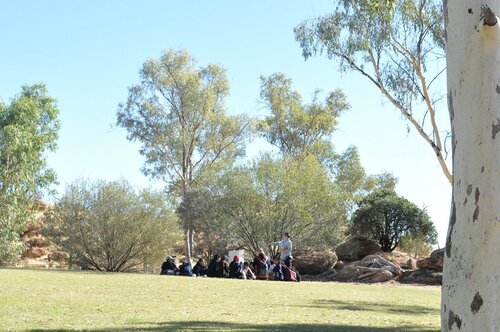 Year 7 Update
Congratulations to all of our Year 7s for completing NAPLAN this week. It is always a difficult week but I would like to thank all of the year 7 students who attended all tests as all students were extremely respectful, responsible and fair for the duration of the tests. On Friday of last week all year 7s went to the Telegraph Station for an excursion for Humanities, the day was amazing and again students followed our school values impeccably. A huge thanks goes out to all of the teachers who were able to make this excursion so successful. Coming up soon there will be an Excursion to the Meteor Craters for Science, we are all looking forward to a fantastic day out there.
The Athletics Carnival will also be coming up soon – stay tuned!
This term we have begun looking at the values matrix – this document demonstrates how we would like students to act in certain areas of the school. We are explicitly teaching students how we want to see them act and speak in these areas. Recently 7-1 created the 'Mannequin Challenge' to show other year 7 classes how we can demonstrate correct behaviours in the classroom.
I would like to remind all families that we expect students to be prepared for learning in the classroom, this means that all students should come to school with the equipment to learn each day:
A Pen or pencils
Books for each class
Ruler
Eraser
Pencil Sharpener
These things are expectations of the students and families, and we would like your support in ensuring your young person comes prepared to school.
Could I also take the time to remind families that the weather is cooling down, if your child does not have a school jumper, please make this a priority, we are expecting all students to be in full school uniform, and in year 7 we will be asking students who are wearing non-school clothing to remove it and put the clothing away for the day.
Lastly it is fantastic to see so many students here on a daily basis, please encourage your young person to continue coming to school, on time, every time so that they are able to get the most out of their learning experiences at school.
Mr Ben Balmer Year 7 Coordinator
ANZAC Day Assembly
CMS Students presented a special Assembly for ANZAC Day last week, lead by our school captains and special guest Corporal Scott Allan.
Thank you to everyone who participated, it gave us an opportunity to commemorate all Australians and New Zealanders who served and died in all wars, conflicts, and peacekeeping operations.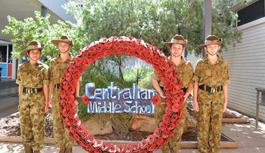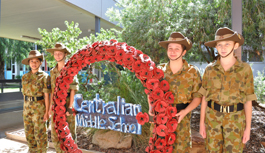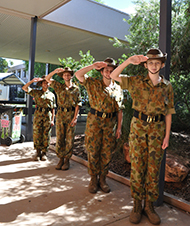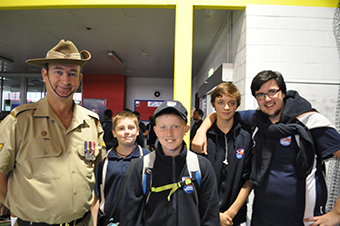 Boundaries and Activities
Please familiarise yourself with the points listed below regarding recent changes to CMS boundaries during school times.
Front of school out of bounds during recess and lunch.
Football/ball games need to remain on the oval – not breezeway or front of school.
The oval with the AFL goal posts is the in-bounds oval, the northern oval is out of bounds.
News from Clontarf
Billy Cart Derby
On Thursday after school we had some fellas out the back of the Academy Room building billy carts. We are getting prepared for the Clontarf Billy Cart Derby which is being held at Yirara College on Thursday the 4th of June. Each team is given a budget and they have to design and build their billy cart. Peter Morris has shown some tremendous skill with the tools. A special shout out to Stephen Ryan whose skills have been crucial in helping our fellas!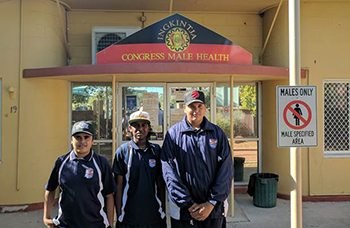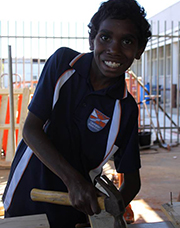 The Boys played a game of footy against St Josephs. There were some last-minute adjustments with Jim McConville Oval out of action meaning we rolled out on the home turf of the school oval. St Josephs had the advantage of having a few older fellas on their team, but we may have had a couple of extras on the field. This is unconfirmed. Nevertheless, we more than held our own against the Falcons. Quill Tiltsen was instrumental and slotted a crucial goal. We mixed up the teams for the remaining two stanzas and the fellas squared off against their classmates. The game was played in great spirits and it was a really positive way to end the school day.
Thanks very much to St Josephs for making the effort and coming over to play our guys. We will try to schedule some more sport against each other.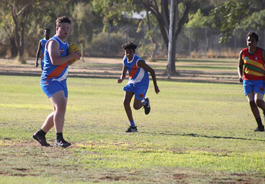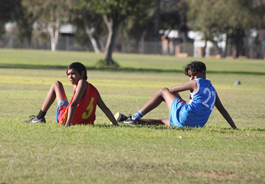 Facebook
We are now LIVE!
Head on over to 'like' it to keep in touch with school news, highlights and achievements of our wonderful students. We encourage people to like and share our posts.
Please read the terms of engagement before posting comments.
https://www.facebook.com/CentMS/
Some reminders
We need your support to ensure the school day runs smoothly:
All students have to be in full school uniform every day. This includes a CMS jumper. Students will be required to remove non-school jumpers. Students can wear a plain white or navy long sleave top under their school shirt
School starts at 8.30.
Students need to have books, pens and pencils to be prepared for learning. A stationery pack is available from Student Access.
Students are not to have mobile phones between 8.30 and 3.00. Students can drop them off at the office or keep them switched off on their person during the day. Please do not call or text your child during the day. If you need to urgently contact your child, please call the office.
Soft drinks and energy drinks are not appropriate drinks for at school. These will be removed from students.
Healthy drinks and food are available for purchase from the canteen on a daily basis.
Community News
Mother's Day Classic Walk/Run
Join us and together we can WALK ALL OVER BREAST CANCER
7am Start 4km or 8km walk/run
Please register online at:
http://www.mothersdayclassic.com.au/
14 May, 7:00am Alice Springs Desert Park Courtyard
Special Young Writers' Club - Author Visit: Felicity Castagna
This workshop with award-winning author of YA novels The Incredible Here and Now and No More Boats, Felicity Castagna, encourages young writers to write about their world by examining the community
17 May 3:30pm to 5:00pm
Alice Springs Public Library Cnr Gregory and Leichhardt Tce Alice Springs
Create Your Own Cheeky Character - children's writing workshops with Johanna Bell
NT Writers' Festival are offering two workshops for children on Sunday 21 May, with author of "Too Many Cheeky Dogs" and "Go Home Cheeky Animals!", Johanna Bell.
21 May 9:30am to 12:30pm
Olive Pink Botanic Garden