26 May 2017
Newsletter Articles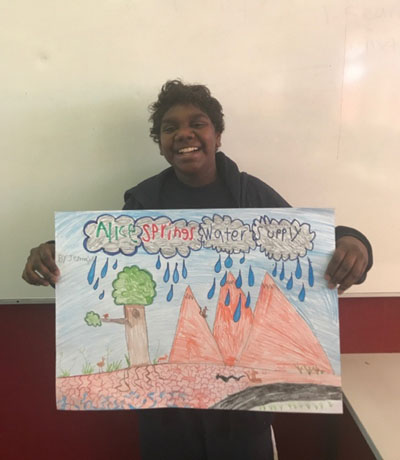 Jermaine Kitson created a detailed poster in science showing how Alice Springs manages water, well done Jermaine!
Important dates
8.45am 31 May – Principal tour for prospective families
5.30pm 1 June – We need to talk about Social Media session hosted in partnership with Girls Academy
2 June –Athletics Carnival
6 June – Year 9 Transition Visit to Centralian Senior College
12 June – Queens Birthday Public Holiday
15 June – School Council Meeting
13-16 June – Year 9 VET program
21 June – School reports and learning conferences
23 June – Last day of Term 2
From the Principal
Dear families
It has been another two busy weeks at CMS. I want to congratulate our dancers and choir who participated in the Centralian Eisteddfod and our Polly Farmer students who presented at the NT Writers Festival. Thanks to Clontarf for taking our Year 7 students on camp to Tennant Creek. Congratulations to our 'Shining Bright' girls who enjoyed a lunch with Girls Academy this week and congratulations to our 5+ Merit card students who participated in a rewards afternoon last week. We celebrate these events and many others through our Facebook page; 'liking' the page will help to keep you informed.
Next week we have our Athletics Day on Friday (2nd June) at Rhonda Diano oval. This day is always a wonderful expression of school spirit and students are to come dressed in their house colours. You are very welcome to join us at any stage during the day – events will run continuously. Students are to arrive at school as normal and we will be bussing them to the oval. Students need to come back to school at the end of the day unless they have a signed note from you stating that they can make their way directly home. As this is a core part of our school's learning program, we are not seeking consent for attendance. Students have been preparing for this day in PE all term.
Next week also we are opening up the school to prospective families and community members through offering a Principal's Tour at 8.45am on Thursday (1st June). If you have friends with students in primary years please tell them about this event. There is an image below which is also on our Facebook page – please share it and spread the word!
A number of our students have been struggling to safely negotiate the world of social media over recent weeks and we have spent significant time with some of our young people on online etiquette and how to respond if you see something confronting or receive an inappropriate request online. Our students have been telling us that either they feel they can't talk to their parents about this or that their parents are not well equipped to support them in these matters. In partnership with Girls Academy, we are hosting a Social Media discussion session next Thursday 1st of June at 5.30pm. In this session students will provide an overview of the common types of social media they use, then we will break into a student and a family member group and we will facilitate discussions about these technologies and common issues. The two groups will come together to share their concerns and then together we will discuss strategies to stay safe and legal online. I strongly encourage you to join us for this session – social media is everywhere and it is having a significant impact on our girls in particular. (The session is open to all of our female students regardless of whether they are in Girls Academy or not; depending on demand we may hold a similar session for our male students in partnership with Clontarf.)
We have a number of STEAM (Science, Technology, Engineering, Arts and Maths) opportunities on the horizon for our students. Around 40 Year 9 students will participate in the Science and Engineering Challenge run by the University of Newcastle and a similar number of Year 8s will participate in the Robocup Challenge, which is a robotics event. We are also hosting the Science and Engineering Discovery Day and our student leaders will support close to 200 primary school students participate in this day at CMS. We are also about to take possession of a set of drones and a 3D printer which will help us to keep our curriculum offerings at the cutting edge.
There have been a large number of students and staff away over the last fortnight as simultaneously two strains of gastro and the flu have hit town. I remind families that while we want students at school every day, they should not come to school when they are sick as we risk making others sick.
We have a few staff changes at the moment. Today we farewelled Tenneil Wark and Emily Webster, both of whom are commencing maternity leave. We are going to miss them tremendously and are excited for their next adventure. We have also recruited three new tutor staff to support learning in the school. Damien Curtis will be joining the Year 7 team, Elena Pecorari is working with Year 8 students and Felix Meyer is working with Year 9 students. Please join me in welcoming them to the school.
We are currently recruiting a few teaching positions for Semester 2. In particular, we are looking for a Maths and Science teacher to teach classes and the Polly Farmer Maths and Science Centre for Excellence. We are also always looking for relief teachers as there are few in Alice Springs. If you have any teacher friends here or interstate please put them in touch with me.
Finally, I'd like to provide you with advanced warning of our Learning Conferences which will be held in the evening on Wednesday 21st June. These Learning Conferences (or parent/teacher interviews) are essential for us to discuss student learning and set goals for Semester 2. We will also hand out Semester 1 reports during the session. Please mark this date in your diary and free up your schedule so that you can attend.
Warm regards
Paul van Holsteyn
Mr Paul Van Holsteyn
Tours at CMS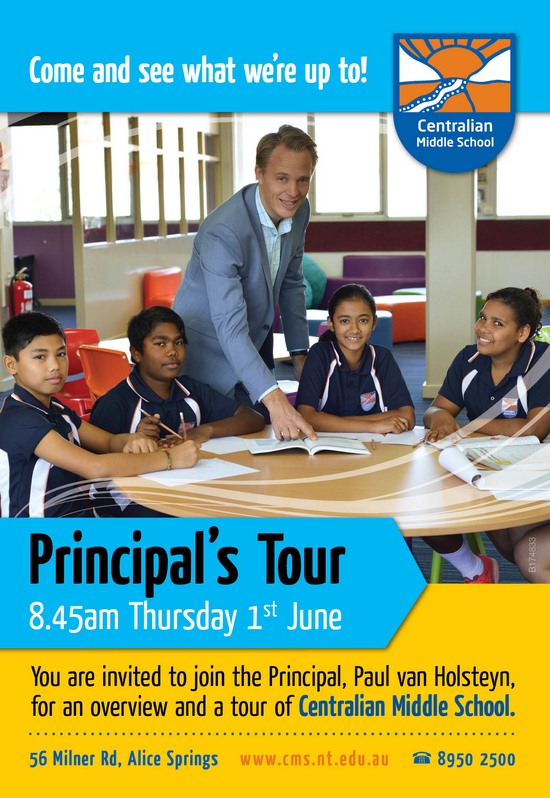 Rewards Afternoon
On Thursday of week 5, 42 students participated in the first 'Rewards Afternoon'. To be eligible to attend the afternoon students needed to have completed 5 merit cards this term. Well done to those students! The next rewards afternoon will be held at the end of week 10. We can't wait!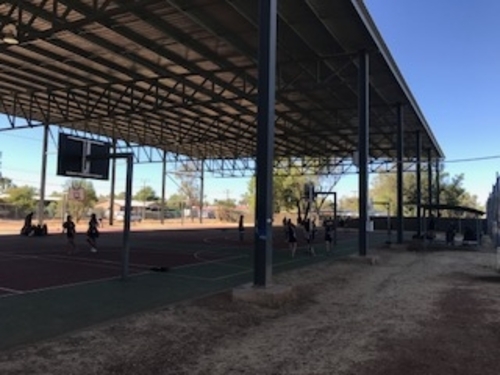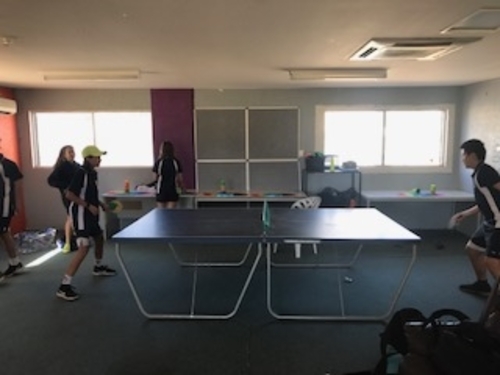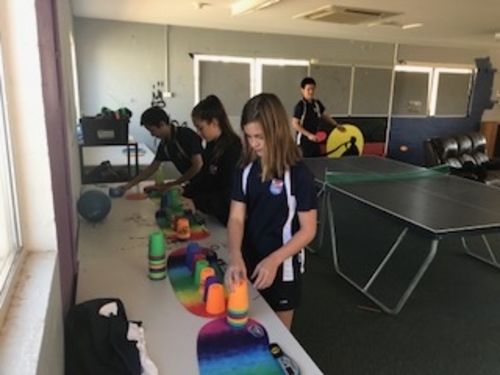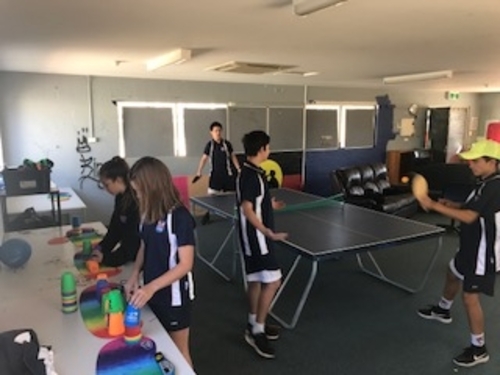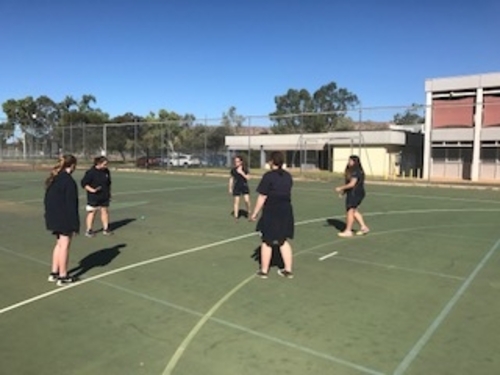 Transition Visits
It's that time of year when the Year 6 students from surrounding primary school get the opportunity to participate in enrichment lessons at CMS. These visits are part of a comprehensive Transition Program designed to reduce the stress and anxiety of transitioning from primary school into high school. It's great to see so many enthusiastic faces on campus!
The Larapinta P.S students enjoyed their Science lesson with Laarni Gaces and Dave Douglas and even got a chance to meet our resident Python!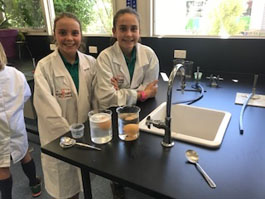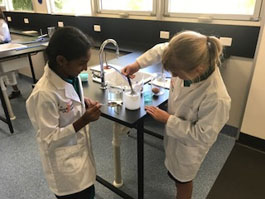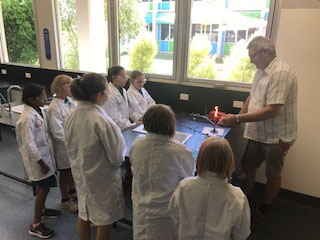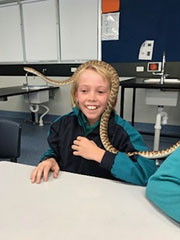 Seeking your support to keep the focus on learning
We are seeking your support in addressing a few behaviours so that we can keep the focus on learning.
Mobile phones are starting to creep back into the school. Students are not to have mobile phones out between 8.30-3.00. If phones or headphones are visible, students will be asked to deposit them in the Front Office and they can then pick them up at the end of the school day. If a student refuses to do so, the item will be confiscated by Senior Staff and you will have to come in to pick up the device. Students are of course welcome to deposit their phone and headphones in the office at the start of the day to avoid any temptation later.
Some of our parents contact students on their mobile phones during the day. This is not appropriate and detracts from your child's and other students' learning. If you need to contact your young person during the day, please contact the office and a message will be passed on.
The other thing that we are focussing on at the moment if being prepared and on time for class. If students are sitting in class on time with all required materials, they will receive two merit stamps. If they are late, they will be required to complete a catch-up session at lunch time to make up the minutes that they missed. If they miss this catch up session they will be provided with a second opportunity but the minutes will be doubled. If they miss this session we will contact you to schedule an after school catch up session.
We appreciate your support in both of these areas.
Year 8 Update
Our Achievements
I would like to thank all the Year 8 students for their hard work so far. Things are shaping up as the teachers and students are working hard to complete their assessments for mid-term. I would like to recognise the wonderful work being done by our parents. Your support has made the Year 8 team successful in many aspects.
We have so many of our students completing merit cards that our group was the largest during the rewards afternoon held on Thursday last week.
The teachers continue to strive to build positive relationships with students
Almost all our students are always in their full school uniform
We have a high number of our students turning in their assignments on time
There is impressive support from parents when resolving issues.
Our theme for this term
As you might be aware, our theme for this term is 'Stepping UP'. Year 8 is a critical stage in that it is a link between Year 7 and Year 9. Next year we will start preparing the students for Year 10.It is important therefore that our students have a solid base. Some of the issues we have been encouraging our students to work on include:
Punctuality to class.
Peer pressure
Responsible use of social media
Personal organisation i.e. having the required stationery to use in class.
Completing tasks set and seeking help when they are in doubt.
Making sure they have enough rest after working hard at school.* I kindly request that we as parents and teachers we encourage our students to go to bed early. If students do not go to bed early they wake up tired and are often late for school. This means they miss out on important information taught in their absence.
Let us continue to engage with our children
One way of checking if your child is engaging with what is being taught at school is to ask a simple question like; "What did you learn at school today?" If you find your child unable to tell you what they have learnt at school every day, you are encouraged to contact the Year 8 Coordinator and arrange a meeting.
As a parent myself, and I know you will all agree with me, it is important to impart lifelong values which will enable our children to be functional citizens of this country. It is in this respect that I am excited to announce to parents that our next HASS unit is on Civics and Democracy. This unit will expose the Year 8 students to the institutions which protect our freedoms as well as value our diversity. I will be happy if as parents we can also talk about the freedoms we enjoy as a country as well as the responsibilities we have. As year 8, we are striving to build men and women of character who can exercise their democratic beliefs, but also recognise that we need to accommodate other people's beliefs.
In standing up for their freedoms, we will be teaching students to do so within the limits of the law. This we believe will help build a violent free society. My strong belief is that we should never teach our children that it is okay to use violence as a means of settling differences. Mahatma Gandhi said: "An eye for an eye will leave everyone blind".
End of semester reports coming soon, these will be based on all the assessments completed by a student during Term 1 and 2. Please take time to ask your child if they have submitted all assignments this semester. Ask them to show you the marked assignments. If you are in doubt feel free to contact the subject teacher.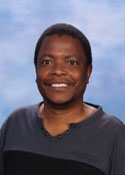 Mr Wellington Pasi
Year 8 Coordinator
Year 9 Update
Wow what a crazy fast paced start to term two! Time stops for no one and with all the public holidays Term Two brings us, time is certainly stretched that is for sure.
New Staff
Felix Meyer has joined our Year 9 team as a classroom tutor. Felix Will be working across all year 9 classes providing extra support to students in literacy and numeracy. When asked to share a bit about himself Felix said:
"Felix Meyer is my name and I have been living in Central Australia for ten years. I like cartooning, stand-up comedy and making movies. For the last seven months I has been living in China and writing a book. I barrack for Collingwood. Go Pies!"
Felix will be an excellent addition to our team and I am sure that with his interest and expertise in Cartooning, stand-up comedy and making movies our students will learn some exciting new things from him. Welcome Felix.
VET
VET week is fast approaching again, Term One's intensive was very successful and all students that attended seemed to have a great time whilst learning new skills they may not necessarily thought they would want to do. This term VET week runs from Tuesday the 13th of June until Friday the 16th of June. Another round of permission forms will be distributed in the mail along with a number of other forms relating to Year 9 events.
Camp
In Week 3 of this term we held our first parent info night about our Year 9 camp; this was the first of what will hopefully be a few. Thank you to all parents who came and shared their ideas. For those that could not attend the following information was shared:
Destination: Adelaide
Proposed Dates: First preference – Sunday the 29th of October until Saturday the 4th of November
Second preference – Sunday the 23rd of September until Saturday the 30th of September.
At this stage it looks as though our first preference is looking more likely.
Learning opportunities: On camp students will be involved in a number of outdoor ed learning opportunities such as, raft making, fishing, rock climbing, mountain biking, kayaking and various team building activities. These activities will provide students the ability to reflect and build on:
Self
Enhance self-confidence and independence through overcoming personal challenge
Promote a healthy lifestyle
Others
Develop social and collaboration skills and teamwork through group challenges
Encourage tolerance and respect for individual differences
Environment
Gain an appreciation for the natural environment
Develop an understanding of the "leave no trace" principles
Gain knowledge about the region
Skills
Introduction and development of general camping skills
Students will also be given the opportunity to explore University options in and around Adelaide, the sights, tourist spots, the beach and shopping.
Camp Costs:
At this stage the approximate cost of the camp is $1000.00. We will endeavour to keep costs as close to this figure as possible and provide a number of fundraising opportunities for students to get involved in to help cover the costs.
Fundraising:
A fundraising calendar with opportunities such as the Chalk and Talk Café, a Quiz night and a car wash and raffle will be posted home in the next week. We will also be writing applications to companies, businesses and organisations for support.
Over the next couple of months there will be a shout out for donations of items and/or services that can be donated to our Quiz night to run auctions and raffles on the night. If you know of someone that would like to donate please send me their details via email at kate.axten@ntschools.net so that I can get in touch with them.
Payment Plans:
Payments can be made via direct debit into the school account or can be made via cash or card at the front office.
If you would like to make payment via direct debit the school account details are as follows:
Account name: Centralian Middle School
BSB: 065 900
Account number: 105 135 23
*Please ensure that you put your child's FULL NAME and 'yr 9 camp in the description field to avoid any confusion*
Payments can be made, weekly, fortnightly or monthly into the account listed above.
In order for students to secure a spot on year 9 camp students must pay a deposit of $200 By Friday the 23rd of June.
This deposit will allow us to get exact quotes based on the number of students that will be attending camp and begin to book flights, accommodation and activities. This deposit will be refundable up until the final cost of the camp is communicated to families. Once this is announced we will begin making bookings. Once bookings have been made if you would like to withdraw your child from the camp the deposit will be used to cover cancellation or name change costs and therefore be non-refundable.
The DUE DATE will be dependent on the date of the camp:
If we get our first preference the total cost of camp will be due on Friday the 29th of September
If we get our second preference the total cost of camp will be due of Friday the 8th of September.
We are endeavouring to share as much information about the camp as when can when it is available to us as it is our hope that as many Year 9's can attend this camp as possible.
If you have any questions or concerns please do not hesitate to contact me via phone on 8950 2500 or via email at kate.axten@ntschools.net
Kind Regards
Kate Axten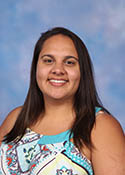 Kate Axten
Acting Team Leader year 9
Dance Students at the Eisteddfod
Highly Commended Dancers!
Last week we had 5 students, May Polak, Jessie Woolford, Iniko Stanley, Carlee Imhof and Shemeka Boswell-Cross perform in the under-16's hip hop category of the Alice Springs Eisteddfod. They performed a dance to Drake's 'One Dance.'
They had been rehearsing hard at lunchtimes in the weeks leading up and were excited and just a little bit nervous!
They started strongly, showing great arm positioning and synchronicity. They kept in time and finished with some impressive freestyle acrobatics from Jess. They performed with confidence and style and the judges commented on their great casual hip hop attitudes and the beautiful smiles in the group.
And the verdict? The CMS dancers got a highly commended! Well done CMS dancers - you were great!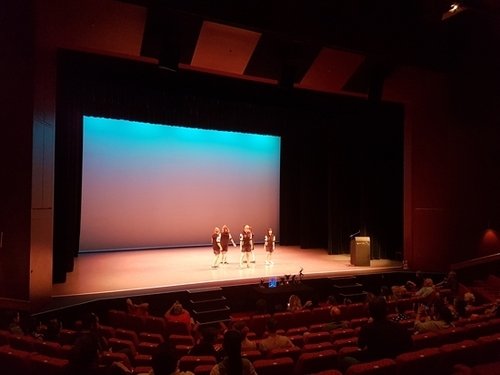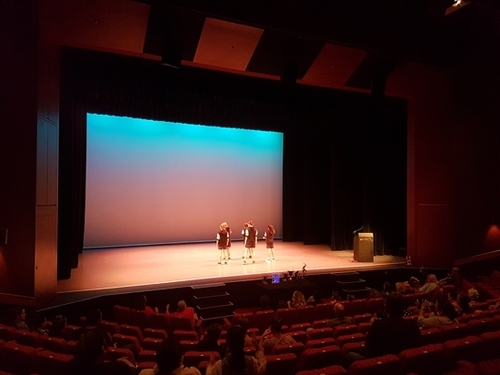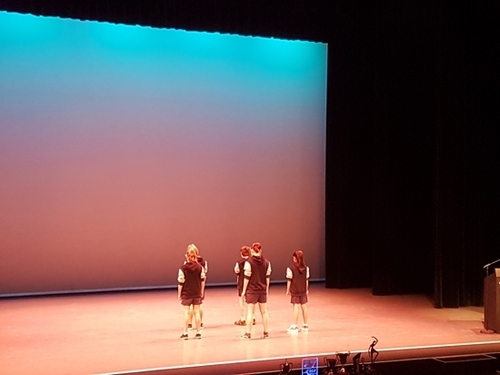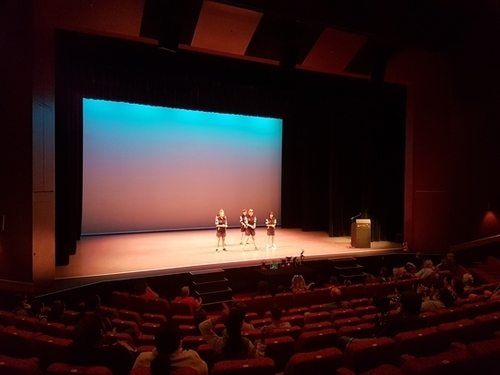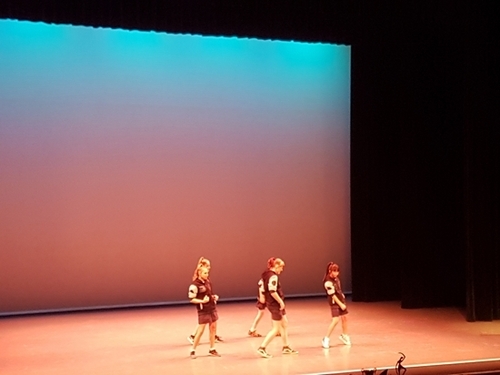 Robots! Robots! Robots!
Last Friday, Lauren Boyle and May Polak represented CMS at the Robo Dance Workshop held at the Alice Springs Town Council. The workshop taught students how to code robots in preparation for the upcoming Robo Dance Competition that is being held in June.
Both ladies will be participating in the competition along with other Year 7 and 8 students.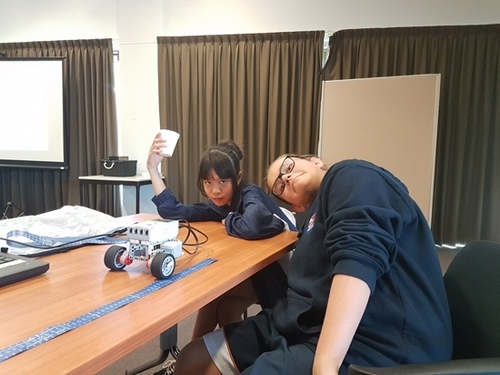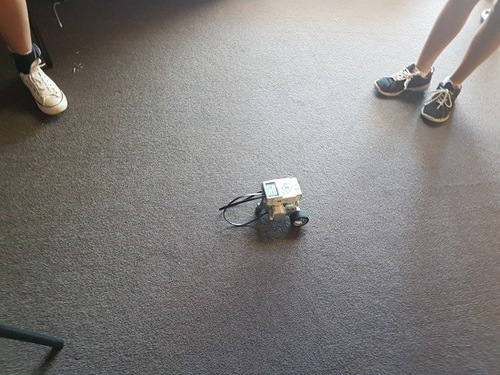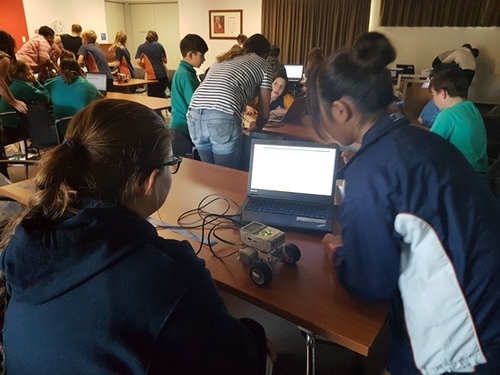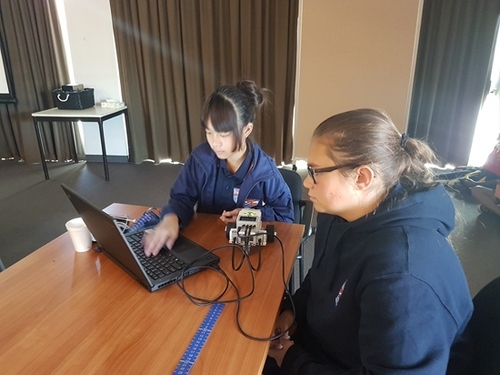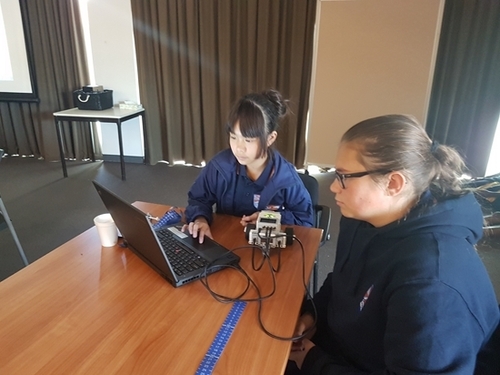 Winter Sports Challenge
CMS staff entered the Winter Sports Challenge, an interschool photo challenge run by the Department of Education in Alice Springs. Unfortunately we didn't win this year, but we did have a ball dressing up in our winter sports gear, brrrrrr!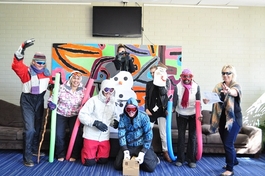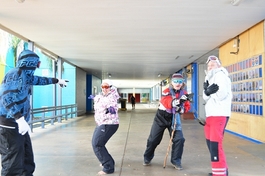 Polly Farmer- Follow the Dream Program
Tour of significant Mparntwe (Alice Springs) cultural sites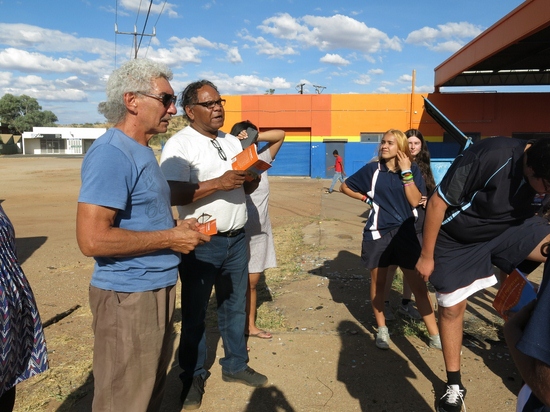 Cultural custodians Baden Williams and Greg MacAdam talk to students about the Gnoilya (Dog) and Yeperenye (Caterpillar) dreaming sites around Mparntwe (Alice Springs)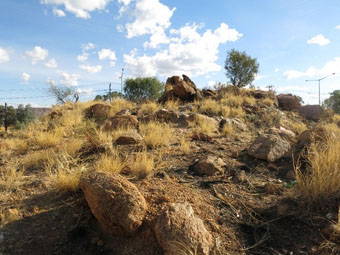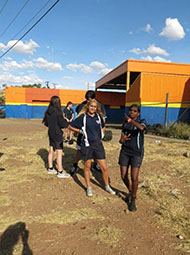 Cultural stop at the Puppies site behind Beaurepaires and at the base of Anzac Hill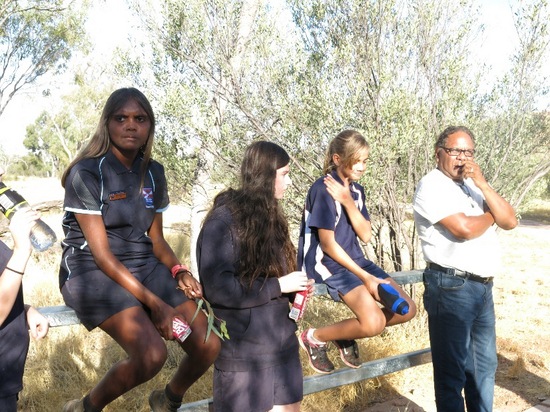 Baden Williams explains the Yeperenye and Gnoilya (Dog) Dreaming at Alhekulyele (Mt Gillen)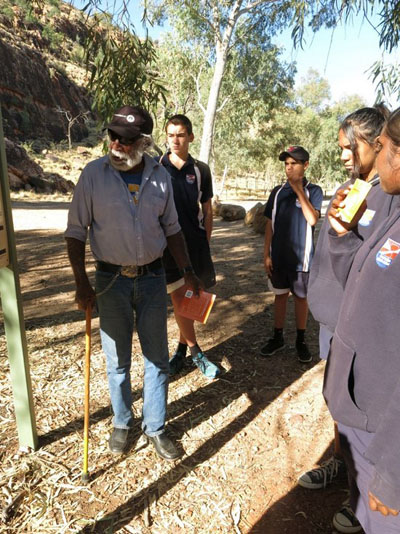 Cultural custodian, Mr Peter Wallace talks to students about his connections to the Yeperenye Dreaming (Caterpillar) dreaming site at Anthwerrke (Emily Gap)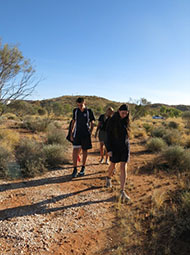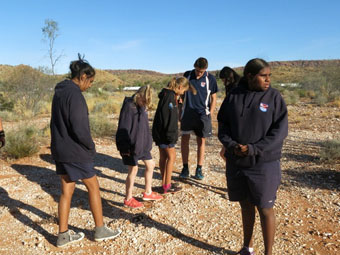 Visiting the caterpillar cacoon site where the Yeperenye caterpillars metamorphosis into butterflies
Wild Dog Story (Akngwelye)
A recount by Caleb Broome
This is the story of the Wild Dog (Akngwelye) who fights an imposter dog who came from the south.
This is a tragic story where the female dog dies protecting her puppies (Akngwelye) from the imposter dog. It is also a story of looking after and protecting country.
The story starts at Mt Gillen (Alhekulyele) where the imposter dog follow the scent of the female dog to a cave along the Western MacDonnell (Tyurretye) ridge close to the town. The local dog intercepts him, they fight. The local dog rips the imposter's belly open - his guts and clumps of hair can be seen today in the west of Alice Springs. The puppies hide from the imposter dog at the base of Anzac Hill and along the Stuart Highway beside the tyre shop, Beaurepaires. An eagle flying over, catches sight of the puppies hiding and swoops down to pluck one for a tasty feed. Fortunately the eagle misses but the eagle leaves a claw mark that can be seen as a line down Anzac Hill (Atnelkenyarliweke).
Neither dog dies. The imposter dog, injured and scared heads back though Heavitree Gap (Ntaripe). He lies in a tree fork and falls asleep. The local dog shelters under a tree, where he metamorphoses into a boulder to watch over the country. This site can be seen today close to the laundromat along the Stuart Highway.
As told to Polly Farmer student and cultural custodians Baden Williams and Greg MacAdam.
CMS Students present at the NT Writers Festival!
A "triumphant" presentation by Polly Farmer students of their graphic novel, Mixed Feelings at the NT Writers' Festival
Festival organisers and the audience marvelled at the students' skills and imagination to collaboratively investigate cultural, scientific, art, and adventure themes into their graphic novel. The first chapter of the novel is based in Simpson's Gap where the two main characters travel back in time to explore the inland sea and the age of the megafauna.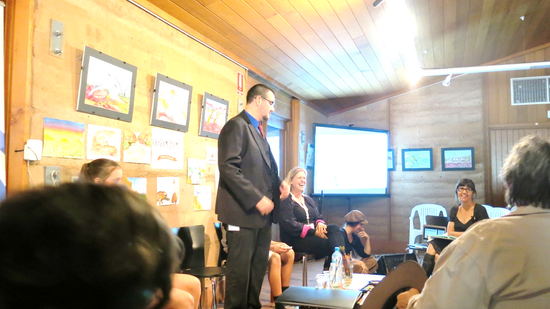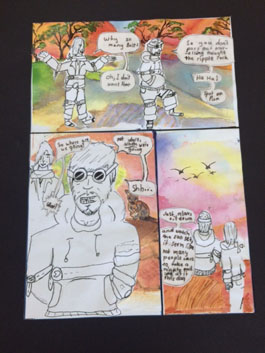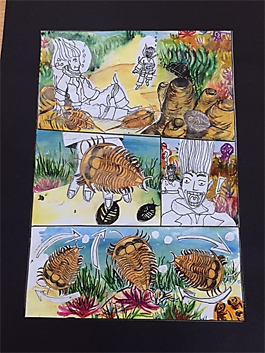 Declan takes the audience through the work behind the creation of the graphic novel, Mixed Feelings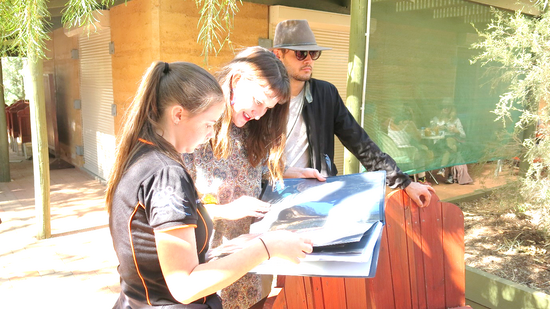 Emily shows Ms Philips the graphic novel, Mixed Feelings
Science writing with Tasmania based science author, Nicole Gill
Nicole Gill joined the students back in the classroom where they used their notes, sketches and photos from the Nocturnal Tour to create an animal that included a number of physical adaptation features. Nicole Gill guided the students on how to use creative writing techniques to communicate science messages.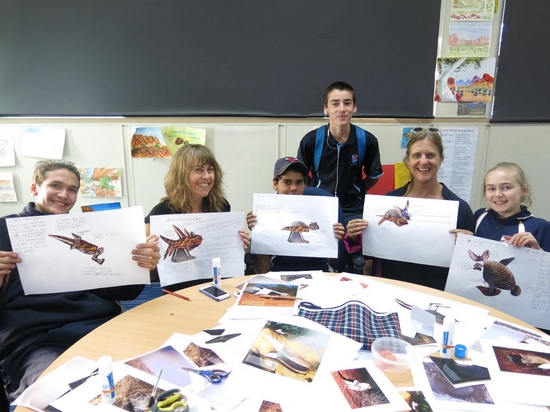 Nocturnal Tour at Alice Springs Desert Park
Students went on the Nocturnal Tour at the Desert Park in the company of zoologists and Tasmanian based science writer, Nicole Gill. Students used this opportunity to build on their classroom work on animal adaptations with resident environmental educator Jen Kreusser. Throughout the Nocturnal Tour students observed and took notes on the behaviours of desert animals and how they survive arid conditions and introduced species.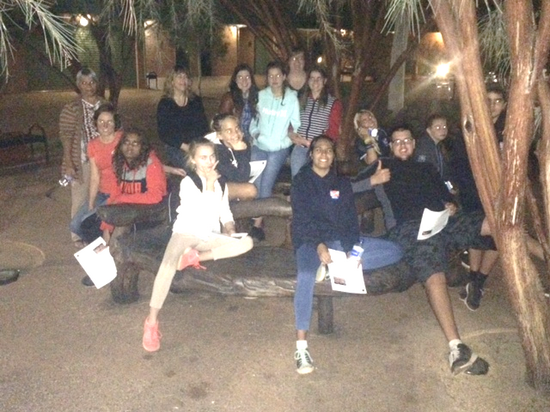 News from Clontarf
On Wednesday 17th of May 22 year 7 fellas went on a road trip to visit our brothers from the Tennant Creek Clontarf Academy and to see what the town had to offer. The trip started off in great spirits with the guys singing and dancing their way through the 5 hour commute up the Stuart Highway. Once we arrived we were greeted by the Great Gouldini who introduced us to his Academy members and kicked off what was an entertaining soccer match.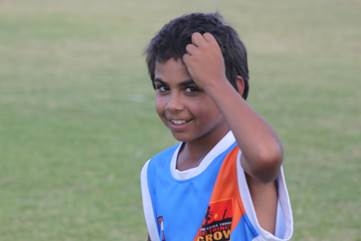 The next morning the CMS lads were up bright and early to join in a great training session before heading off to the 'Top of the Town' café for a sit down and a hot chocolate. From there they headed to the Battery Hill Mine where local mining expert Nigel took the boys on a very informative and interesting tour underground. The lads learned plenty about the difference of Ironstone and normal stone and despite the power going out, leaving us all in darkness the guys took away some great memories.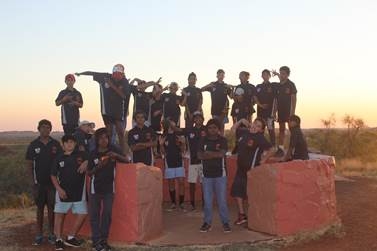 A quick trip to the beautiful Lake Mary Ann Dam for lunch was followed up by a refreshing swim in the Tennant Creek Town Pool before we headed to the 'Bill Allen Lookout' to take in a spectacular sunset and discuss how we can all support one another through our educational experience at CMS and beyond. Once the sun had gone down the guys made their way to Sporties to enjoy a delicious feed and to catch up with Tennant Creek Academy members again.
After a quick game of spotlight it was off to bed in preparation for another early start. The next morning the lads awoke to the delicate sound of Quinnys horrible music and we were on the road in a flash. A brief stop and walk around the magnificent Devils Marbles and a lunch stop at Aileron highlighted the trip home. Jason Sena, Jace Moldrich and Kingsely Tilmouth were each awarded a Clontarf polo shirt as a reward for their excellent display of the Clontarf Spirit while on camp but it could have gone to anyone of the fellas as they were all fantastic. A great trip made even better by the great group of young blokes who partook in the camp.
Facebook
We are now LIVE!
Head on over to 'like' it to keep in touch with school news, highlights and achievements of our wonderful students. We encourage people to like and share our posts.
Please read the terms of engagement before posting comments.
https://www.facebook.com/CentMS/
Some reminders
We need your support to ensure the school day runs smoothly:
All students have to be in full school uniform every day. This includes a CMS jumper. Students will be required to remove non-school jumpers. Students can wear a plain white or navy long sleave top under their school shirt
School starts at 8.30.
Students need to have books, pens and pencils to be prepared for learning. A stationery pack is available from Student Access.
Students are not to have mobile phones between 8.30 and 3.00. Students can drop them off at the office or keep them switched off on their person during the day. Please do not call or text your child during the day. If you need to urgently contact your child, please call the office.
Soft drinks and energy drinks are not appropriate drinks for at school. These will be removed from students.
Healthy drinks and food are available for purchase from the canteen on a daily basis.
Community News
Australia's Biggest Morning Tea
Join us at the Alice Springs Public Library for Australia's Biggest Morning Tea. Let's see if we can raise $1,500 for the Alice Springs Cancer Council!
25 May 10:15am to 11:00am
Alice Springs Public Library Cnr Gregory and Leichhardt Tce Alice Springs
National Sorry Day
Join Congress on Friday May 26 at 10:30am at the Flynn Church Lawns in the Todd Mall to acknowledge the day and show your respect to members of the Stolen Generations.
26 May 11:00am to 1:00pm
Flynn Church Lawns CBD
Pets on Parade 2017
You and your furry friend(s) are invited to Pets on Parade!
28 May
9:00am to 11:30am
Alice Springs Town Council Lawns
Finke Fever! An art show for kids who love Finke
Finke Fever! is a non-competitive art show, open to all kids (local and visiting), aged between 4 -12yo.
3 Jun to 30 Jun
10:00am to 3:00pm
The Residency (cnr Hartley & Parsons streets)