15 September 2017
Newsletter Articles
Important dates
19th-20th September – Immunisations Year 7 & Year 8
5.30pm 20th September- Information Night at CMS for 2018 entry
5.30pm 20th September- Information Night at Centralian Senior College for 2018 entry
8.45am 21st September – Principal Tour for Future and Current Families
23rd September – Chalk & Talk Café
29th September – Alice Can Dance performance
29th September – last day of Term 3
9th October – first day of Term 4
From the Principal
Dear families
Last week we had a very important and productive staff learning day. We revised our knowledge of the Disability Standards for Education, learnt more about the functions of behaviour and how to support students, continued our work around staff wellbeing and began to dig into this year's learning, behavioural, attendance and perceptual data to review our achievements and plan for 2018. Thank you for your support of this day – we know that it can be difficult to make alternate plans for your child and we appreciate that you did so.
Thank you to those who participated in the recent School Survey that we conducted. While we only had around 20 parents participate, around half of our students participated and most of our staff participated. We are currently considering the responses and feedback across the three groups and are using this data (alongside other data sources) to take stock of where we are up to and to plan for future improvements. I will provide a summary of this data in the next newsletter.
We are now taking enrolments for 2018. Alice Springs primary schools have enrolment forms and are distributing them to Year 6 students. If you have a child in Year 6, please ensure that you return enrolment forms now so that we can make decisions about how to set the school up in 2018. We are asking families to return enrolment forms by the end of the term, either to their primary school or directly to us.
Our Year 7 students have been out on camp in the West MacDonnell Ranges this week. They returned today a bit exhausted but with new friendships and new experiences. Tremendous thanks to the staff who organised and attended the camp. The Year 8 and 9 camps will occur in the first half of Term 4 and there will be an interstate Polly Farmer camp late in the term.
Next week our Year 9s are completing their third VET placement. This has been a wonderful success this year and we look forward to seeing what our students will achieve next week.
We have a large number of students participating in the Alice Can Dance event. They will be performing twice on Friday 29th September. Tickets are now on sale from the Araluen Box Office: 8951 1122. These tickets have always sold out in the past so make sure to get them quickly.
We are rapidly approaching the end of another term and there are many tired students. We are keeping the learning momentum up and we request that you encourage your child to persevere and then spend the one week break relaxing and recharging prior to throwing themselves into Term 4.
Warm regards
Paul van Holsteyn
Principal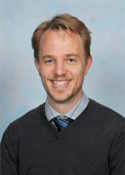 Mr Paul Van Holsteyn
Assembly Awards
Congratulations to the following students…
7.1 - Cody Short-Dawson for always approaching his learning with enthusiasm and imagination.
Mark Gallagher – for having a go at his learning and beginning to demonstrate his ability to try all activities in class.
7.2 - Vitaliano Fuamatu - has always been working hard and his work quality is very high.
Kearne Palmer - Responsible as she is She has been working very hard in all classes
Mikalea Castine – Responsible taking her learning in her own hands and working very hard in classes.
7.3 - Jace Hammond – For displaying the value of responsibility in having a go in his class work. Keep it up!
7.4 - Alan Ah Kit, for focusing on his learning and improving his listening to others thoughts and opinions.
8.1 - Jemma Morick for a responsible approach to learning .
Cody Hodgins being respectful to peers and staff as well as a positive attitude towards English and HASS.
8.2 - Tyler Cawthorne – for constant attention to proficiency in maths
Seraphina Newberry – for consistently attempting every class activity
8.3 - Kallym Philomac - For taking responsibility for his own work in class.
8.4 - Niesha Korman - For always showing fairness within the classroom.
9.1 - Tyler Hall Working hard to complete his poetry analysis assessment to a high standard.
Zoe Yodgee Working hard to complete her poetry analysis assessment to a high standard.
9.2 - Shania Armstrong for taking the responsibility of always remaining focused on the task at hand in class.
9.4 - Isabella Keays – Isabella has consistently demonstrated a positive attitude towards her learning and is achieving great things within the classroom.
9.5 - Seliena Balzer – Ensuring that she makes a conscious effort to ensure she is a responsible member of the CMS school community.
Principal Tours
Thursday 21st of September, 8:45am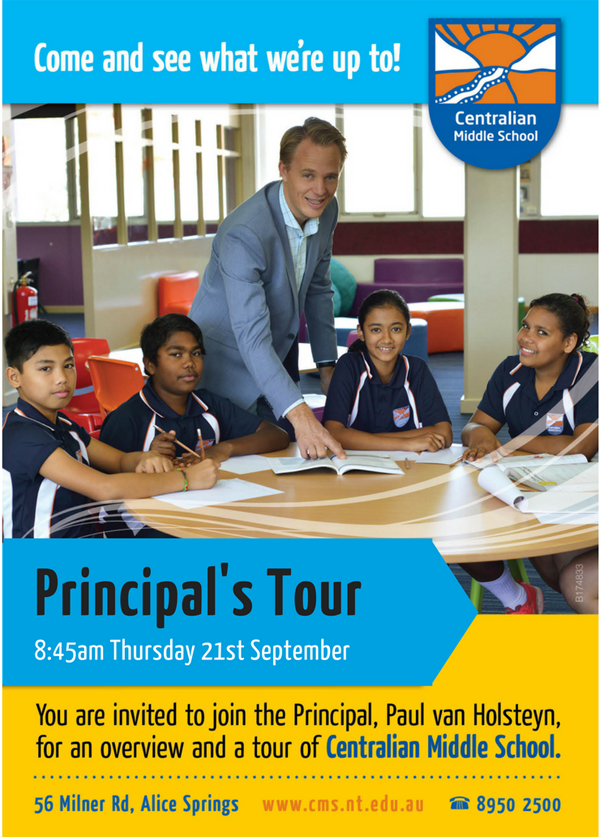 Trivia Night
Year 9 fundraiser a huge success!
Last Thursday night the students and staff from year nine held a trivia night in the Girls Academy Room to raise money for the year nine camp. The night was a lot of fun and we would like to say a special thank you to Felix Meyer for being our MC extraordinaire as well as Liam Quinn for taking on the difficult job of marking answer sheets. We would also like to thank The Girls Academy for letting us use their space and the local businesses who generously donated prizes for the night including Mixed Lollies, Prime Cut Meats, Lone Dingo, Priceline, The Goods, The Bean Tree Café, The Water Tank Café and Intersport. Lastly we would like to thank everyone who participated on the evening and made the event such a success.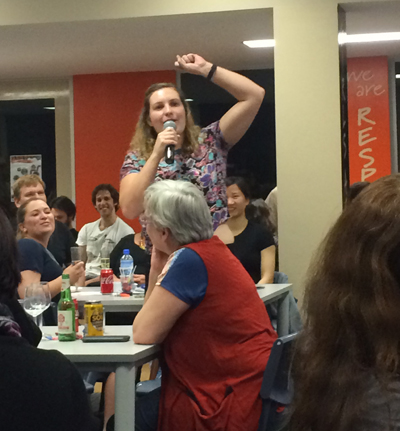 Miss Russell singing the Collingwood Anthem for a prize
Year 9 Elections
Fierce political battles in Year 9
As part of our Civics and Citizenship Program, last Wednesday, the year nines held a whole school election. The winners were given the opportunity to improve our CMS community by coming up with appropriate election promises that, in conjunction with the leadership team, could be made into a reality. Accordingly, the winning party has begun negotiations with Paul Vanholsteyn to start making some changes. The winners will also be given movie tickets and a pizza lunch.
The Cool Kids Club (Jaycin McQueen- Bryers, Henry Gunner and Matthew Carter) won by a sizeable majority on 102 votes, followed by the Students for Freedom Party (Emily McGinness, Tyler Hall) on 68 votes and the JKSS party (Shania Armstrong, Shania Presley, Janaya Kopp and Kiannah Beattie) on 32 votes.
The year nine team would like to thank everyone who participated in the election it was a great learning opportunity and a lot of fun.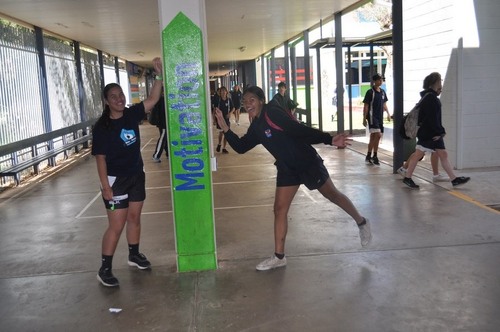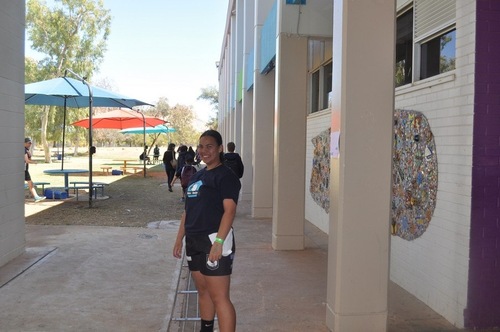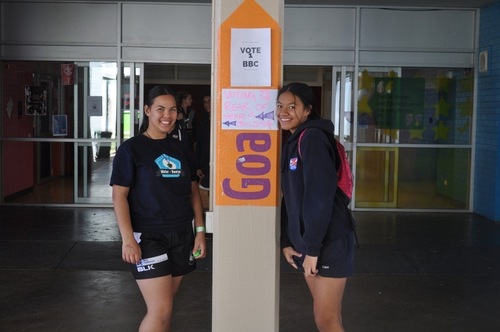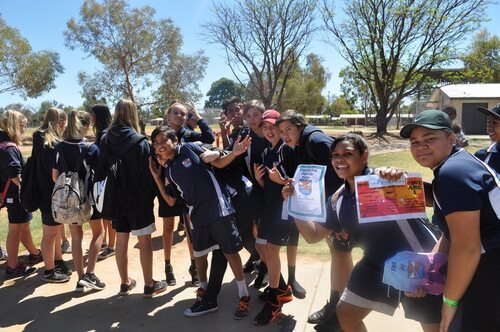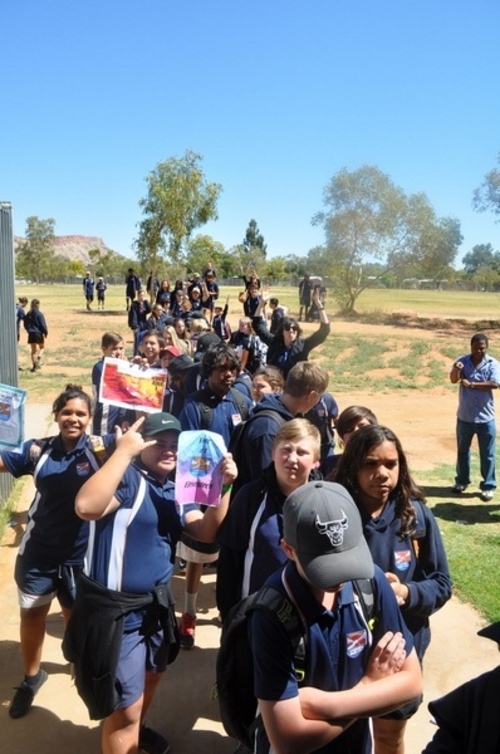 Alice Can Dance
Book your tickets!
Ticket sales for Alice Can Dance go on sale. There are two shows on Friday 29th September, the first at 5pm, finishing at 6.15pm and the second starting at 7.30pm, finishing at 8.45pm. Rather than a matinee performance in the middle of the day we thought it would be easier for students and schools if we ran two consecutive performances, with an earlier rehearsal time. Hopefully the extra show will mean that no families miss seeing the show.
Prices for the tickets are $10 an adult, $5 a child and $20 per family of 4. You can also purchase blocks of 10x tickets for $50, but remember that it is reserved seating, so tickets are numbered.
Call or visit the Araluen Box Office: 8951 1122
2018 Information Evening at Centralian Senior College
Wednesday 20 September 2017 from 5:30pm to 7:00pm
Making a successful transition from Year 9 to Year 10 in 2018 is a very important step in your child's education. To assist parents support their child to make a successful transition, Year 9 parents and families are invited to our 2018 Information Evening. At the information evening you will be provided with information on enrolment procedures, courses, wellbeing strategies, the mentoring program and how you as a parent can support your child through the next three years. You will also have tour of our excellent facilities. A light meal will be provided.
To increase your understanding of the school, its people and services, please join us for an introduction to Parents As Career Transition Support at the Information Evening. PACTS is a program specifically designed to help provide parents, guardians, grandparents and carers with up-to-date information about educational pathways, that enables them to support their children effectively when they're making career transition decisions within the secondary school system and beyond.
We look forward to seeing you at the College.
Chalk and Talk Café
Next Café 23rd September
Please come down to another great Chalk and Talk Café on 23rd September. There will be a delicious selection of cakes, breakfast options and barista coffee on sale. All proceeds go to Year 9 Camp.
Polly Farmer- Follow the Dream
Jelly Roll Quilt Race
What is a Jelly Roll? I hear you say.
In just under 90 minutes, 4 teams created 2 quilt tops. Follow the Dream students rose to the challenge and created stunning jelly roll quilts while working out the maths as they went. Watch this space for exhibition details, where you can view their dramatic results. We did it in the nick of time, demonstrating teamwork, sewing skills, applying maths skills and persistence. It was fun!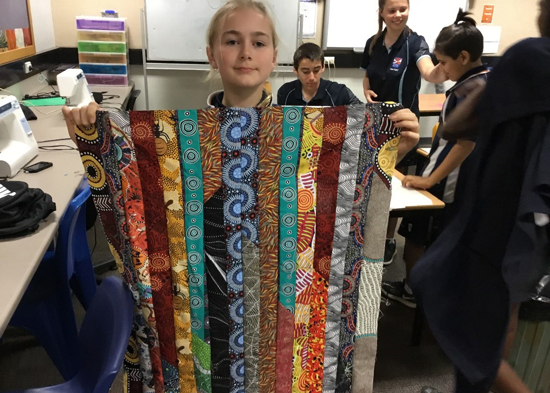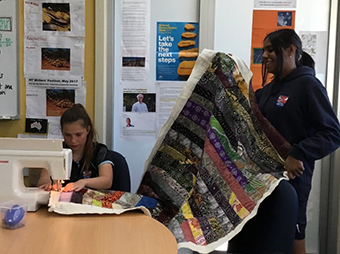 Student Voice: Short Film
A short film of Student voices on their Polly Farmer experience was created: What they do and what it means to them is now available on a FTD Vimeo Channel
Also check-out students' work on tessellations and Flextangles – they are amazing.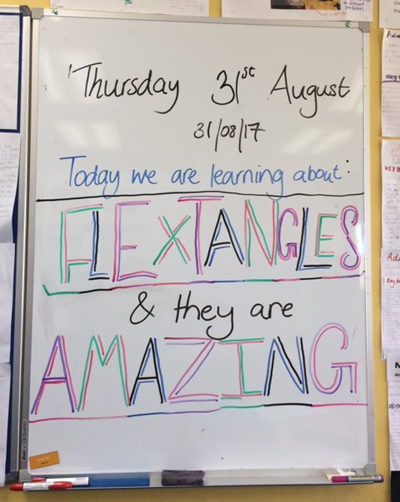 Earth Sanctuary Excursion
Scheduled for Tuesday 19th September, Week 9. This is an opportunity for students to meet fellow Follow the Dream students from Mussellbrook High school, NSW. Plenty of activities have been scheduled including – a tour of sustainable arid living, damper making, dinner topped with an astronomy session. A letter has gone home for parents to sign and register your child's participation. More to follow in the next newsletter…
Woolworth Earn & Learn stickers
Centralian Middle School has signed up to participate in Woolies' Earn and Learn promotion. Here is how it works: Spend $10 = 1 sticker. Get a Sticker Sheet from Woolworths. Last, drop the Sticker Sheets at the Front Office, Student access or Woolworths (the boxes next to the trolleys). Open until 31st September and we might be able to get some sweet prizes for the school!
Facebook
Keep up to date with all our news and updates
Head on over to 'like' it to keep in touch with school news, highlights and achievements of our wonderful students. We encourage people to like and share our posts.
Please read the terms of engagement before posting comments.
https://www.facebook.com/CentMS/
Some reminders
We need your support to ensure the school day runs smoothly:
All students have to be in full school uniform every day. This includes a CMS jumper. Students will be required to remove non-school jumpers. Students can wear a plain white or navy long sleave top under their school shirt
School starts at 8.30.
Students need to have books, pens and pencils to be prepared for learning. A stationery pack is available from Student Access.
Students are not to have mobile phones between 8.30 and 3.00. Students can drop them off at the office or keep them switched off on their person during the day. Please do not call or text your child during the day. If you need to urgently contact your child, please call the office.
Soft drinks and energy drinks are not appropriate drinks for at school. These will be removed from students.
Healthy drinks and food are available for purchase from the canteen on a daily basis.
Community Notice Board
Term 3 Debating 101
Alice Springs Public Library
20 September: Debate 5 – "Finishing high school should be compulsory"
27 September: End of Term Party and Games