28 September 2017
Newsletter Articles
Important dates
29th September – Alice Can Dance performance
29th September – The Rockets Vs The All Stars Touch Football Game, Flynn Drive Oval
29th September – Last day of Term 3
9th October – First day of Term 4
19th October – Student Leadership Day
30th November – Presentation Night
From the Principal
Dear families
Inconceivably Term 3 is over and we are three quarters of the way through the year! Highlights from Term 3 for me include:
Alice Can Dance – performing tonight!
The Cross Country Day.
Transition visits with our Year 9s going to Centralian Senior College and the Year 6s from across town schools coming to CMS.
Students starting to use our drones and 3D printer.
Camps to Katherine, Darwin, Glen Helen and Palm Valley.
The Quiz Night.
Term 4 will be similarly packed – in particular with the Year 8, Year 9, Clontarf and Polly Farmer major camps, but also with our end of year graduation activities and Presentation Night. Presentation Night will be on Thursday 30th November so please put this date in your diary now.
I am very much looking forward to Alice Can Dance tonight. Our students and students from across Alice's government schools have been rehearsing all term and the product is really impressive! I want to congratulate and commend the students who have persevered and challenged themselves through this event.
We also have our two CMS Touch Football teams going head to head tonight. Who will overcome – All Stars or Rockets?!
We are currently accepting enrolments for 2018. If you have or know of a young person due to enrol, please get in touch with the school urgently so that we can make sure that we have a place for them. Early in Term 4 we will be determining our class mix so that we can commence recruiting staff. Knowing accurate student numbers now is very important for us.
Thank you for your support of the school over the term. We hope you enjoy the week that students have off and I look forward to seeing everyone back for a productive Term 4. School starts again on Monday 9th October.
Warm regards
Paul van Holsteyn
Principal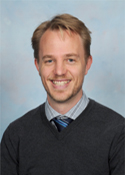 Mr Paul Van Holsteyn
Assembly Awards
Congratulations to the following students…
7.1 Natalie Campbell - for making a great effort complete her work independently in Humanities.
Justin Baliva - for being considerate of those around him and always participating in class discussions.
Kyle Carroll - for using persistence to search for answers to hard questions and completing all his work in English this week.
7.2 Alex Stuart -Responsibility - For working extremely hard in class and completing all his work.
7.3 Laylah Dunn - for being a welcome addition to the 7.3 classroom, and for having a go at her school work.
7.4 Nikiah Tommy - for perseverance with her work and for being respectful and fair to her peers and teachers.
7.5 Jayden Williams - for his mature attitude in mainstream and SGC classes
8.1 Jade Hayward - Excellence in Humanities and Social Science
Hannah Richardson- Excellence in Humanities and Social Science
Tony Nguyen- Perseverance in Humanities and Social Science and English
8.2 Tameka Philip – for applying herself in Math
Alisha Meyer – for facilitating a positive working environment
Jason Peace - for taking responsibility for his learning in Humanities, and treating his team members with respect and fairness.
8.3 Rohan Watts – Great effort in home group and science
Tusiga Salei – Great effort in home group and science
8.4 Tahliah Cordwell - For always being kind and polite to others and for putting in lots of effort into her work.
John Balzer - for consistently treating his teachers and peers with respect and fairness through his participation in class activities and his willingness to help others
9.2 Riley Haselton - for his reliability as an independent learner.
9.4 Matthew Carter – Matthew excelled at VET demonstrating that he is a capable learner in all learning environments.
9.5 Son-J Padam - for an excellent week at VET demonstrating his knowledge and understanding around the Automotive Industry in a responsible manner and demonstrating mature, respectful leadership qualities whilst in the workshop
CLONTARF –
Joshua Hayes- Came to Katherine and played in the Northern Carnival off the back of great effort and endeavour in the classroom. Has stepped up and we are chuffed with him.
Declan Miller- For being a champion bloke and always showing the 'Clontarf Spirit'. Has become a true leader of the Academy and his value to the program is unmeasurable.
Food Hygiene in the Canteen
Canteen Manager, Vicki Smith would like to thank the following students for their dedication to th Food Hygiene Program in the canteen this term.
Jade Hayward
Nikita Badenoch
Alice Can Dance!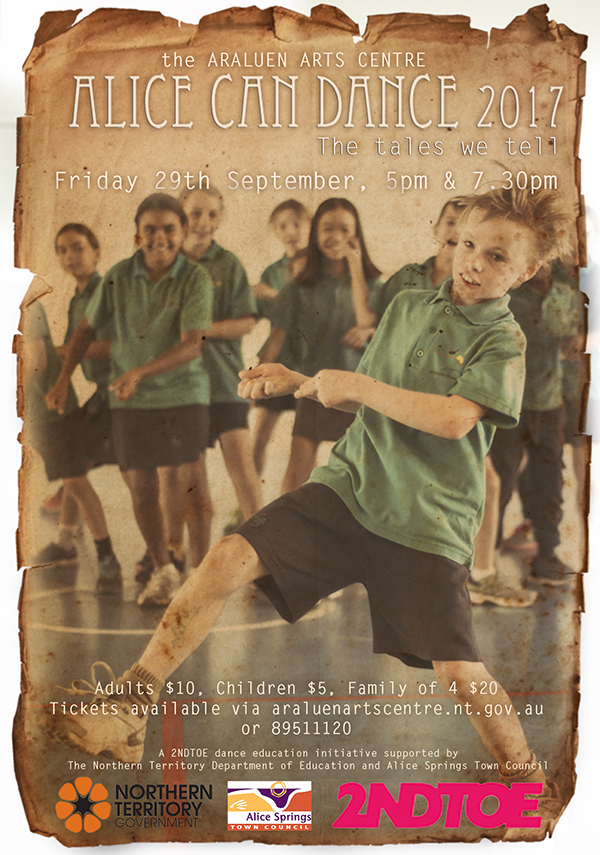 Touch Football
CMS Touch Footy DECIDER!
This Friday night is the head-to-head decider game between our two CMS Touch Football teams – All Stars Vs Rockets! Come down at 6pm to Flynn Drive oval to cheer on our CMS guys and gals, with a fundraiser BBQ to support our teams.
All welcome, parents, siblings, friends and teachers – hope to see you there!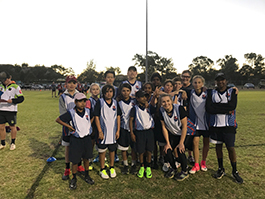 Feasting at the Gaps
Excursion
During term three, students in Utnenge and 8.5 have been studying local bush tucker as part of indigenous language and culture studies. On Friday 15 September the students along with Carol Turner and local traditional owner Pat Dodd, visited Jessie and Emily Gap to search for bush foods. We feasted on Utyerke, bush figs, and tried Ngwarle Aperaltye, the sweet sap found on the River Red Gum Leaf. It was really delicious. We also had the privelege of learning about the Gap's dreaming from Carol and Pat.
We spotted the Yiperinye (dreaming caterpiller) and the emu in the rock. We heard stories about the guardian of the gap. Even though many of us have lived in Alice Springs for a long time, we all learnt new information about the local country. It was a valuable opportunity for all of us and we are very grateful for the wisdom and knowledge that Carol and Pat had to share with us.
Written by Djesi and Vanessa
Photos by Utnenge and 8.5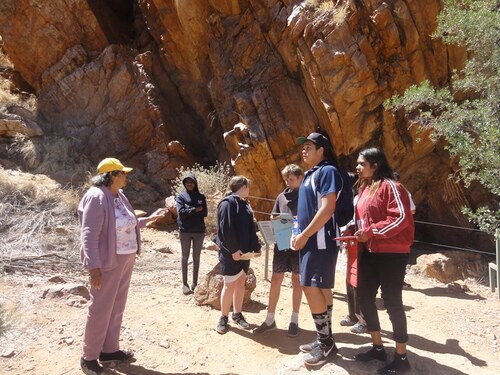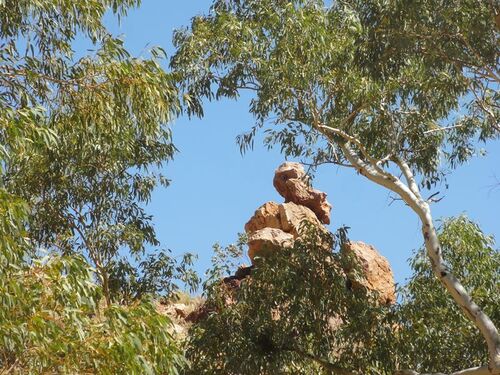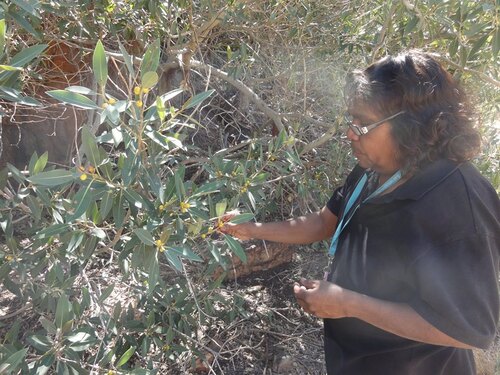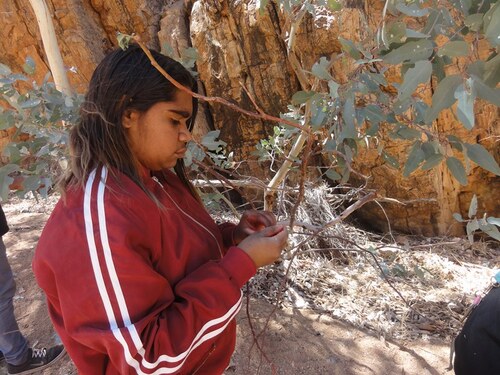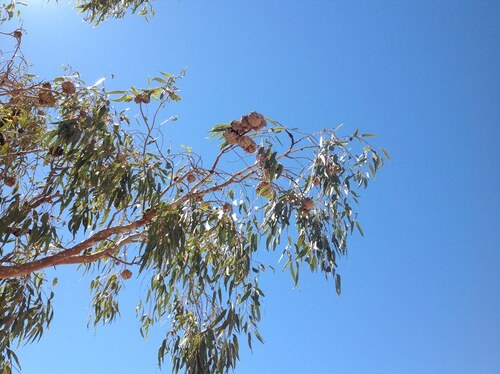 7.3 Using Dyes in Textiles
7.3 has just completed their first term of textiles. This week they finished off with a project about tie dye. Students experimented with different colours and ways of making patterns and explored the history and origins of tie dye. Well done 7.3.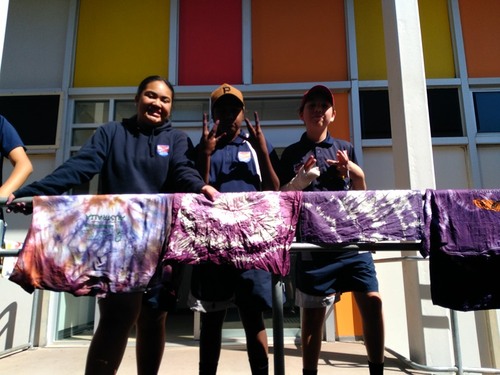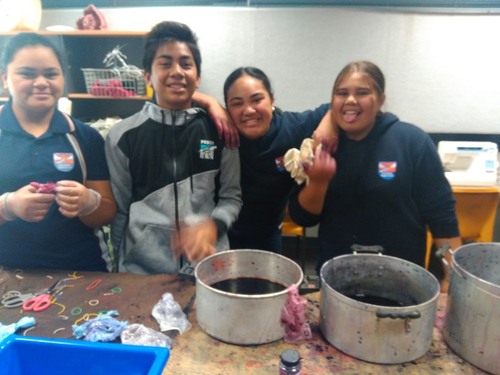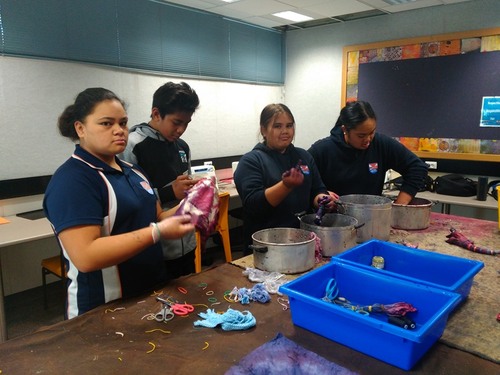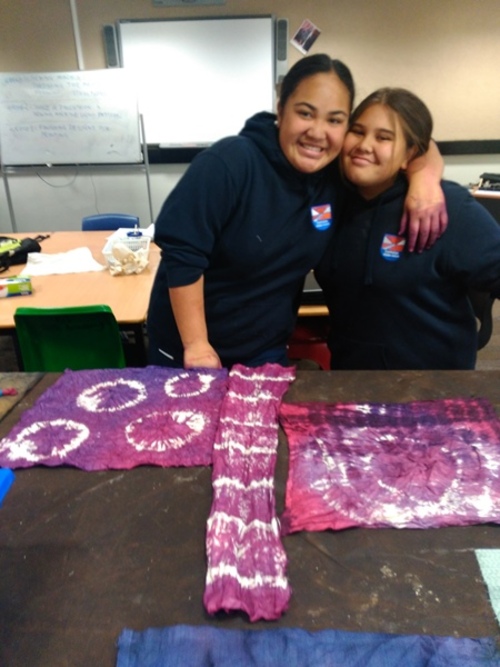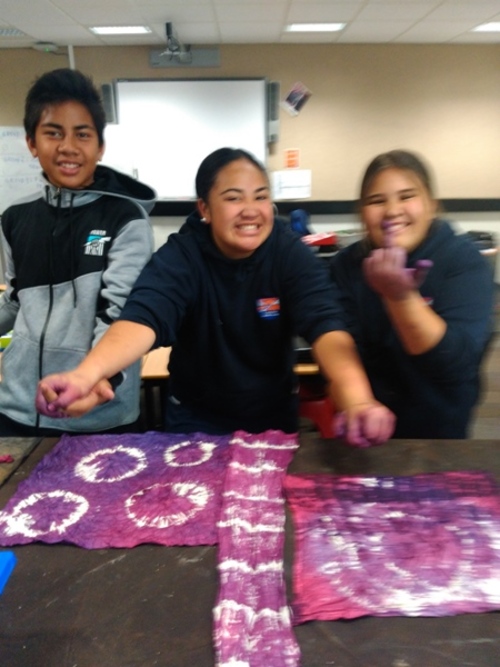 Year 9 Poetry
Year 9 have been studying the use of figurative language in English and have produced an impressive portfolio of poetry. The main assessment task involved writing a poem about a conflict scenario of their choice. Here is a selection of students works.
It was either dead or alive

Whether you thrive or dive

National terror

Brings the bad news bearer

 

Sleepers with knives and nightmares

Mumbling the Lord's prayers

Options that leave some to wonder

How someone takes a life to squander

 

Warriors filled with hatred

Destroy everything sacred

People yearning for answers

Killed by machine gun dancers

No acceptance by Western society

Causes nothing but hatred and anxiety

Sending people off into the eternal abyss

Only makes them scowl and hiss

 

But when Hitler came to power

He had found his last chance:

A blessing in disguise?

 

"If I fight for MY country

And fight for MY rights

Then maybe I'll find purpose

In this life of blight"

 

So he left his shabby apartment

To go fight in the war

But the recruitment officer

Whom was worn and overworked

Didn't want to converse with a piece of deadmeat

The weary man looked up to see the aspiring young boy

Who hadn't experienced the absolution of war

 

'We don't accept Germans'

Aldawolf was shocked

'Please, I need to go!'

'We're fighting the bloody jerrys not recruiting them!'

'Understood' it is time to go

 

Aldawolf crawled his way home

'Well then I'll let it all burn

He whispered to the misery littered street

The officer was so exhausted

He didn't even realise the missing mechanical blood

By Katlyn Craig

 

Hitler was a evil man who hated Jews

Ouch! It hurts only to think about what he did to all those people!

Lots of people got hurt and even killed just because of one man

Only a small part of them survived

Can anybody understand how big was the disaster?

All those lives and families were lost so quick!

United states helped the Jews, but it was to late…

Some people that survived have been traumatized!

Those people will never forget the horror of holocaust

By Lou-Anne Palmer

 

Race War

The racism showed to our first nation,

Take the rest and make them yours.

The ones that are left

Will soon be also yours.

 

If we are serious about stopping a slaughter

We must accept all

No matter their creed

Such a simple thing, indeed.

By Angelina Baker

My nature

 

Aldawolf was born and raised

Within Britain's restless walls

During ww1, when the west was ablaze,

When Germany experienced its greatest fall

 

He was an outcast,

A lone wolf.

Only the fools of false friends

Would pretend to be his ally

He had no job, no rights

He might as well end it all

 

So Aldawolf reached his safe house

And drenched it in death,

And set the place ablaze

And in that motel

Is a model of the Second World War

By Riley Hassleton

 

Loud screaming,

Caused by conflict

Loud screaming,

The pain and trauma

 

Love torn apart,

Once thicker than blood

Now thinner than tears

The pain is a blunt thud,

It's a cloud that never clears

 

Who was once your everything

Is now your nothing.

They stood by and watched

Scored no bruises and cuts

Except the scars left by the trauma

Of watching

 

The darkness is all I see,

Your battered face with a closed-over eye

 

Loud screaming, the pain

won't fade away

Loud screaming, the pain

won't fade away

 

Loss of our culture,

Loss of our land,

Loss of our people,

The ones who walk those sands.

 

They will rise like an eagle, one day,

Across the land they lost.

Risen and proud, one day:

Dominos bouncing back, despite the cost.

 

Round and round.

Cat and mouse.

Yin and yang.

Like the tale of Ouroboros:

An infinity passing,

Never changing.

But different,

Stuck in a cycle,

Of an endless curse.

My people disappear; we all feel the pain,

Past and present.

By Declan Miller
Facebook
Keep up to date with all our news and updates
Head on over to 'like' it to keep in touch with school news, highlights and achievements of our wonderful students. We encourage people to like and share our posts.
Please read the terms of engagement before posting comments.
https://www.facebook.com/CentMS/
Some reminders
We need your support to ensure the school day runs smoothly:
All students have to be in full school uniform every day. This includes a CMS jumper. Students will be required to remove non-school jumpers. Students can wear a plain white or navy long sleave top under their school shirt
School starts at 8.30.
Students need to have books, pens and pencils to be prepared for learning. A stationery pack is available from Student Access.
Students are not to have mobile phones between 8.30 and 3.00. Students can drop them off at the office or keep them switched off on their person during the day. Please do not call or text your child during the day. If you need to urgently contact your child, please call the office.
Soft drinks and energy drinks are not appropriate drinks for at school. These will be removed from students.
Healthy drinks and food are available for purchase from the canteen on a daily basis.