1 December 2017
Newsletter Articles
Important dates
12th December – Year 9 Graduation Dinner
13th December – Colour Splash
14th December – Last Day of School
From the Principal
Dear families
Inconceivably there are only two weeks left of school this year! There are a number of exciting and celebratory events occurring between now and the end of the year. This includes a Polly Farmer camp next week to Melbourne and a Clontarf camp next week to Adelaide, an afternoon Slip and Slide session next Friday for students that have consistently made appropriate behaviour choices, a Year 9 evening event on Tuesday 12th December and our Colour Smash event on Wednesday 13th December. Aside from these events, classes will by and large continue as normal until the Colour Smash. The last school day of the year is Thursday 14th December; on this day students will primarily be cleaning up the school and moving furniture in preparation for 2018.
Thanks to everyone who joined us for our amazing Presentation Night last night. It is a joy to celebrate the achievements of our students over the year and I congratulate all of our award winners and all of our Year 9s who have concluded their time with us and are about to commence at Centralian Senior College. The Year 9 students as a group and as individuals have made a tremendous contribution to CMS over their time here and I thank and congratulate them.
We are farewelling a few staff at the end of this year. Amongst our teaching staff, Ms Swahnnya De Almeida, Ms Ruby Sun, Mr Al Dunbar and Ms Liz Hill are all pursing new adventures. Amongst our administration staff, Ms Astrid Joyce is leaving to have a baby and Ms May Tabart is moving to a different role. We have concluded recruitment of staff for 2018 and we have teachers coming to backfill each of these positions.
Teachers are currently finalising school reports. These will be mailed home in the last week of Term.
This will be our last newsletter for the year, although we will continue to post photos and updates to our Facebook page. If you haven't already, 'like' it so that you can remain in touch with what is going on here:
http://www.facebook.com/CentMS/
Kind regards
Paul Van Holsteyn
Principal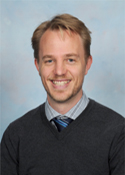 Paul Van Holsteyn
Year 9 Graduation Dinner
The Year 9 Team is very excited and proud to be seeing our students graduating from Centralian Middle School. We are excited to be holding a Graduation Dinner at the Star of Alice on the 12th December to recognise the success of the year 9 students in 2017. The Dinner will run from 6:00-8:30pm and cost $20.
We are very much looking forward to seeing our students in their best formal clothes as they enjoy dinner and dancing under the stars. We are sure that parents will also be proud and happy as they watch their young adults get photos taken as they stride the red carpet!
Student Newsletter
Last week, the Student Newspaper Committee released the second edition of the CMS Student Newspaper. The second issue included the student's take on the Halloween Social, Swimming Carnival and student leadership nominations.
The newspaper is available at the Front Office or can be viewed on the school's Facebook page.
The third and final issue of the newspaper for the year will be released on Friday 8 December 2017.
Orientation Day
CMS hosted our annual Orientation Day for incoming Year 7 students from around Alice Springs. Over 100 students were in attendance this year. Designed to familiarise new students with the experience of the Middle School environment, Orientation Day is an important opportunity for both students, teachers and parents to 'get to know each other' before the new school year starts. Students were engaged in a range of subjects and extra curricula activities including Science, Physical Education and Girls Academy and Clontarf.
New families are encouraged to get their enrolment paperwork back to the office.
CMS would like to thank everyone who attended and we look forward to meeting our new students in 2018!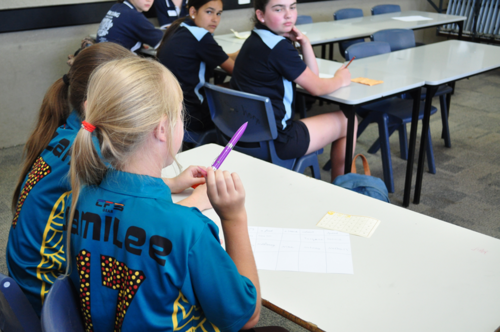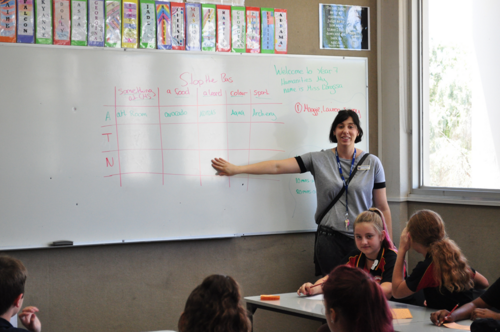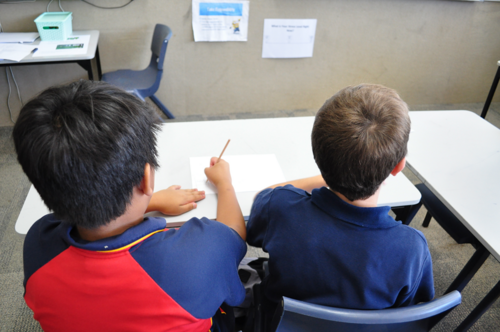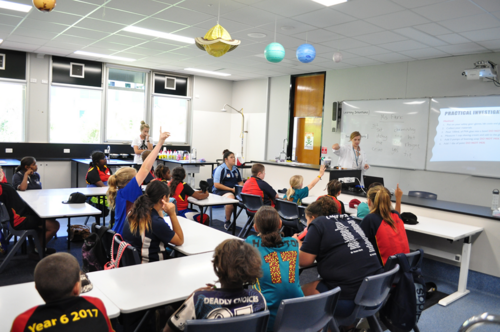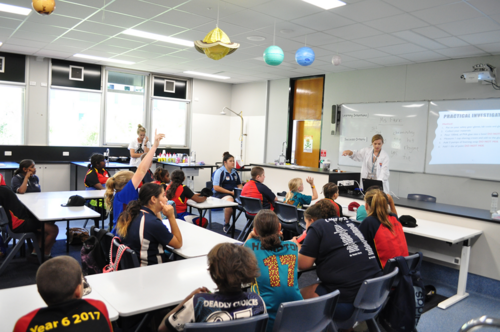 Polly Farmer- Maths and Science Centre of Excellence Program Camp
Students' experienced the bustling city of Melbourne last week, when they had the opportunity to experience venues displaying a range of engaging exhibits, audio-visual displays and other activities. We were able to experience the University of Melbourne campus, where students met with science researchers and made their very own ice cream in a snap lock bag.
The IMAX 3D documentaries about Planet Earth and Hubble telescope were also popular, allowing students to experience the life of an astronaut and the imagery obtained from the Hubble telescope.
Melbourne Zoo and Sealife Aquarium offered a range of living exhibits, in particular animals such as lions, penguins, tigers, stingrays and various monkeys. Students were inspired by the appearance and behaviour of animals they saw and they considered how they were able to survive in their different environments.
Of course, it wasn't all hard work and no play, as students expelled their energy at the Bounce Trampoline Park and learnt from expert Circus performers - the basics of juggling, summersaults and how to build a human pyramid!
With only a pinch of energy left, students said goodbye to Melbourne town via St Kilda Beach with a celebration of fish and chips!
Well done to all the students and staff involved for their commitment to their own learning and willingness to support each other as fatigue crept in later in the week. We hope that the camp experience has sparked genuine interest among students' and planted seeds of inspiration.
Overdue Library Books
Students are reminded that all overdue library books must be returned to CMS library as soon as possible. If returned books cannot be located families will be sent an invoice for replacement.
If you have any questions or concerns please contact the front office.
Facebook
Keep up to date with all our news and updates
Head on over to 'like' it to keep in touch with school news, highlights and achievements of our wonderful students. We encourage people to like and share our posts.
Please read the terms of engagement before posting comments.
https://www.facebook.com/CentMS/
Some reminders
We need your support to ensure the school day runs smoothly:
All students have to be in full school uniform every day. This includes a CMS jumper. Students will be required to remove non-school jumpers. Students can wear a plain white or navy long sleave top under their school shirt
School starts at 8.30.
Students need to have books, pens and pencils to be prepared for learning. A stationery pack is available from Student Access.
Students are not to have mobile phones between 8.30 and 3.00. Students can drop them off at the office or keep them switched off on their person during the day. Please do not call or text your child during the day. If you need to urgently contact your child, please call the office.
Soft drinks and energy drinks are not appropriate drinks for at school. These will be removed from students.
Healthy drinks and food are available for purchase from the canteen on a daily basis.
Community Notice Board