2 February 2018
Newsletter Articles
Important dates
5.00pm Thursday 8th February – Year 7 Family Event and Sleepover
Wednesday 14th to Friday 16th February – Clontarf Year 7 Camp to Tennant Creek
Thursday 1st Marh – Queen's Baton Relay for the Commonwealth Games
Thursday 1st to Friday 2nd March – Clontarf Year 9 Camp
Thursday 6th March – Immunisations for Years 7-9
Thursday 15th to Friday 16th March – Clontarf Year 8 Camp to Rainbow Valley
Monday 26th to Thursday 29th March – Year 9 VET program
Friday 13th April – Health and Wellbeing Expo
Friday 13th April – Last day of Term 1
From the Principal
Dear families
A very warm welcome to 2018! It has been great to meet all of our new students and catch up with our returning students this week.
For our Year 8 and 9 students, returning means getting back into those learning routines that are essential for students to progress and achieve. Things like making sure they are getting enough sleep, making sure that they are prepared with all materials and making sure that they are in the right place at the right time are essential. Most students have made this transition back into school successfully and most homegroups have focused quickly on the learning in front of them.
For Year 7s, starting at a new school is a more involved proposition. We have been doing a lot of work this week on key things like understanding the school, getting to know staff and who to talk to for different things, where things are and how the timetable works. We have also been doing a lot of work this week on developing relationships within the school. It has been our goal this week that every student knows the name of every other student in their class, which takes quite a lot of learning for our new students. There have been many activities during pastoral care and lesson time to help our students learn names and get to know more about the students and the staff in their learning community this year.
Our Year 7s this week were not yet in their homegroups for the year. As the week has had more of an orientation focus, the students were arranged in groups that allow us to get to know them, for them to get to know each other and for us to consider and try out pairings so that we can work out who gets along with who. Students will move into their homegroups from next week and as much as possible we keep these consistent for the year.
As well as new students, we have a few new staff in the school this year. I am delighted to welcome:
Ms Adrienne Grant – who joins us as a Maths and Science Teacher in Year 8.
Mr Oliver Johns – who joins us as a Maths and Science Teacher in Year 9.
Ms Mikaila Mangohig – who joins us as a Maths and Science Teacher in Year 7.
Mr Ryan Wiggins – who joins us as a Special Education and Health/PE teacher in Year 8.
Ms Shelly Caspani – who has rejoined us as a Special Education Support Officer after a year away in 2017.
Mr James Dodd – who joins us currently in the office although will have more of a classroom presence as the year continues.
Mr Luis Nankivell – who joins us as a tutor in the Year 7 area.
Next Thursday we have our first school event for the year – an informal dinner for Year 7 families and then sleepover for students. Details have gone home directly with Year 7 students; if you haven't received any paperwork please ask your young person to pick up a form from their homegroup teacher. I look forward to meeting all of our Year 7 families at this event.
We are currently in the process of changing over our phone number. Our new number is 08 8955 2333. Please update your records. The old number will continue to divert calls to the new number for a period of time.
This is obviously our first newsletter of the year. These newsletters will come out fortnightly in odd weeks and contain important information about the school. Please ensure you read them carefully. We also have a Facebook page which we use to share stories – liking our page will help to get school information posted on your Facebook feed.
As always though, personal contact is usually best to clear up a misunderstanding or to resolve a situation. I encourage you at any time to come in and say hello to your young person's teachers, myself or other staff in the school. Alternatively, you can give us a call on our new number – 8955 2333.
I'm looking forward to an exciting year of learning!
Warm regards
Paul van Holsteyn
Principal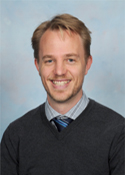 Mr Paul Van Holsteyn

Introducing our team
School Leadership
Paul van Holsteyn – Principal
Cassie O'Bree – Assistant Principal
Kristi Beynon – Assistant Principal
Year 7 Team
Ben Balmer – Team Leader and Health/PE teacher
Laryssa Montgomery – English and Humanities teacher
Natalie O'Connor – English, Humanities and Dance teacher
Jack Talbot – English and Humanities teacher
Stef Farr – Maths and Science teacher
Laarni Gaces – Maths and Science teacher
Mikaila Mangohig – Maths and Science teacher
Ian Shepherd – Maths teacher
Hans Westermann – Special Education teacher
Barry Georgopoulos – Special Education Support Officer
Nola Hunter – Special Education Support Officer
Luis Nankivell – Tutor
Taylor Seymour – Tutor
Year 8 Team
Kristi Beynon – Team Leader and Assistant Principal
Dominic Fecteau – English and Humanities and Senior Teacher
Sarah McCord – English and Humanities teacher
Elle Rasmussen – English and Humanities teacher
Adrienne Grant – Maths and Science teacher
Liam Quin – Maths and Science teacher
Monica Russell – Health/PE teacher
Ryan Wiggins – Special Education and Health/PE teacher
Shelly Caspani – Special Education Support Officer
Helene Ciuraszkiewicz – Tutor
Year 9 Team
Kristi Beynon – Team Leader and Assistant Principal
Wellington Pasi – English and Humanities teacher
Carly Phillips – English and Humanities teacher
Bonnie Chapman – Maths and Science teacher
Oliver Johns – Maths and Science teacher
Kate Axten – Special Education teacher
Fiona Hunter – Special Education Support Officer
JP Glavimans - Tutor
Teachers working across the school
Ashika Biar – Humanities
Rachel Helliwell – Engagement Senior Teacher
Stone Lee – Visual Art
Julie North – Textiles and Home Economics
Stephen Ryan – Design and TEchnology
Wellbeing support for students
Shari Aluni – Engagement support
Denise Casey – Home Liaison Officer
Jamahl Hayes – Aboriginal and Islander Education Worker
Kathryn Howitt – Nurse
Carol Turner – Assistant Teacher
Kirsten Wilson – Counsellor
Wendall Woods – Engagement support
Administration and school support
Maree Hayes – Acting Business Manager
Julia Pearson – Front Office and SAMS
James Dodd – Front Office
Carolyn Bindle – Science
Joe Breen – IT
Jesse Kozeluh – Library
Vicki Smith - Canteen
Darren Galpin – Maintenance
Lionel Hester – Cleaning Supervisor
Uniforms, stationery and the Back to School payment
We require that students are in full school uniform at all times – this includes a CMS polo, CMS or plain navy shorts and enclosed footwear. As the weather cools, a CMS hoody and plain navy or CMS tracksuit pants are required. Students should also have a hat at school every day. If a student is out of uniform, either they will be made to change into second hand loan uniform or you will be called to bring in appropriate uniform for them.
We are running low of some uniform sizes. Our delivery of shorts has come in so we have all sizes for shorts, and we are expecting our delivery of polo shirts at the beginning of next week. We will let families know via our Facebook page when this comes in.
As well as uniform, students need to at all times have an A4 exercise book for each subject (5 minimum) as well as pens, pencils, a ruler, a pencil sharpener and an eraser so that they are prepared for learning. If a book is completed or lost, it needs to be replaced by the family. Students have a tidy tray at school in which they can store these items or they can carry them back and forth each day in their bag. In some classes, exercise books will be kept in the classroom by the teacher.
We sell uniforms and stationery at Student Access, which is open before and after school and at break times. Our prices are as follows:
Polos and short - $30
Hoodies - $40
Tracksuit pants - $45
Sports t-shirt (optional) - $10
CMS bag (optional) - $10
Stationery pack - $30
We sell the Stationery Pack at cost price to families. It contains: 5 exercise books, 1 graph book, 1 document folder, 3 black pens, 3 blue pens, 3 pencils, 1 packet coloured pencils, 1 pencil case, 1 8Gb USB, 1 eraser, 1 pencil sharpener and 1 ruler. Students can also purchase individual items of stationery from Student Access during the year.
As well as stationery and uniforms, there is a $50 charge for students to participate in the swimming program which will occur in Term 4 and a requested parental contribution of $100 per student
Fortunately, the NT Government has again provided a payment of $150 to support families to get students started at school. This can be used to purchase uniform, stationery or pay the swimming fee. This can be redeemed at Student Access and needs to be spent before the end of Term 1.
Phones and Social Media
As you will be aware, students are not permitted to have phones or other electronic devices between 8.30 and 3.00 at CMS. Phones should either be switched off and away in bags or handed in to the Front Office to be returned at the end of the day. This is because the lure and distraction of phones and social media gets in the way of learning and we consider that students both need and deserve a break from these devices while at school.
If you need to contact your young person during the day, please call our office on 8955 2333 and we will endeavour to pass on a message. Alternatively you are welcome to call them on their phone before 8.30 or after 3.00.
If a student has a phone or other device (including headphones) out during the day, they will be required to deposit it in the office and they can then collect it at the end of the day. If they resist doing so, the phone or device will be confiscated and you will be required to come in and meet with staff to collect the phone. We appreciate your support in this matter.
Issues arising through Social Media
There are many positive things that are made possible through social media.
Unfortunately, many issues arise from how young people and adults use social media and there is increasing evidence suggesting a link between the increase in use of social media and mental health concerns.
We strongly encourage you to discuss and continue discussing with your young person how they use social media. This communication will help them to feel that they can raise any concerns they may have with you. We also strongly encourage you to monitor your young person's use of social media. Please note that in our experience young people commonly have multiple accounts on each platform that they use.
If you or your young person have any concerns around interactions on social media, we encourage you to let us know.
In our discussions with students, we recommend a – SCREEN SHOT / BLOCK / REPORT approach.
Screen shot – take a screen shot of the concerning interaction/image. (It is helpful if previous interactions are also recorded to provide the context of the conversation.)
Block – block the profile of the person who has sent the concerning interaction/image.
Report – report the concern to a trusted adult for support, such as a parent or teacher.
Young people can also report the concern to the social media platform (Facebook, Instagram etc), and need to do this before blocking. In our experience these reports are generally ineffectual at fixing the situation and we recommend that young people report to a trusted adult for support.
If we can identify students involved in matters that are reported to the school, we will typically bring the involved students together to seek to resolve the issue and make an agreement on how to interact in future. We find that face to face people are much more respectful than how they interact online.
If we cannot identify students involved or others involved are not a member of the CMS community, it becomes more difficult for us to respond. This is where it can be appropriate to report the concerns to the police. In these situations we work to support the student.
We have a counsellor on site who can work with young people around a variety of issues, including those that arise from social media. We can also refer young people for support into specialist youth services such as Headspace.
Please note that we do not respond to comments or posts that are made online; if you have a concern about anything at CMS the way to seek resolution of those concerns is to contact the school directly. Comments made online can make resolving a situation more difficult as well as potentially being defamatory. Much easier to give us a call!
Facebook
Keep up to date with all our news and updates
Head on over to 'like' our Facebook page to keep in touch with school news, highlights and achievements of our wonderful students. We encourage people to like and share our posts.
Please read the terms of engagement before posting comments.
https://www.facebook.com/CentMS/