16 March 2018
Newsletter Articles
Important dates
Thursday 15th to Friday 16th March – Clontarf Year 8 Camp to Rainbow Valley
Tuesday 20th to Wednesday 21st March – Clontarf Year 9 Camp
Wednesday 21st March – Polly Farmer Information Evening
Friday 23rd March – NTMS Battle of the Bands
Monday 26th to Thursday 29th March – Year 9 VET program
10:30-11:00 Thursday 12th April – Year 7 Business Expo
Friday 13th April – Health and Wellbeing Expo
Friday 13th April – Last day of Term 1
From the Principal
Dear families
On Friday we celebrated the National Day of Action Against Bullying and Violence – also known as Bullying No Way! This involved celebrations such as the uniform free dress day, a barbecue and the photobooth (see photos below and on Facebook), but also reflection and learning on what bullying is and what can be done to prevent it from happening. Bullying is persistent and ongoing unwanted and aggressive behaviour that involves a power imbalance, often based on size, social standing or the presence of a group. (A short-term disagreement between peers of equal standing is not bullying.) Bullying needs to be reported so that it can be addressed. Increasingly bullying and harassment has gone online in social media platforms, and we urge you to continue talking with your young person around their online experiences.
A week ago we learnt that a former member of our community passed away in a tragic vehicle accident. Briar Manawanui Roach was a student at CMS from 2012-2014. Her sister and a number of other family members still attend CMS. This event has had a significant impact on individuals in our community and on our school community as a whole. We have counselling options available to support students, so please contact the school if you would like us to arrange support for your young person. On the positive side, we have donated the funds raised from our Bullying No Way activities to the Roach family to support them with their expenses at this difficult time.
Thank you to all of the families who attended our School Council Annual General Meeting on Thursday last week. A new Council has been formed and the first meeting of this group will be 5.30 on Thursday 12th April. There are still some parent positions available on the council – please contact me on 8955 2333 if you are interested. The School Council provides governance and strategic advice to the school; being involved helps one to deepen one's understand of how the school operates and why. It is not a significant commitment – meetings are monthly and it is irregular that anything is required between meetings. Unlike primary school councils, we do not have a significant focus on fundraising.
As you may be aware, one of our goals this year is to increase the proportion of students attending more than four days per week. This threshold is considered important because attendance at less than this rate makes it much more difficult for a young person to succeed in their learning as they are missing so many classes that it is difficult to connect the learning between the classes that they are there for. Based on the first four weeks of this term, only 57% of our students attended for four days or more. We need to see an improvement in this number and I ask for your support in ensuring that your young person is at school every day of the week. If your young person is sick or away for another reason, please call the school on 8955 2333 so that we can note this on our records.
Warm regards
Paul van Holsteyn
Principal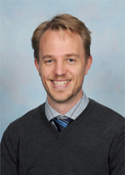 Mr Paul Van Holsteyn
Notifications
Alice Springs Athletics Club
Bilby and Friends Easter Party

School Updates
Phones, headphones and devices
As you will be aware, students are not permitted to have phones or other devices between 8.30 and 3.00 at CMS.
We are unfortunately experiencing increasing difficulties with phones, headphones and other devices being out during the school day. At best, these cause significant distractions from learning. At worst, they are vehicles for bullying and harassment and can cause significant disruption to the school's activities.
Students either have to:
Not bring their phone to school.
Hand their phone in at the office at the start of the day and then pick it up at the end of the day.
Have their phone off and away in their bag for the duration of the day. (We do not recommend this because it is difficult to guard against theft of these valuable items.)
If students have a phone out, they will be instructed to take it to the office and drop it in and they will be able to pick it up at the end of the day. If they do not do so, the device will be confiscated and you will be required to come in and meet with the relevant member of senior staff to collect the phone.
If you need to contact your young person during the day, please call our office on 8955 2333 and we will endeavour to pass on a message. Alternatively, you can call them on their phone before 8.30 and after 3.00.
Thank you for your support in this matter.
Lost Property on Busses
There has been a large number of lost property found on the Alice Springs school busses this year. If you are aware of your child having a missing item please contact the bus company ATG Downunder on (08) 8952 5688.
Action Against Bullying Day Photo Booth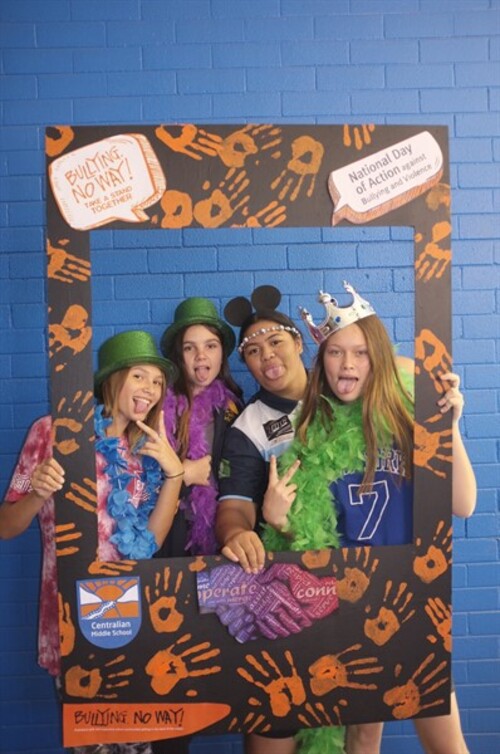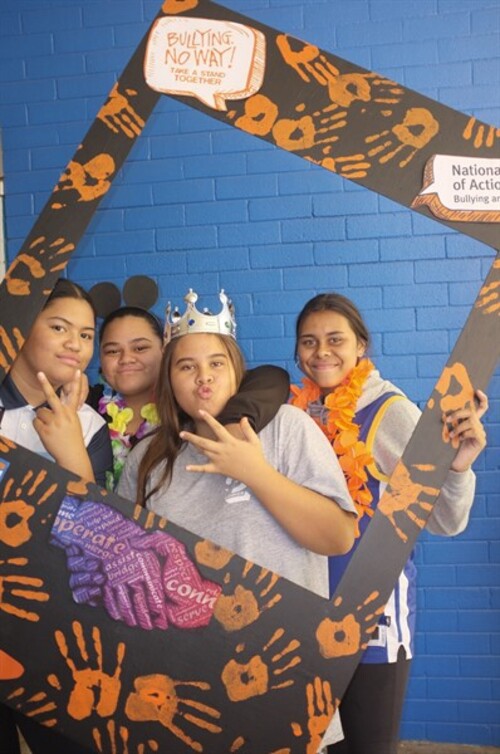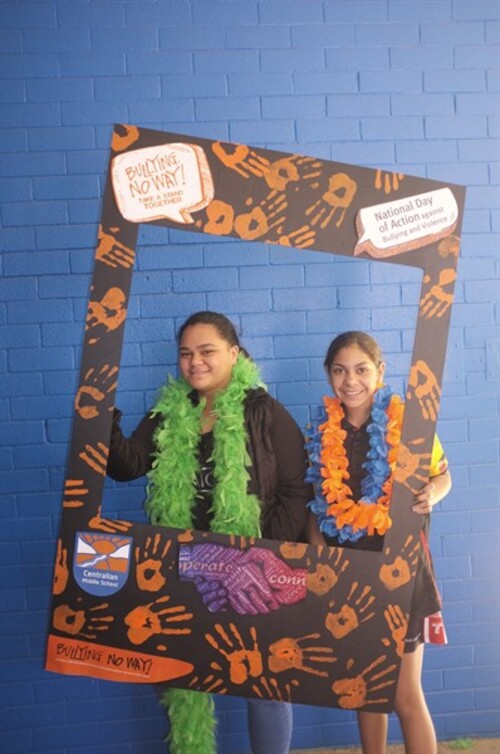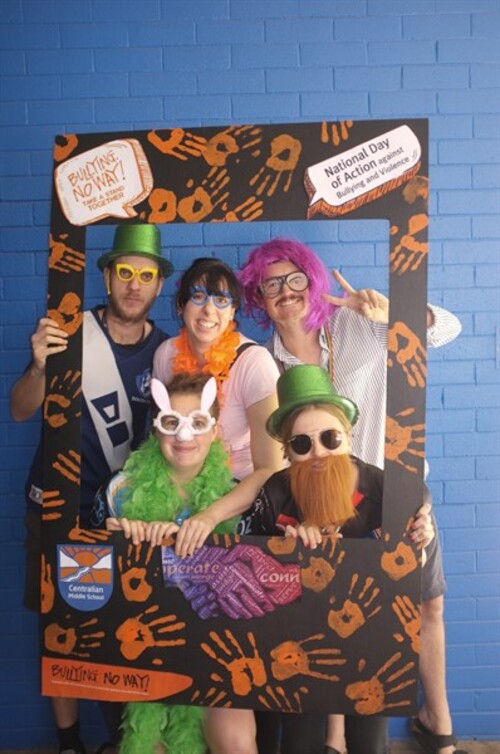 Polly Farmer Follow the Dream
NOW ACCEPTING APPLICATIONS!
Application forms are now circulating for the 'Follow the Dream' (Polly Farmer) Program for aspirant indigenous students who want to do well at school. Follow the Dream runs four afternoons a week - Monday to Thursday from 3-5pm in the Polly Farmer room E219 near the library.
Students commit to attending the Learning Centre a minimum of twice per week, and can come more often if desired. Afternoon tea is provided, and students can catch the bus home at 5pm. Follow the Dream is available to indigenous students who attend school regularly and achieve or show potential in class. We have friendly, experienced tutors who can assist students with their school assignments, and also provide extension activities to strengthen literacy, numeracy and science skills. Follow the Dream provides a fun, caring environment with a focus on learning as well as developing the individual as a whole.
Throughout the term, students have opportunities to hear from Guest Speakers and go on local excursions. Each year, students with good attendance and effort both at school and the Learning Centre have the opportunity to participate in a fully funded interstate trip to showcase tertiary opportunities, career pathways and to experience cultural events that are not available in Alice Springs.
Application forms can be obtained from Reception at CMS, Year Level Co-ordinators Mr Balmer (year 7), Ms Beynon (years 8 & 9) or the Follow the Dream Co-ordinator Virginia Morley in room E219. Teachers may also encourage students to apply.
An Information Evening will be held on Wednesday 21st March at the Polly Farmer Room (E219) where parents, families and caregivers can learn more about the program, share a meal and see the Learning space. Please call Virginia on 0429 436 469 to RSVP.
Clontarf
Members of Clontarf had the chance to welcome the new Qantas Emily Kame Kngwarreye Dreamliner 787-9 to Alice Springs.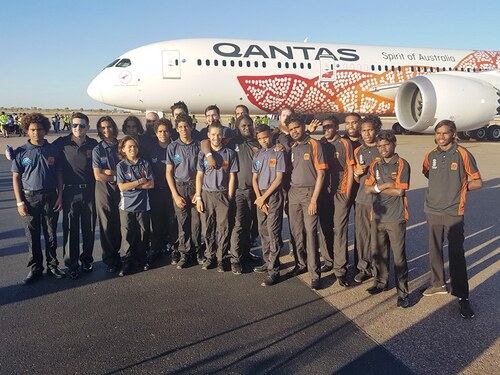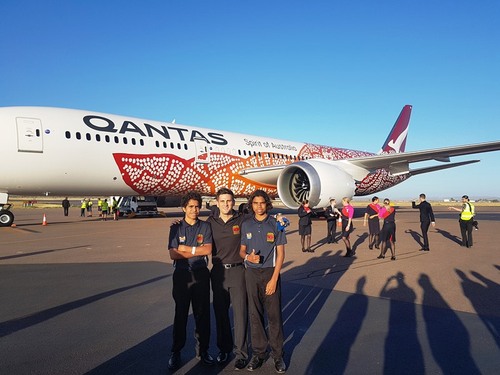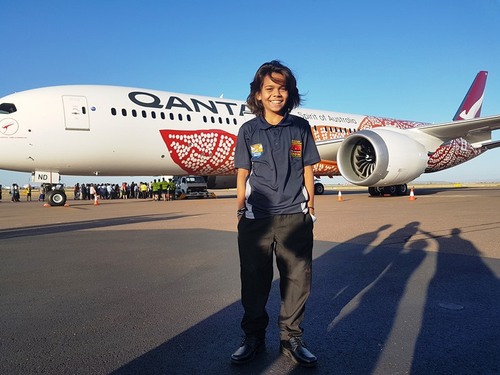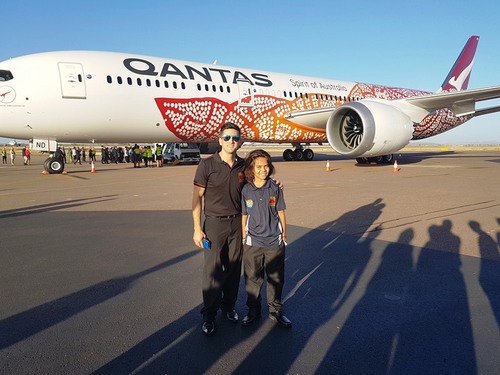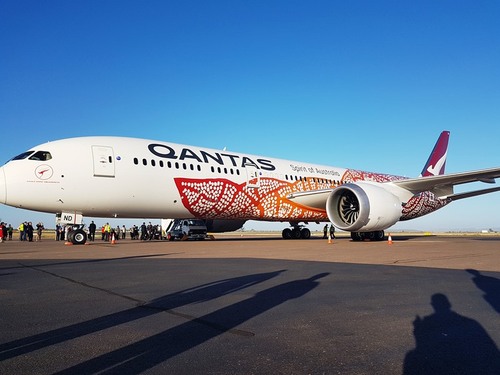 Facebook
Keep up to date with all our news and updates
Head on over to 'like' our Facebook page to keep in touch with school news, highlights and achievements of our wonderful students. We encourage people to like and share our posts.
Please read the terms of engagement before posting comments.
https://www.facebook.com/CentMS/