27 April 2018
Newsletter Articles
Important dates
Monday 30th April – Polly Farmer Follow the Dream and Maths and Science Centre for Excellence programs recommence
7th May – May Day Public Holiday
15-17th May – NAPLAN
5.30pm 17th May – School Council meeting
23rd-25th May – Year 7 Camp
7th June – Year 7 Telegraph Station Excursion
8th June – CMS Athletics Carnival
18-22nd June – Year 9 VET
20th to 22nd June – Year 8 Camp
23rd June to 2nd July – Clontarf Camp to Adelaide
From the Principal
Dear families
Welcome to Term 2! I hope everyone had a relaxing and enjoyable week off.
This term is going to be huge. We have already celebrated ANZAC Day with around 20 students participating in the Dawn Service and a smaller group participating in the Mid-Morning Service. This was a really significant opportunity for our students to reflect on the significance of ANZAC Day and pay their respects to people who have sacrificed before us.
In Week 4 we have the National Assessment Program in Literacy and Numeracy (NAPLAN) involving our students in Year 7 and 9. This is an important assessment which provides us with information on individual students' skills as well as areas of strength and weakness for the whole cohort of students. We use this information to tailor learning experiences for students and for reviewing our curriculum delivery to ensure our students get the best possible education experience. NAPLAN is not a test that students can specifically study for; the study is the learning that they have completed thus far in their schooling experience. Nevertheless, some important preparations are required to ensure students can do their best. Probably the most important preparation is ensuring students have good patterns of sleep leading up to the assessments, complemented by a healthy diet. Please support your young person with these two things.
After NAPLAN we have a number of exciting events scheduled. These include our Athletics Carnival on Friday 8th June plus camps in every year level and camps with Clontarf and Girls Academy. Paperwork for these camps and events are coming out over the next few weeks. We like to see everyone participate in our camp program as they are great opportunities to learn in different ways and develop new friendships. We work hard to keep prices affordable for families and can arrange payment plans if families wish to pay in instalments.
As the weather cools off, students will need to continue to wear full school uniforms. We have all sizes of hoodies so please come in and pick up a top if your young person does not currently have one. Students have to remove non-CMS jumpers.
We are also focusing at the moment on ensuring students have all the materials they require for learning. As teenagers the expectation is that students take responsibility for themselves and come to class with all materials they require. At a minimum this includes writing materials (two pens of different colours and a pencil) and exercise books for each subject (minimum 5). In some cases, students arrange with teachers to leave their exercise books in the classroom. Please check with your student to ensure they have writing materials and they either have or know where their exercise books are. The school reports sent out at the end of last term included a statement on whether students were prepared for learning so you can also refer to this information.
Finally, I want to remind everyone that we have an attendance minimum standard of more than 4 days per week attendance. This is considered the minimum level that students need to attend to have a reasonable opportunity of progressing in their learning. Attendance less than this rate results in students missing out on significant concepts, which makes future learning more difficult as they either have gaps in their learning or misconceptions about learnt concepts.

Warm regards,
Paul van Holsteyn
Principal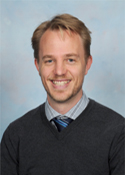 Mr Paul Van Holsteyn
School Updates
Health and Wellbeing Youth Expo
The Health and Wellbeing Youth Expo was held on Friday the 13th April the last day of Term! It was a great success!
113 students from Year 5 and 6 attended from the Primary Schools in Alice Springs. This gave the students the opportunity to visit our school and experience what the Youth Expo is all about. It is also introduces them to the Middle School were a lot of students will attend in the coming years.
All students from year 7 to 9 participated in the event which provides information to students regarding the Health and Wellbeing services available to everyone in Alice Springs. The stall holders interacted with the students and provided them with information on preventing chronic disease and making healthy lifestyle choices now and in the future in a fun and practical way!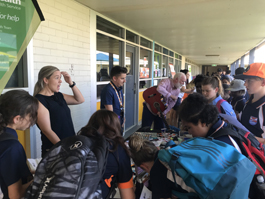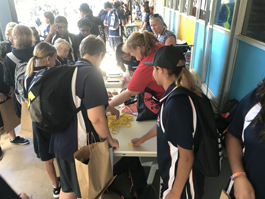 Lest We Forget
CMS students participated in both the Dawn Service and the Mid-Morning Service on ANZAC Day to pay their respects to fallen soldiers and others affected by war.
ANZAC Day is a powerful reminder of the horrors of war and of the importance of diplomacy.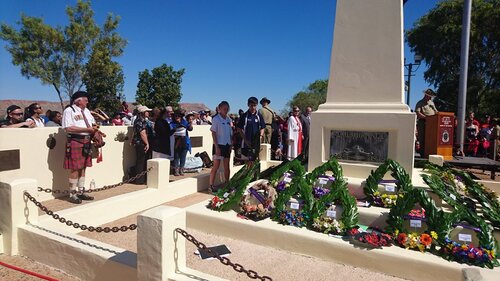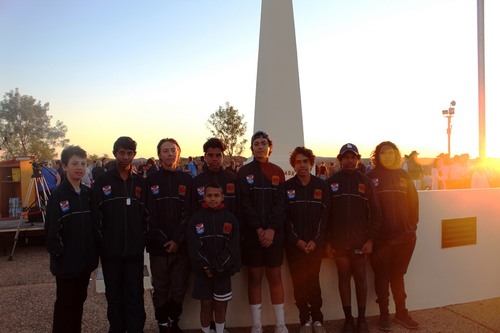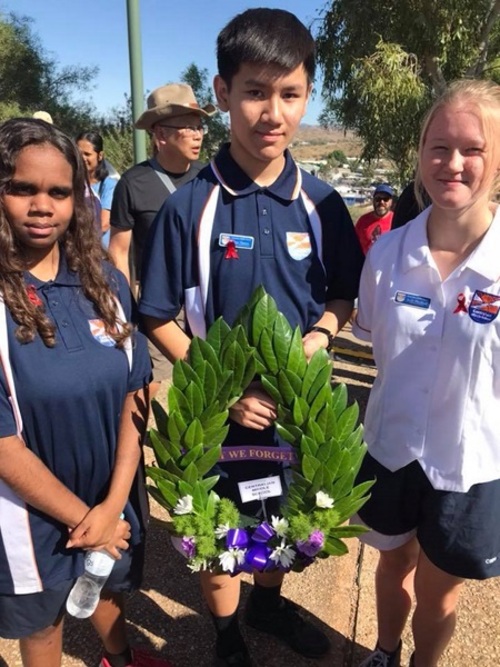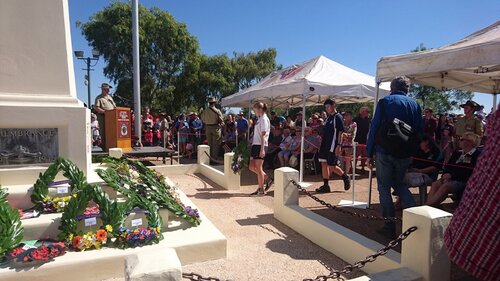 Polly Farmer Follow the Dream
Polly Farmer Excursion: Heart of Australia Youth Challenge
In week 10 last term, Polly Farmer students had the unique opportunity to take part in the Heart of Australia Youth Challenge, held at the Desert Knowledge Precinct. The event was hosted by Batchelor Institute, Desert Knowledge Australia (DKA), Centre for Appropriate Technology (CfAT), Geoscience Australia and the Atria Group.
Students learned first-hand about satellites, and how they are used to capture images and data about earth and space. We viewed one of the most important satellite ground stations in the world (and it was right there at Desert Knowledge!!). Students learned how to program drones to simulate the role of satellites to perform mapping and environmental monitoring functions. Students got so good at coding that they were able to photograph land marks and make the drones do tricks as well!
Touring the CAT precinct, students learned about some of the amazing locally invented innovations that have brought power, water and phone/internet connectivity to remote communities. Using this information, students worked in groups to build their own model of a remote community using sustainable technology to ensure its' prosperity. Some of the ideas students came up with were things that the experts hadn't even thought about!
Our fabulous group of Polly Farmer students were from one of only two schools in Alice Springs to experience the Heart of Australia Youth Challenge. Every student walked away with a richer understanding of satellites, coding and the technological innovations that assist remote communities.
Another interesting excursion is planned for Polly Farmer students in Term 2. Polly Farmer resumes on Monday 30 April in the Follow the Dream room (E219 near the library) at 3.00pm. Students wishing to come and try the program are very welcome! We have a bus to take you home at 5.00pm. For those who would like to apply: forms are also available at Reception, your year group teachers and Virginia in the Polly Farmer room- and can be handed back to any of these people. I look forward to seeing you next week!
Virginia Morley
Follow the Dream Program Co-ordinator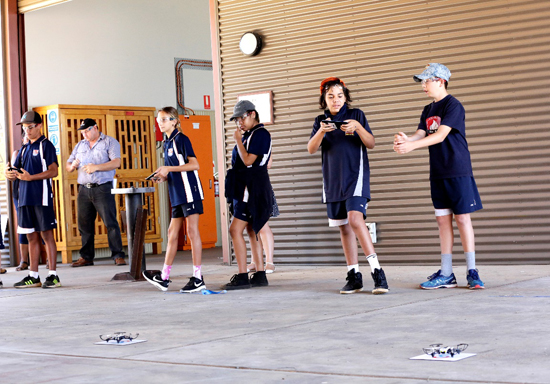 Students learning how to
code and fly drones

Students in front of the
recently upgraded
Geoscience Satellite
Antenna, with artwork
commissioned by local
Arrernte artist Roseanne
Kemarre Ellis.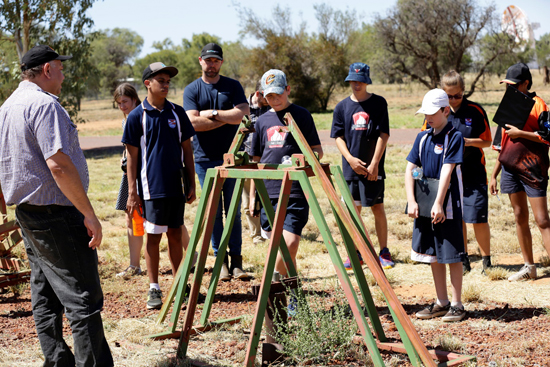 Hand operated water pump- sustainable, low maintenance innovation that provided basic infrastructure for remote communities.
Facebook
Keep up to date with all our news and updates
Head on over to 'like' our Facebook page to keep in touch with school news, highlights and achievements of our wonderful students. We encourage people to like and share our posts.
Please read the terms of engagement before posting comments.
https://www.facebook.com/CentMS/