20 November 2014
Newsletter Articles
Principals Report
We have been very busy since the last newsletter and with only four weeks left in the school year, there is still plenty left to do! On Friday morning we saw the return of our year eights after their epic camp to Darwin. It was a great success and we really appreciate the support of the ACIKE program in some last minute support to ensure the trip went ahead; a huge thank you to Mandy Hargreaves and her team for all their hard work throughout the camp. As I write this, Year Eight and Nine Clontarf students are heading off on a reward trip to Kangaroo Island. This will no doubt prove to be an enjoyable and eye opening experience.
If this year has had a theme at CMS, it has been 'community'. As we near the fifth year of having a single government middle school in town, we are beginning to develop a true sense of community as a school. Recently, middle schooling in the Northern Territory was reviewed by Vic Zbar, a respected consultant. He has found that students do best in a school where they feel well known and cared about. I feel confident in stating that at CMS all of our staff work hard, not only at getting to know and understand our students, but also families and community and I have no hesitation in saying that we have a very caring and dedicated staff. In this issue of the newsletter you will have the opportunity to respond to a survey giving us a better idea about how families see the school. I urge all families to take the time to respond.
On the 26th of November we will be holding our annual presentation night. This is an opportunity for all families to come together and celebrate the achievements of our students' in2014. At the end of the evening we will take the time to farewell our year nine students as they head off to the next stage of their education. I look forward to this being a successful event with most of our families attending.
Science News
7.3 class acting out a Greek play about whether the earth is round or flat and then we made some moving 3D models of how the earth, moon and sun move.
Noa, Amelia and Naomi learning more about fossils at Araluen
Looking at ancient crocodile fossils.
CMS Launches 1:1 Laptop Program
CMS is proud to announce that from 2015, Year 9 students will be invited to participate in a 1:1 Laptop Program. Participants in the program are given a Lenovo Thinkpad 11e which may be taken home for homework and personal use.
In order to make the program sustainable for future students and families, participants contribute to an ongoing laptop fund.
Year 8 students going into Year 9 in 2015 will shortly receive documentation with a range of options for participation.
For more information please contacting Nat Bradshaw, ICT Coordinator on 8950 2500 or through email at nat.bradshaw@ntschools.net.
1:1 Laptops – a parent reflecting
"The laptop program that has been trailed with some of the year 8 students in my opinion has been beneficial for the students on so many levels. In a time where technology is the key to just about everything we do, the children have unlimited access to laptops to learn how to use them and how to use many different programs is definitely leading our children in the right direction and giving them valuable skills for their futures.
In my experiences all children learn differently, but one thing that all kids seem to understand is computers. Allowing the children to complete their work on a computer and home and at school really helps even the field when it comes to learning in both having access to a computer and using the technology to best help them depending on their levels.
Also having the computer teachers the children responsibility and respect.
And in my house as I am sure in many others it has been much easier to get my child to complete an assignment on time when able to do it on the computer than when she is made to hand write it and use books to look up the information!!" – Felicity Korman, mother of Kara (Year 8)
Year 7s
The year 7 Ross River camp was full of fun and frivolity. From epic range walks to exhilarating staff versus student touch football games. The students grouped off and took turns setting up, packing up and washing up every meal. The first night took all of us by surprise with an overnight low of 9 degrees. The next night everybody was snug as a bug in the traditional bunk cabins. A three course meal was provided by the homestead and the students took the opportunity to dine in their finest. For the last morning walk we ventured down towards N'dhala gorge only to find ourselves in the middle of grazing country as we shared the walk with some confused looking cattle. All in all it was a great adventure and there were many weary heads on the drive back into town.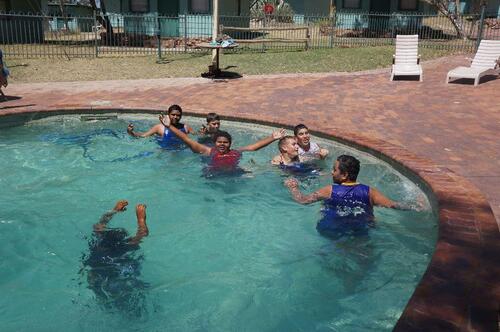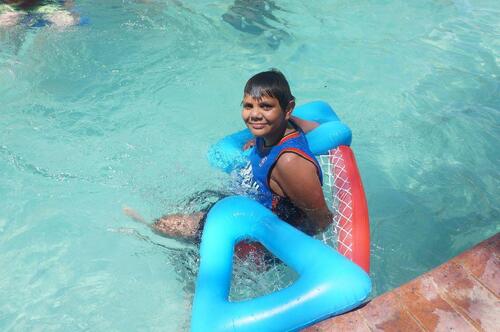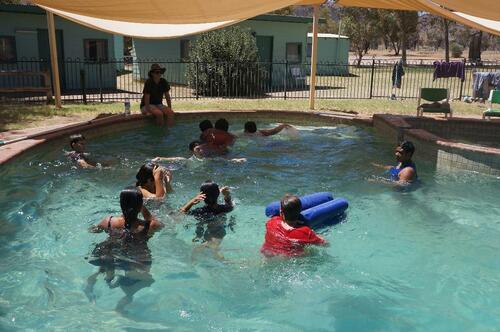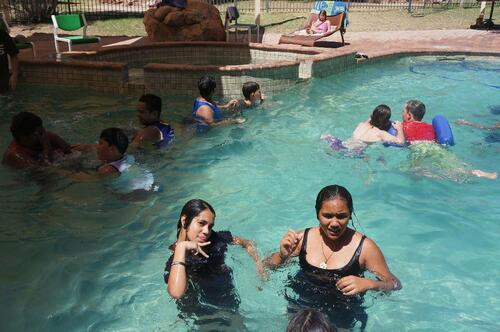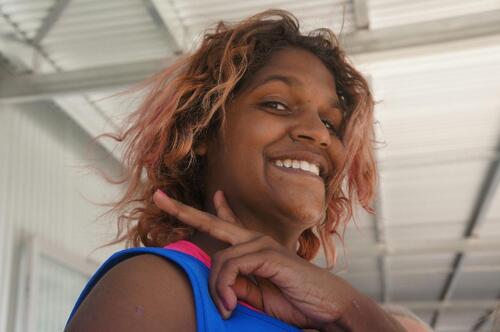 Year 8 Darwin Camp
One the 5th of November, roughly half of the Year 8 students went on a roadtrip to Darwin. The Camp to Darwin was many things: Eventful, educational, and constantly entertaining. The camp was filled with hours of painful bus rides, learning new facts about people I wouldn't have talked to before with such confidence. The first night in Mataranka Hot Springs was filled with people questioning about crocodiles and screaming about cane toads, Later that night we swam in the Hot Springs and got given a number each to sound off during head count which students often forgot. The first few days in Darwin we did most of the touristy things such as The Wave Pool, shopping at Casuarina , the Darwin Museum, Parliament House and a cruise around Darwin Harbour. After that we took a bus ride to Batchelor, another of the small towns of the Northern Territory. There we stayed at the Batchelor Outdoor Education Unit which was very fun and extremely exhausting, everyday was a new set of activities, such as archery, mountain biking, rock climbing, low and high ropes, kayaking, canoeing and snorkeling. The bus ride back was packed and tiresome with many random moments such as people taking others blankets/pillows while asleep. By the time we got home at 8 am after a long night of restless sleep the bus smelt 'absolutely rank' and seeing students pile off the bus finally content that we had finally arrived home. All together it was a great experience where the staff and students formed new relationships and got the chance to partake in many activities we wouldn't have experienced without the camp.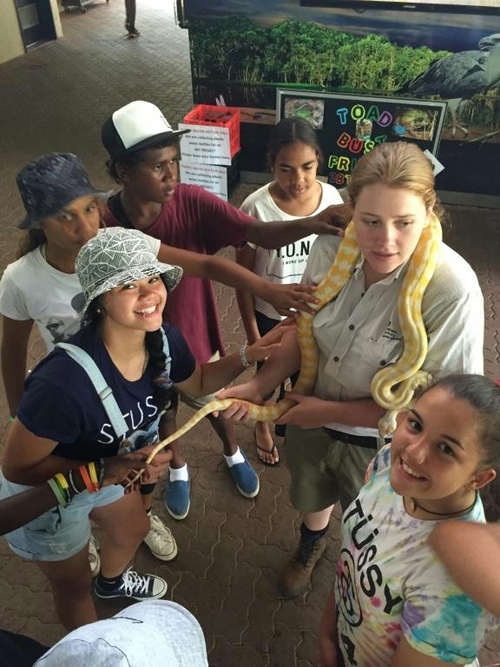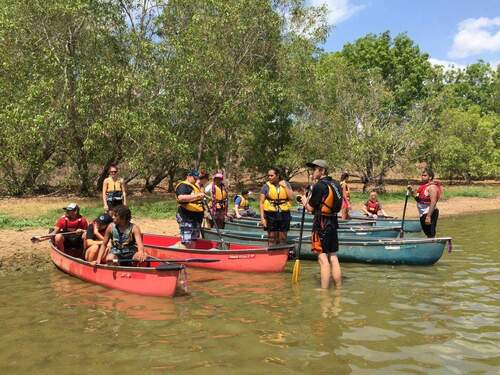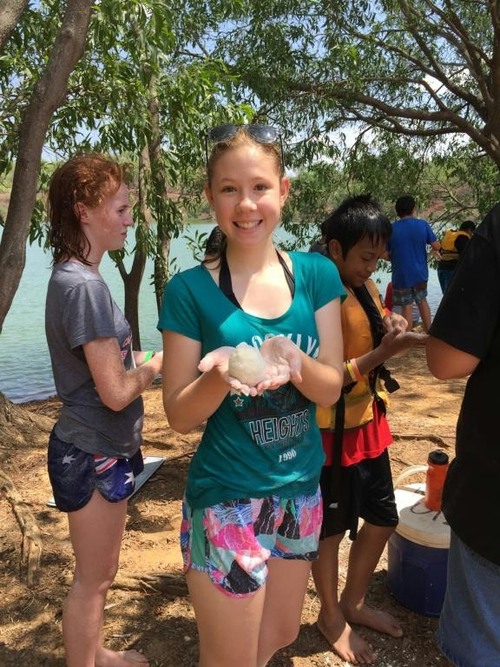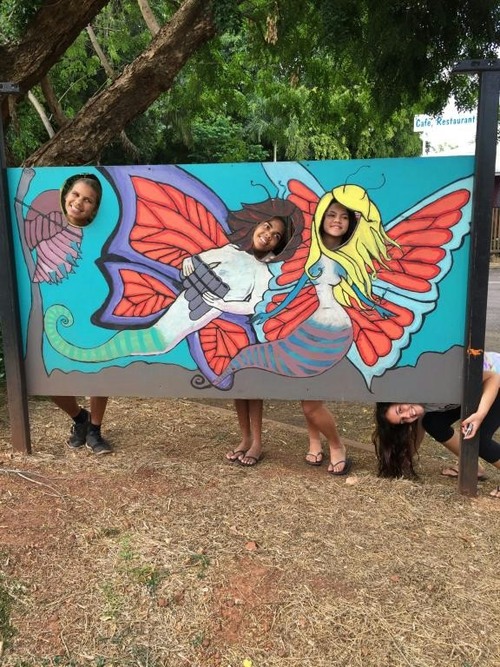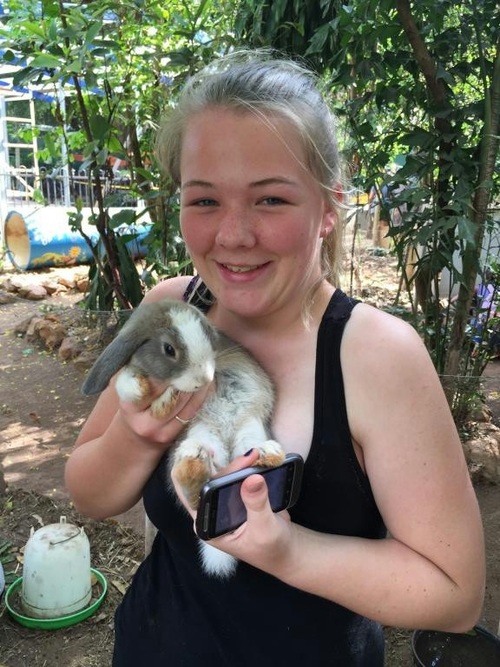 Girls academy
Girls Academy End of Year Awards Night
The Girls Academy held our 5th annual End of Year Awards Night at the Red Centre Dreaming Area. This is a special event in our calendar for our girls and their families to celebrate all the achievements of 2014. This year we had a fabulous turn out of families with a special farewell presentation for Program Manager Beverley Angeles at the Senior College. We are particularly proud of all the year 12 girls who graduated and to our year 9's who we also farewelled and hope to see them complete year 12 in the near future. Thanks to all our families for making it a wonderful night!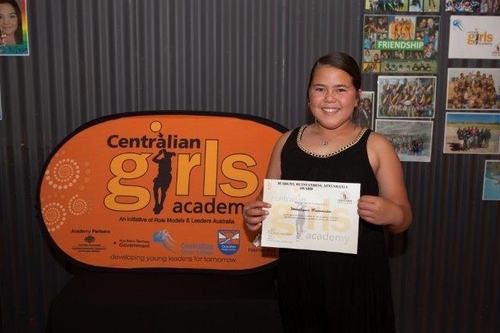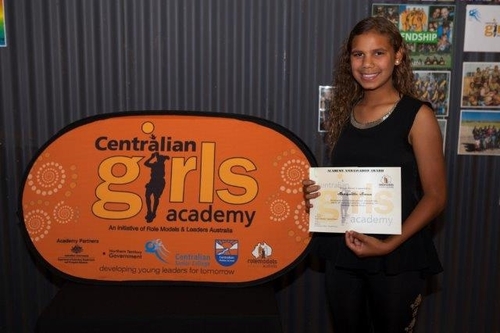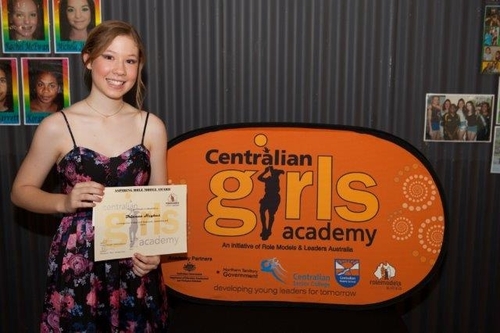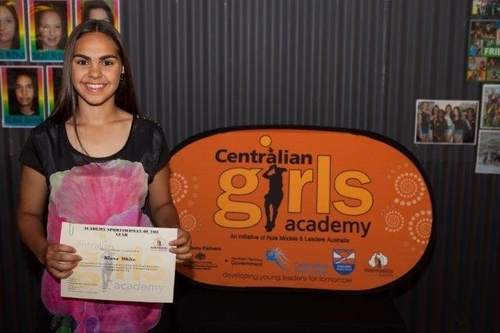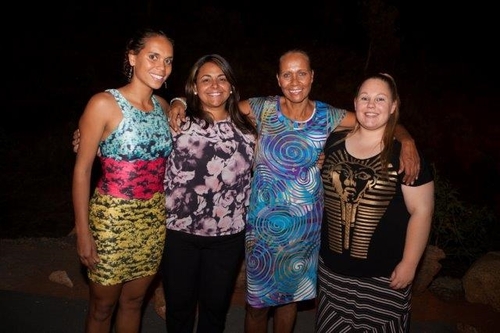 Other photos
This year has been a very busy year with 4 Girls Academy Trips to Perth, Darwin, Sydney and our local inaugural Leadership/Re-engagement camp at MacDonnell Range Caravan Park. We've also had our girls participate in a friendly Basketball game where a class of young ladies from Yuendumu came in and stayed overnight in the Girls Academy Room; Clontarf invited us to participate in a certain raiser Oz Tag game against Girls at the Centre in which we came out with the win; CAFL put on a Youth Girls football game where our girls played alongside St Phillips students and Stronger Sisters student from Tenant Creek in a full field AFL match; Polynesian day seen a few of our girls perform in a dance; Our year 9 Leadership class with Andy Hood set challenges for the girls each term with the first one being our year level cohort having to run the whole school assembly. Lastly we have had our after-school activities; bowling, Oz Tag against Clontarf, cooking, volleyball and much more.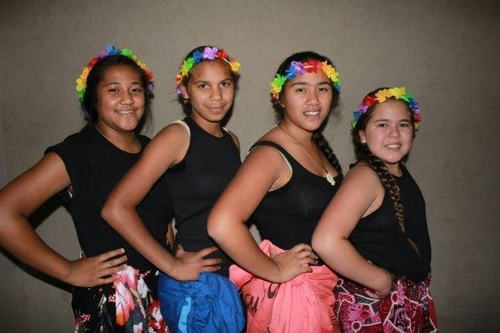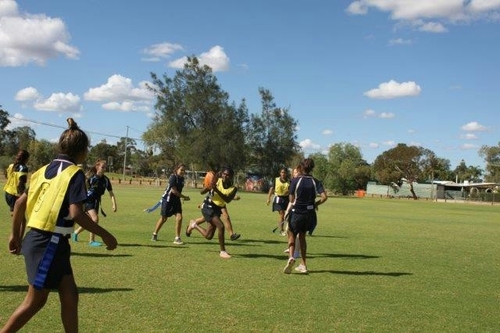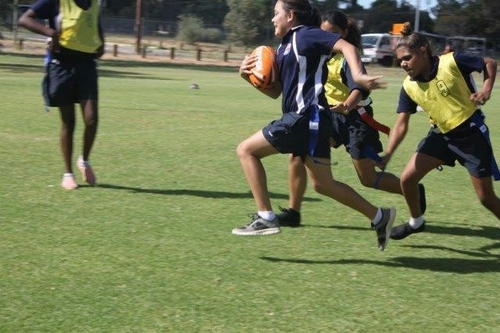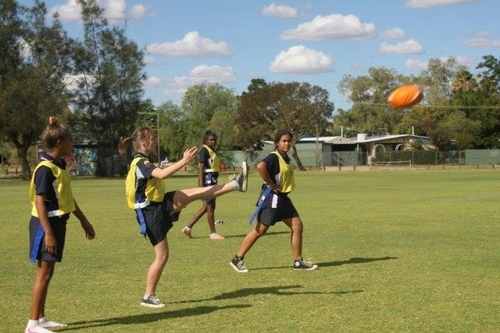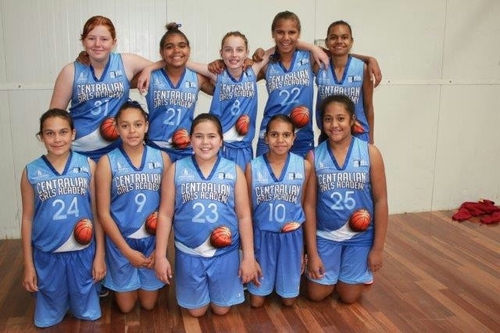 Clontarf
Alice Springs Hospital Visit
The CMS Clontarf Academy visited the Alice Springs Hospital for a workplace visit in an effort to provide students with ideas for future employment. These visits help encourage our students in considering options for future employment in years to come. Our students were shown through the workplace and were encouraged to ask plenty of questions. Our Academy members left the workplace with "open minds", and felt confident about their future job prospects.
New additions
The CMS Clontarf Academy has also participated in Wheelchair basketball sessions and Cross-fit active lifestyle sessions during class time. More recent events have included educational session in Alcohol and Other Drugs, wellbeing camps including to Kununurra, and excursions to the Alice Springs Correctional Centre for life lessons based around "Choices" we make. The Academy is extremely proud to say we have 45 fit and healthy young men who have completed health checks this year with local health organization Congress.
Parenting Article
Beauty and the Beast