17 April 2015
Newsletter Articles
Principal's Blog:
The year is moving along quickly, we are already into Term 2. Our staff and students are settling into routines nicely. We have been joined by five new students this term and I welcome their families to our community.
It was encouraging to see such a fabulous turnout at our Parent Teacher night late last term. Talking to both parents and teachers I know many valuable conversations were had, which will result in improved outcomes for our students. Remember, you don't need to wait for a formal night to speak to our teachers. If you have any concerns or questions please call straight away.
I spent a couple of days last week in Darwin at the 2015 Leaders Conference. The speakers were very inspiring and motivating. Having an opportunity to get to know so many principals and talk about how they deal with many similar challenges was enormously beneficial. On a number of occasions Centralian Middle School was used as an example of how things are done well. This is a testament to our dedicated and talented staff.
Speaking of talented staff, I sincerely congratulate Kate Axten for being a finalist in the Young Achiever Awards; Young Indigenous Educator category. Kate is a very strong teacher and a natural leader and demonstrates her commitment to leadership in her work with our Student Representative Council. Kate is very worthy of reaching this stage of these prestigious awards. Kate's consistently high expectation of all students is exemplary! Kate has a very bright future and I know many students will benefit along the way.
Thank you to Mr Balmer for organising the Pink Stumps cricket game on the last day of term to raise money for breast cancer research. It was a fun-filled afternoon and a relaxing way to wind down. And also congratulations to Mr and Mrs Balmer for their recent nuptials!!
Finally, I extend an invitation to all of our students to march with the school on ANZAC day. Last year CMS had the largest contingent of any school and I am proud to say that every student who marched embodied the school values of Respect, Responsibility and Fairness. This year we will commemorate the 100th anniversary of Gallipoli with a school assembly at 12:20pm on the 24th of April. Families are most welcome to join us.
Donna O'Brien
Acting Principal
WHAT'S ON:
CMS Health and Wellbeing Expo
CMS HEALTH & WELLBEING EXPO THIS FRIDAY
To celebrate Youth Week, CMS is holding an Expo where agencies who work with and support young people, are invited to set up stalls at the school to show case the work they do in the Community. We will be holding our Expo on Friday 17th April in two sessions. Parents are welcome to attend either one of the sessions
Session 1: 11.30am to 12.30pm Year 6 and Year 7 students
Session 2: 1.30pm to 2.30pm Year 8, 9 and SGC students
The theme this year is "It Starts With Us"
Nation Youth Week
promotes a positive image of young people;
acknowledges their common interests as well as their diverse backgrounds and circumstances
enables young people to express their ideas.
This will be a fun and educational event
If you require information contact Barbara Glover on 89502504
Girls Night In!
Headspace Alice Springs is holding a Girls Night In – Free Event
Friday 17th April 2015
5pm - 8pm
headspace@ 5/5 Hartley Street
http://www.headspace.org.au/alicesprings
ANZAC Day
Centralian Middle School students are invited to march in the ANZAC Day Parade on Thursday 25th April, 2015. Interested students will need to meet at the Civic Centre (Town Council offices) at 9:15am to begin the march at 9:30am. The Parade will make its way through the town centre to the summit of ANZAC Hill where a formal service will take place at 10:30am. Students must be in full school uniform.
School Photographs
Week 3, Friday 1st May
Ph: (08) 8268 7869
Dear Parents,
We will be photographing Centralian Middle School on Friday 1st May 2015
You will receive a Flyer/envelope for each of your children explaining the products available.
NEW: ORDER & PAY ONLINE FOR YOUR SCHOOL PHOTOS
This year advancedlife can process your order & payment online.
Go to www.advancedlife.com.au & follow instructions on the back of flyer provided.
Your 9 digit key code can be found on your envelope.
Order envelope NOT required to be returned if ordering online.
Cash, Cheque or Money Order Payments
Please ensure that each child returns his/her own envelope even if payment is made in the eldest child's envelope. Envelopes are not to be placed inside other envelopes.
Students are to bring envelopes on or before Photo Day.
Sibling photos
Sibling Photos are also available for students attending your school and can be ordered online. Online sibling orders will be closed 2 days prior to photo day.
BUT
ORDERS after close off will still be available by collecting a sibling envelope from your school office and can be paid for ONLY by cash, cheque or money order.
This envelope with payment enclosed MUST BE RETURNED to the school on photo day
Please don't hesitate to contact Advancedlife Photography if you have any queries.
We look forward to seeing all your smiling faces!
Naplan
Naplan 12th -14th May 2015
Alice Springs Children's Book Council
JUDGE'S TALK by Sue Thomson
Date: Saturday, 9th May
Venue: The Public Library
Time: 11.30 – 1.30pm approx.
We hope that as many as possible can come along and hear Sue talk about the Shortlisted books and the Judging process. Sue is currently in Perth attending the Judge's Conference.
BILBY'S RING LAUNCH
Kaye Kessing's long awaited trilogy will be launched at
Olive Pink Reserve
Date: Sunday, 17th May
Time: 3.00 – 6.00pm
Kaye invites everyone to attend and please bring all your friends and relations!!
Alice Springs Athletics Club Sign Up Day and Start Dates:
We are having a sign up day on Friday 17th April 2015 from 5pm until about 7pm at the Head Street Oval. The DSF 1000 run will also be happening down at the oval so it will be a bit busy. Sonya Johnstone will be available in the canteen. Cost will be $150 as this is incorporating the uniform, insurances fees, ASTC fees, NT Athletics fees and Oval lights . For anyone who has a uniform already and does not want to purchase another, the fee will be $120.
The season will start off with the "Come and Try" on Friday the 24th April costing $10 (this fee will deducted from full fee) starting at 5pm, and then from May 1st at 5pm at the Head Street Oval. This will be the starting date for the season.
You can also check us out on Facebook now just look for Alice Springs Athletics
The $100 Sports voucher is accepted.
Around the School:
SGC Hunter
Winners are Grinners
Miss Bec Hunter's class received the cameras they won, when their entry won first place in the Close The Gap competition.
What amazing photos. Between the student's great ideas and the staff's graphic talents, we were definitely winners.
VET Hospitality:
Year Nine students have been enjoying the opportunity to participate in a Hospitality Service VET course at the Centralian Senior College. Students have received training in restaurant service, barista and food preparation. Family and staff were invited to join students for their assessment day.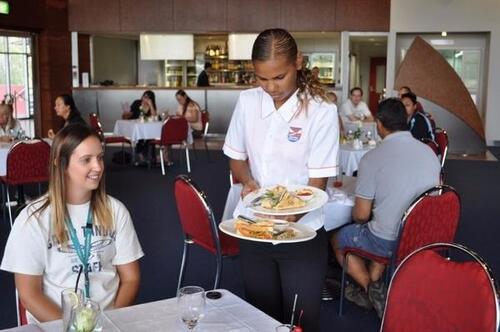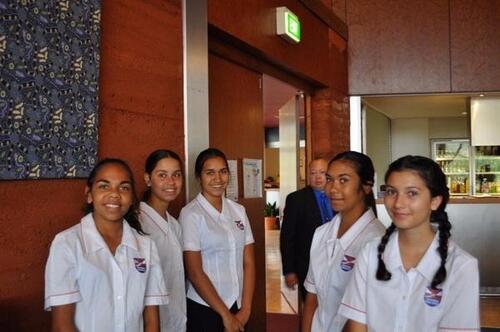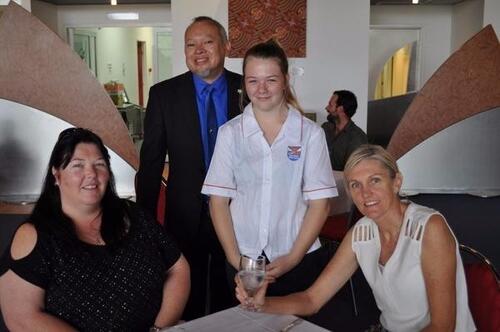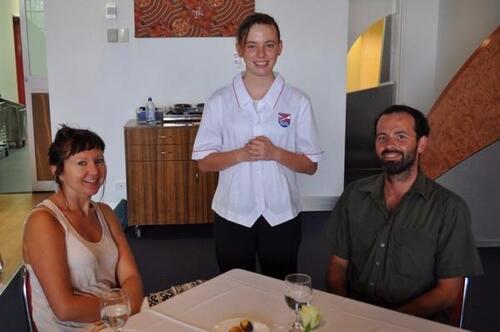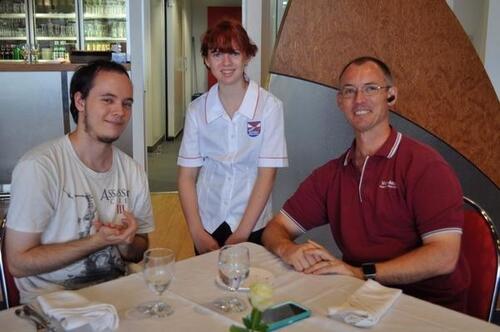 Ms Axten has been very busy of late. Not only was she a finalist in the Young Achiever Awards, Young Indigenous Educator category, Ms Axten has also been selected to participate in an Australian Volunteers International adventure for six Indigenous Australians aged 18 – 30 years old, to travel to South Africa for six weeks in June, 2015. They will be volunteering with Children's Eco Training. Please check out the website for more information.
http://www.ecochildren.co.za/
Girl's Program
International Women's Day
On Wednesday the 11th March, CMS along with Centralian Girls Academy and Girls at the Centre hosted an International Women's Day lunch for the young women of Alice Springs.
The event was a celebration of strong and inspiring females in the community and a way to inspire the emerging generation of young women to achieve their potential.
50 female students from Centralian Middle School attended the event and a selected group of inspiring women were invited to share their stories with the students and answer their questions. The mentors invited were strong women from the community and abroad, each with their own passions and stories to inspire the next generation to achieve great things and to be strong, proud and successful women.
The girls first engaged in an interactive activity, which highlighted the struggles that young women are facing in Alice Springs and the gaps that still exist between men and women today. The aim of the activity was to make an impact on the young women in the room, to educate them about gender equality and to inspire them to want to make a positive change for the future.
The students and mentors then participated in Speed Mentoring, where the students were able to sit down with the guests and discuss the important role that women play in creating strong communities and the importance of gender equality. The mentors were able to share their stories with the girls, discussing their greatest challenges and achievements and highlighting to the girls the diverse array of pathways available to them.
The mentors were also able to talk to the students about their aspirations, what they want to achieve and discussing ways in which they can get there. The afternoon was a great success and the students walked away feeling inspired and proud to be strong and aspiring women of the future.
We also had a Girls Academy Reward Sleepover on Friday 6th March, along with Girls at the Centre, we had 25 girls attend this fun event. We held minute to win games, dinner at Gillen Club, disco and movie night. Our girls had a ball, and cannot wait for our next sleepover.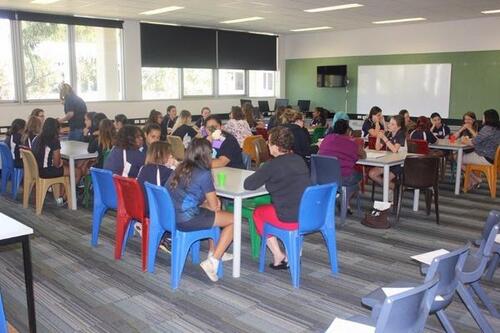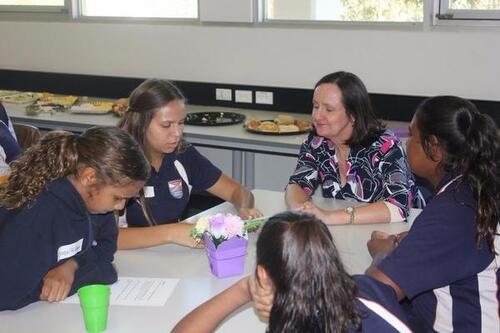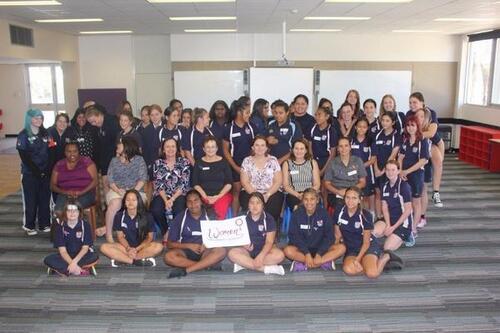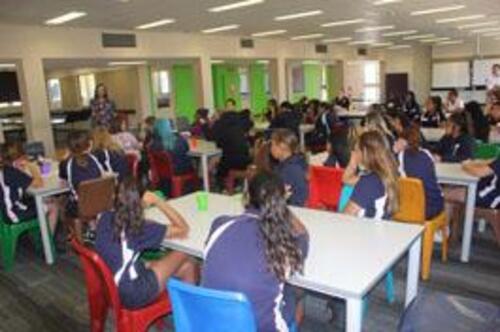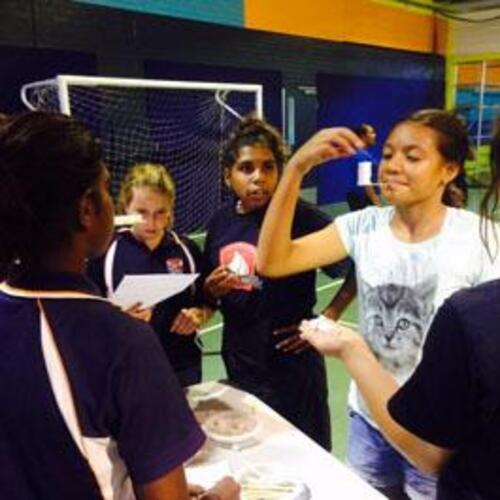 Samarra Schwarz
Girls Academy Program Manager

Amanda Freestone-Coach,
Shelly Bestmann-Program Manager,
Jenna Browne-Coach

Nicolette (Sissy) Dunn
Girls Academy Coach
Samarra Schwarz
Girls Academy
Program Manager

Nicolette (Sissy) Dunn
Girls Academy Coach
Amanda Freestone-Coach,
Shelly Bestmann-Program Manager,
Jenna Browne-Coach
Photo Gallery:
CLONTARF
Term 1 Recap
Thanks for a great start to the year fellas.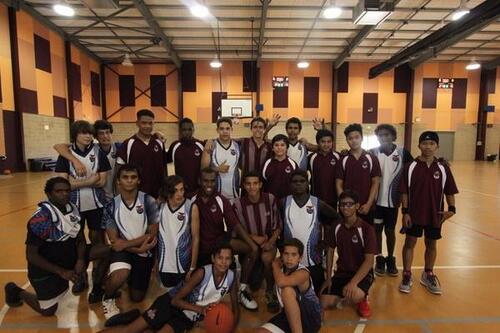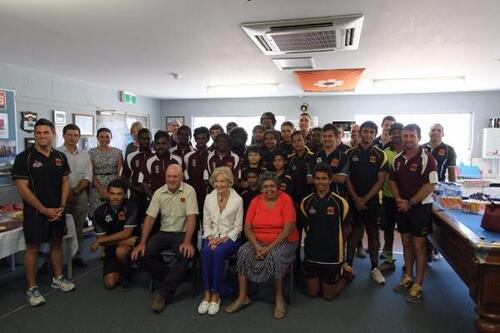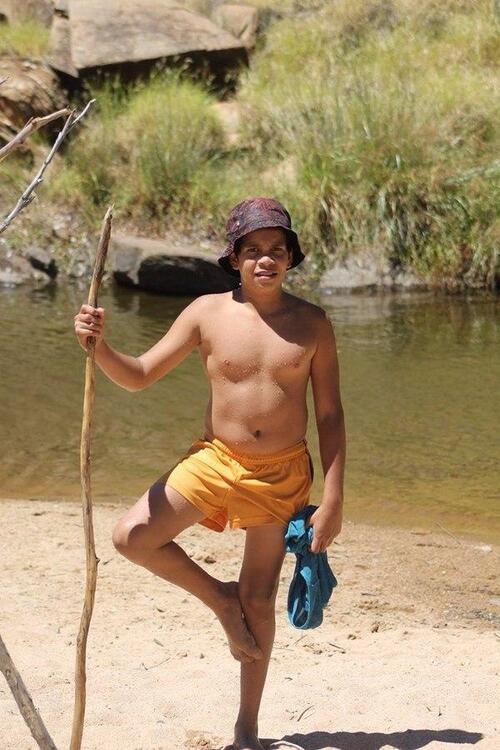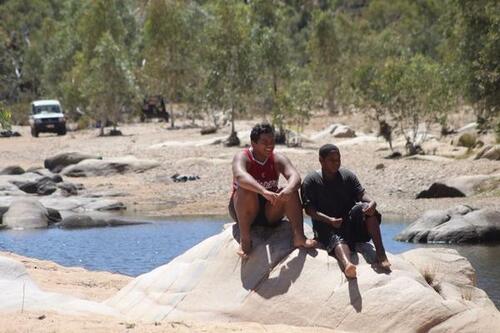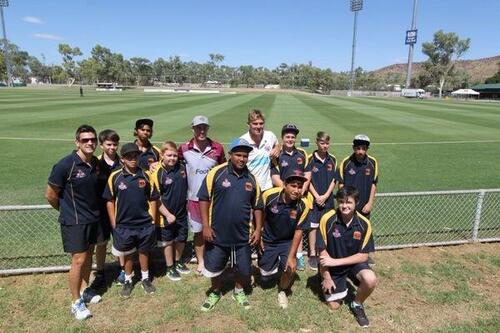 Pink Stumps Day
Highlights of the staff vs students cricket match.