8 May 2015
Newsletter Articles
Principal's Blog
As you will read throughout this edition, our next Chalk and Talk Café is on this weekend. Last time we had a great turnout - our best yet - and I feel confident we will build on that this Saturday. We pride ourselves on offering the most affordable and friendly breakfast in town. All of the food and service are provided by our staff and community on a voluntary basis. We do employ a professional barista so the standard of the coffee is excellent. There will be music again and there will be an open mic, so if you have been hiding your talents from us, here is your big opportunity to shine! Any parents who would like to be involved in baking or working on the morning, we would very much appreciate it.
Last week, a team of leaders from Sanderson Middle School in Darwin visited CMS to look at the work we were doing and the progress we have made over the last few years. It is always a positive experience showing visitors around our school as it gives us a fresh perspective. The feedback from our visitors was fantastic and they really appreciated the opportunity. They were impressed with how hard our students were working and how friendly they were. As always, our bright and vibrant physical environment impressed them too. It was a good opportunity for us to discuss the nuts and bolts of running a successful Middle School with such an experienced team. Our closest Middle School is approximately 1470km away, so we made the most of the situation by comparing notes.
A group of our students have taken advantage of an opportunity to participate in the "You're Skitting Me" workshops. This opportunity is provided by ABC Kid's TV and is delivered online. Peter McMeel and I have been enjoying the workshops with the students and learning about how to write comedy scripts. Hopefully we will see some stars coming out of this program.
Last Friday around 30 students participated in the Science and Engineering Challenge organised by Matt Skoss. I took time to drop in on them and it was wonderful to see students working in teams to solve some very tricky problems. Thanks to Lorna Parker for organising for our students to be involved.
I look forward to seeing you all on Saturday morning!
Kind regards
Donna O'Brien
Principal
Introducing
New Staff
We would like to welcome the following staff to our school.
Lauren Michener

Science

Julia Smith

English & SOSE
What's on
Chalk 'n' Talk Community Café
Polynesian Day
Inter-school Touch Footy Competition
Friday Touch Sign On starts today, 8th May, 5pm at Flynn Drive Oval.
Please ensure you have your signed form and $25 if you would like to play.
Please see Ms Thompson if you have any queries.
Around the School
Desert Park Excursion
Miss Hunter's SGC Visual Arts class went on excursion to the Desert Park. Students in the SGC are currently studying landscapes, focusing on the landscapes we find around Alice Springs. Students had to take photos around the park of interesting land formations and scenes to use as a stimulus for our painting and drawing activities. Students took some incredible photos and had a great time exploring the park.
Responsibility Wins
On behalf of CMS, Noa Brittain and Rebecca Cooper proudly received a Yulara Roof Top Tent valued at $1700.00 for their entry in the Responsible Banner Competition at the TMJ's 4WD Expo on the 14th March 2015. The banner was created in their Year 8 art class with Mr Lee.
Banners produced by Mr Lee's Class
Noa's on a Winning Streak
Noa Brittain has cleaned up this year taking out the '2015 Youth Recycled Art Prize' with her entry 'Garbage Buddy'. A big thank you to Mr Lee, who helped Noa with her project.
Lest We Forget
Centralian Middle School students hosted a very moving ANZAC Assembly on Friday 24th April. We would like to thank veterans Geoffrey Shaw and Fred Robertson, who gave their time to speak to our students.
Centralian Middle School students showed their respect and marched in the ANZAC Day parade on Saturday 25th April.
Health Expo
On Friday 17th April during Youth Week, CMS held a Health and Wellbeing Expo. The theme this year was "It starts with us" CMS would like to thank the NT Government for their support and providing a grant to assist in the running of the Expo.
There were 2 sessions held to allow students access to all the stalls. In the first session CMS year 7 students and Year 6 students from primary schools were invited as part of the transition program. The following schools attended - Bradshaw, Larapinta, Braitling, Gillen, Ross Park, and Acacia Hill satellite students. The other session was for the year 8, year 9 and SGC students to attend. All students received a colourful expo bag that contained sunglasses, tattoos and a Yellow Brick Road competition sheet with pencil.
There were 21 agencies represented on the day and they set up information stalls despite the weather being a bit wet. Agencies who attended were:
Oral Health, Human Services, Congress Healthy Living & Tobacco Cessation, Congress Youth Outreach, Congress Community Health Education Programs, Bush Mob, Girls Academy, Clontarf, NT School Base Police, Community Health Centre, Cancer NT, Headspace, Child Youth & Mental Health Services, Rheumatic Heart Disease, Public Health, Clinic 34, Healthy Living NT, Alcohol & Drugs Services Central Australia, Holyoake, Donate Life NT, Girls @ Centre.
All stalls were attractive to the students as they had plenty of information handouts and interesting displays or activities, e.g. cow's heart, taking pulse rates, number of push-ups in a minute and many more. The information collected by the students from the stalls was interesting and hopefully the families got to share the information and goodies from the expo bags also.
With the Yellow Brick Road competition there was a question for each stall that the students had to find the answer to. This year we had the largest number of student enter the Yellow Brick Road competition with 148 from Primary Schools and 60 from CMS.
All in all it was a very successful event and we thank the NT Government, the agencies who attended, and our Year 9 students who assisted in setting up, welcoming the agencies, welcoming the Primary Schools and their support on the day.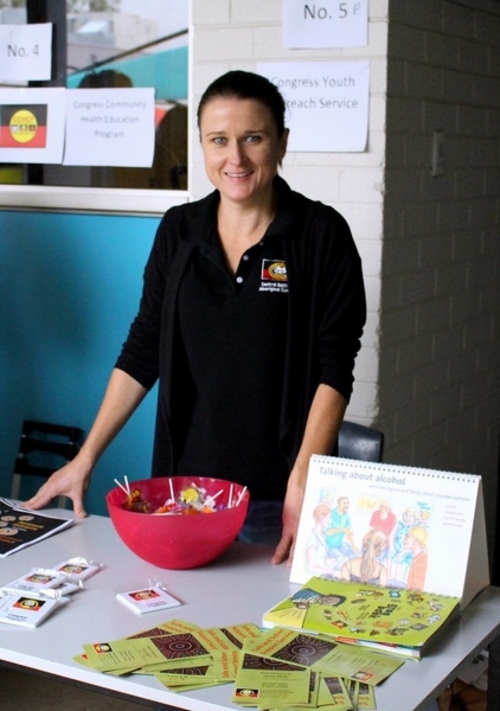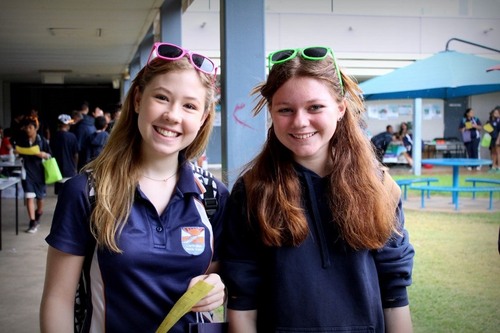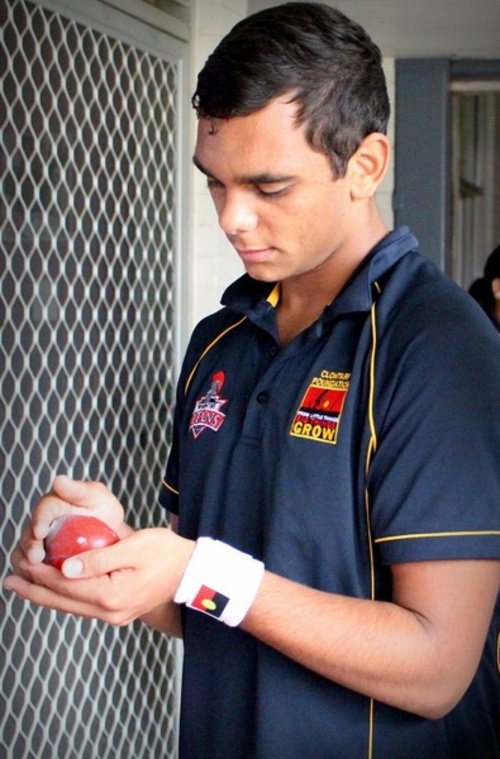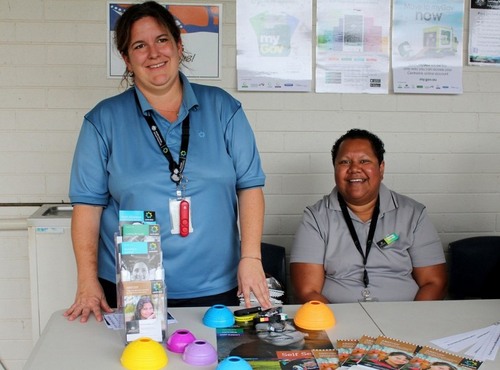 Girls @ Centre
This term, our Year 9 Girls at the Centre students have been learning about the practice of Community Service. The program is all about strengthening our community and learning about the power of showing compassion and care to those around us. The girls have also been able to gain valuable work experience, develop important life skills and learn new things about themselves. Our highlights so far have included our 'Roses in the School' session, where the students handed out flowers to CMS Staff and passed on a message of gratitude and encouragement. The activity brought lots of smiles to the school community and the girls found that doing good for others made them feel good about themselves.
Another highlight has been our recent visit to Gillen Primary School, where the girls were able to spend time with the Transition class, assisting the classroom teachers and working one-on-one with the students. Our girls took their roles very seriously and we were very proud of their efforts and the connections they made with the younger students. Well done Year 9's – keep up the incredible work
The Year 8 girls have a busy term ahead, participating in our Choices program. The activities this term are all about encouraging the girls to make positive choices for themselves and how the choices we make today can seriously affect our futures. The girls participated in a Bullying & Mental Health session, where we were able to talk about the long-term consequences of bullying for everyone involved. The girls were able to talk about some of the issues that come up for them as a group and how we can look after each other better. We will soon be off to visit the local prison, where the girls will learn about the system, the prisoners and the choices that were made that led them to where they are. We are also looking forward to a visit from DASA, who will be guiding the girls through making positive decisions when it comes to drugs & alcohol and learning about the consequences of making harmful choices.
The Year 7 girls have been enjoying Team Building activities, building friendships that will create a safe and happy space for them at CMS. The girls are now moving on to their Health, Hygiene and Self Care program which will see the girls learning about how to care for themselves and keep themselves happy and healthy. The students will participate in some fun and interactive activities while learning valuable lessons along the way
Amanda Freestone Coach, Shelly Bestmann Program Manager, Jenna Browne Coach
Clontarf Academy
Welcome
CMS Clontarf Activities Term 1 and 2, 2015
Special BBQ invite to HMAS Aranta
CMS Clontarf Academy were lucky enough to be invited by the Lord, Mayor, Mr Damien Ryan, to attend an invite only BBQ with the Captain and 30 crew from the HMAS Aranta. The Academy members were enthusiastic and well-mannered during this prestigious event, asking plenty of questions while mingling with the crew and Alice Springs Council members. An awesome effort by all Academy members involved and a big thank you to our Honourable Lord Mayor Damien Ryan.
Mr Geoffrey Shaw Visit
CMS Clontarf Academy were lucky enough to have Special Guest and Vietnam Veteran, Mr Geoffrey Shaw visit our academy room and share his vast knowledge and experiences during his time as a professional soldier with the Australian Defence Force.
Mr Shaw was born and raised in Alice Springs and enlisted in the army in 1964 as a professional soldier. Mr Shaw spoke passionately about his experiences, the importance and significance of ANZAC Day and how special and honoured he was to serve his country.
Mr Shaw made special mention of the many comrades he lost during the Vietnam War and the everlasting friendships that were formed during Vietnam. Mr Shaw Reiterated the importance of friendship and loyalty and to always strive to do the right thing by people.
CMS Clontarf Academy greatly appreciated the vast knowledge and information Mr Shaw so kindly shared with all our Academy members.
LEST WE FORGET
"With Culture Comes Respect"
This was the theme for a recent year nine camp for fifteen of our students, as the CMS Academy headed off the beaten track amidst the mighty red plains of Central Australia. Approximately seventy kilometers North East of Alice Springs at Yambah Station homestead, we were met by traditional owners with a Welcome to Country.
Our students were soon eager to hear about the local dreaming's of the area and afterwards went out in search of traditional bush tucker and the ever so faithful mulga wood to begin making traditional boomerangs. All in culmination for a performance at the end of year presentation, which will include traditional dance and body painting. As our fellas went to sleep later that evening it was clear in their minds that with culture, comes respect. Respect for yourself, for others, for family, and the land is invaluable.
Hugh River Retreat
CMS Clontarf Academy recently held their year 8 Leadership camp at the picturesque Hugh River. The camp was a great success with many activities conducted that focused on Leadership and Wellbeing. The camp was an opportunity for some of our newest Academy members to see what Clontarf is all about and to develop new friendships. Great effort by all Academy members involved.
Shield Cricket in Alice Springs
CMS Clontarf were lucky enough to attend the recent Sheffield Shield match between Victoria and Queensland. The match was met with much enthusiasm as the fellas got to experience first class cricket in Alice Springs.
A big thank you to local Cricket Development Officer, Cam Carrol who organised Queensland players Chris Lynn and Charlie Hemphrey to talk to our lads about pathways and the importance of education. The information session was well received and the fellas were beaming with excitement when they returned to school.
CMS V's OLSH in Basketball
CMS Clontarf Academy were invited to OLSH Senior College to participate in a friendly game of Basketball. CMS and OLSH played the games with spirit and the facility was an eye opener for the Clontarf fellas. A big thank you to OLSH for hosting our Academy and the game was such a success, OLSH has invited our Academy back to play them in other sporting activities. We look forward to future games TC has planned for our Academy.
Warm Regards,
Jason Bell
CMS Clontarf Academy
Centralian Middle School
Centralian Girls Academy
Girls Academy, combined with Centralian Senior College has entered a team into the inaugural Youth Girls Football Competition. So far, we have had two wins. One a forfeit and yesterday a win of 47 to 17! Our girls played an awesome game and more importantly, they played with great team spirit. Best on ground was Shaquille Swan, kicking 4 goals.
They really enjoyed the game and can't wait for our next game which is against St. Phillip's at St Phillip's Oval on Wednesday 20th May at 4pm, should anyone be keen to come and support us.
Samarra Schwarz
– Program Manager

Nicolette 'Sissy' Dunn
– Development Officer
Community News
TOUCH FOOTBALL
Boys & Girls 15 Years & Under Selection/Development Camp
Camp Date: June 19th to June 21st 2015
Where: Fannie Bay Racecourse Touch Grounds
Nominations Close: May 15th 2015
Students interested in attending the Under 15's Touch Football Selection/Development camp held in Darwin this year, from June 19th – June 21st . Alice Springs participants will fly up on Thursday the 18th on the afternoon flight; and return on the Sunday afternoon flight 21st June 2015.
This camp is the only option for consideration/selection in the Northern Territory team which will be competing in Adelaide November 20th – November 29th at the School Sport Australia Pacific School Games
Please complete attached application form by 15th May with full payment and forward to trish.steinohrt@nt.gov.au or fax 08 8948 0257. If you have queries, please contact Trish on 08 8948 0025
OPTION A

Do not require travel arrangements or accommodation

$190.00

OPTION B

Do not require travel arrangements

Require accommodation

$280.00

OPTION C

Require travel arrangement

Do not require accommodation

$395.00

OPTION D

Require travel arrangements and accommodation

$450.00
CAAMA YOUTH MEDIA
CAAMA now have a Youth Media division!
To get some info about what the youth in Alice Springs want, we have produced a very quick survey for young people to tell us what they are looking for in a local radio station.
One participant will win a double cinema pass for their time.
Please pass the survey link (https://www.surveymonkey.com/s/M2SVDB3) onto as many young people as you can and look out for new and exciting opportunities for Alice youth at CAAMA in coming months.
Have a great week!
Cassandra Connelly
Youth Coordinator
CAAMA Youth Media
(08)8951 9778
Relationships Australia
Relationships Australia are offering some great workshops for families.
Book Council Book Finalists