19 June 2015
Newsletter Articles
Principal's Blog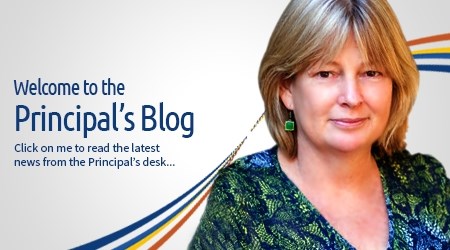 To the CMS community,
I am sure you all feel the same way as I do in looking forward to a break from our hectic schedule. It has been a big term and this newsletter is testament to the many exciting and enriching activities we have had.
Shortly you will all be receiving a semester report for your children. Please take time to carefully read the comments to find out how your teachers think your child can work on their learning. A very useful conversation to have with your child is to find the subject they did best in, and ask them why. We often talk about learning from our mistakes, but we can learn so much more from our successes.
It is with much sadness that I farewell a number of colleagues. They are named later in the newsletter. I want to particularly mention the two assistant principals. I was only able to manage my extended stint in the acting principal role with their outstanding support.
Dan Lewinski joined us late in 2011 and has been fabulous every day since. He has been a great teacher and a strong leader, absolutely reliable and always calm in a crisis. Despite becoming the father of twin boys during this time, he has maintained a consistently energetic, positive and compassionate attitude. I wish Dan and Ant and the boys every happiness on their new venture.
Cassie O'Bree is heading off to increase the size of her little clan. The good news is that means she'll probably be back in a year or so. Cassie's intelligence, efficiency, organisation and absolutely natural ability to lead, have brought about significant change in how we teach and learn at CMS. Her passion for student improvement is infectious and we are a much better school for the work she has done here. Best wishes to Cassie, Jarrod and Sienna with the new bub.
Also farewell to Prabhat who has shared his knowledge and kindness, Loveena who we will always remember for her enthusiasm and happiness, Jess for her energy and her photography which has brightened up our school, and to the amazing Bec Gibb, her positivity has always improved the general quantum of happiness at CMS. We also farewell Zac Nethery, he has quietly and patiently saved many staff and students from IT crises without ever making them feel silly.
Finally I would like to reiterate my message to the students from this week's assembly. Have fun on the holidays but STAY SAFE, and keep your friends safe too!!
Best Wishes
Donna O'Brien
Principal
What's on
School Photos
MSP Photography will be here on Friday 31st July; Week 2 of next term.

We would really like every student to have their photograph taken. We use this opportunity to obtain professional photos for your student ID, year book photos, Year 9 Graduation and Presentation Night. So please make sure you attend on the day and get your photo taken, even if you will not be purchasing photos.
Envelopes will be sent home during the first week of next term. Photo packs will range from $30 -$45. Sibling photos are also available.
Payment options:
Pay online with a credit card – Your child's envelope will have a code and information how to pay online.
Return your child's envelope (ensure you have completed all the details) on photo day with correct cash in envelope.
http://www.msp.com.au/Products/high-school
Farewells
We would like to take this opportunity to say good bye and best wishes to staff members who will not be returning next semester. We wish them all the best in their new ventures which include promotions, travel and additions to their family. We will miss Dan Lewinski, Cassie O'Bree, Rebecca Gibb, Zac Nethery, Loveena Guilford, Yvonne Driscoll, Jess Gatt , Prabhat Soni, Cassandra Connelly, Rina Scott-Wilson and Wade Zaglas
Around the School
Year 9 Integrated Studies Exhibition
On Thursday May 28th, our year nine Integrated Studies students presented a showcase of their Music, Film and Fine Art at Watch This Space Gallery. The afternoon was a complete success with notable visitors such as local MP Robyn Lambly, some parents of year nine students and of course, many students from year eight and nine walked down to have a browse.
The Centralian Advocate described the artwork displayed in the exhibition as ranging from "five minute horror films to colourful rock duets, intricate water colours and quirky wooden creations".
It was a fantastic way to show off the many talents our students possess. Staff also wanted to show the community how proud we are of all the great and unique efforts each of our students make and how highly we value their work.
Thanks to all those students who contributed and all who helped make it happen; including Bec Gibb, Loveena Guilford, Stone Lee, Peter McMeel and Alex Hulluh (Watch This Space gallery manager). We hope to see this happen again in the future and we hope to see you there!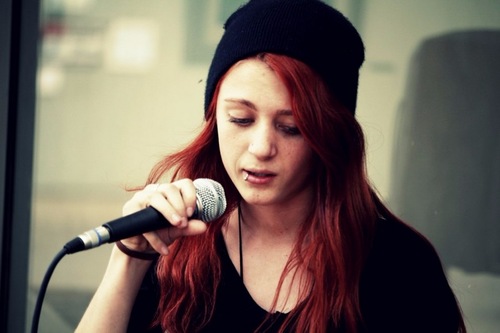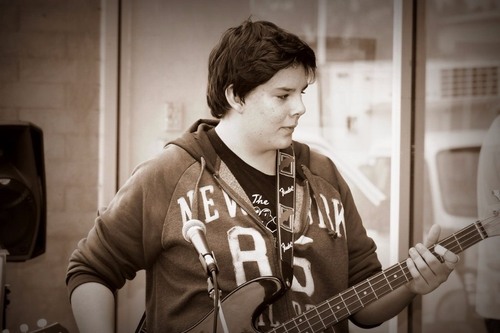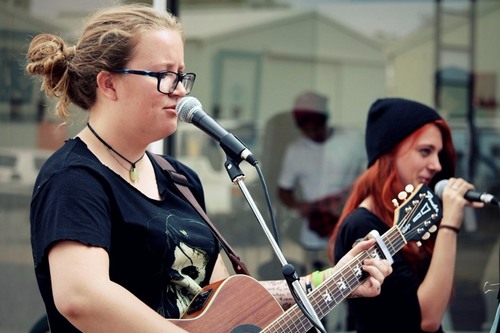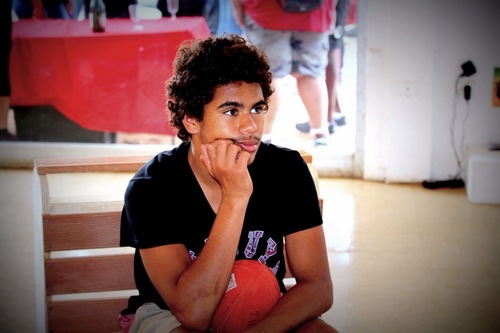 Multimedia
Miss Guilford's Year 9 multimedia students have been producing movies at the Alice Springs Residency. Amelia Findlay, a budding makeup artist, created some rather macabre burns for one of the scenes. The following photos are definitely not for the faint hearted.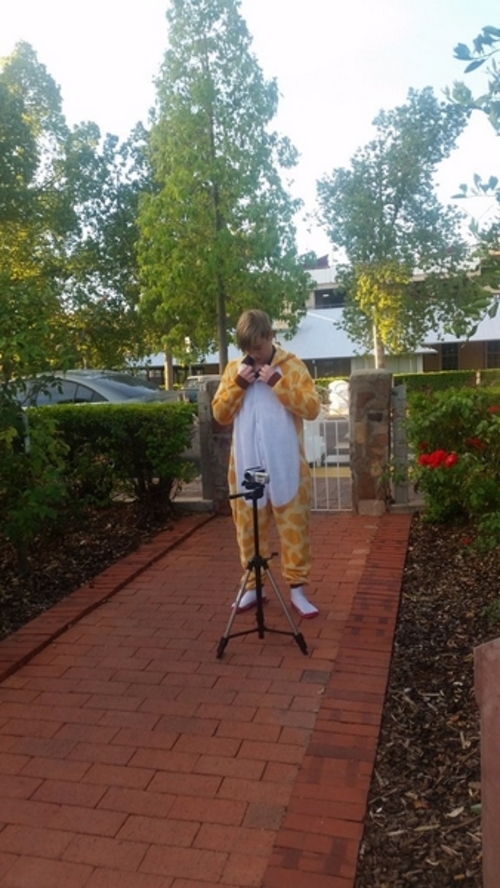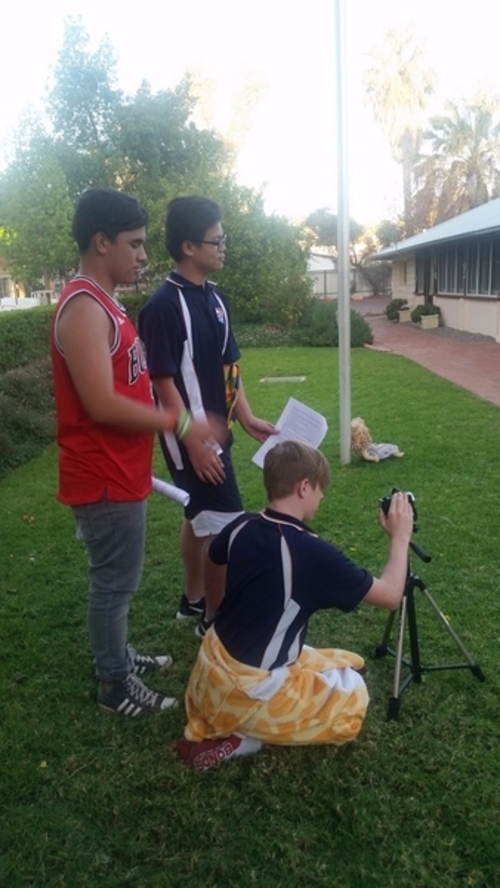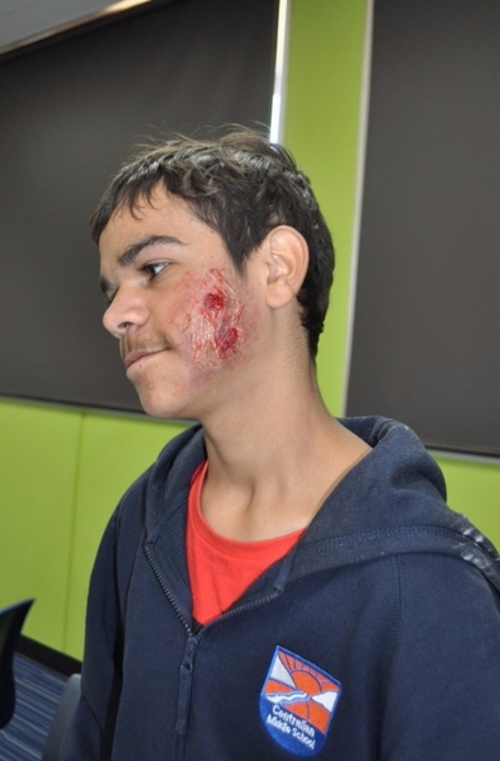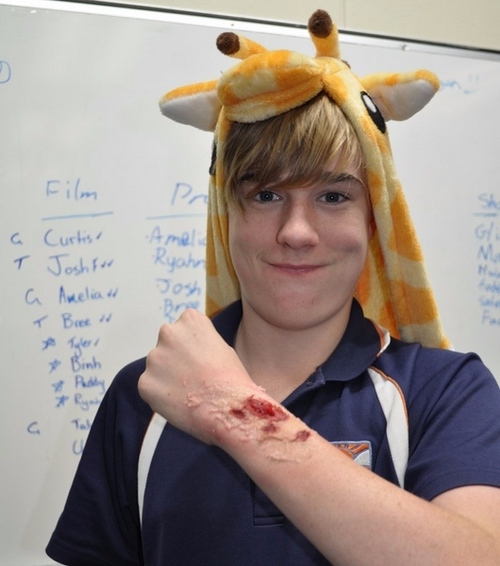 Fake Burn Recipe
1 tablespoon Glucose
1 tablespoon Gelatine
1 teaspoon of water
Mix together and put in the microwave for 8 seconds.
Apply on skin and add make up to colour.
Science Engineering Challenge
Held at OLSH Friday May 1st
29 students from CMS took part in a Science and Engineering Challenge. It was open to any year 7 to year 11 students. Teams from OLSH, St Phillips, Yirara, CMS and CSC competed for a trophy which was awarded at the end of the day. The students were divided into teams of four and worked on one or two activities all day. Stringways, Future Power, Helter Skelter Shelter (Building a tower that wouldn't fall down in a simulated earthquake), Grasping at straws (Bionic Hand Building), Bridge Building, Catapult, Eco-HabitechBuilding a house that wouldn't blow down in a stong wind) and Mission to Mars Buggy Building.
It was a challenging day with year 7 teams competing against year 10's and 11's. One of our year 7 teams consisting of Alex, Aaron and Jasmine punched well above their weight and won the Mission to Mars Buggy Building Activity against some much older kids. One of our year 8 teams won the Stringways Activity. The aim of this half-day activity was to develop networks that join a series of points or nails in the most efficient way possible using string; Mikaela Stennett was one of the leaders in that group.
Our (mainly) year 7 bridge building team was unable to outclass the year 11's of St Phillips and OLSH. The aim of this activity was to build a bridge out of balsa wood and sticky tape. There was a final judging of all the school's bridges at the end of the day. The judges ran a heavy metal trolley over each bridge which often crushed them. They kept adding heavier weights to the bridges until they were all destroyed except for one. St Philip's senior boys' team won in the end with a clever design made of triangular shapes.
Our Catapult team consisting of Jack, Tyler and Sarna didn't quite make the winning distance of 25 metres, but they were only allowed to use sticks, rubber bands, masking tape and string to throw their tennis ball into the air.
Although the odds were stacked against us, at the end of the day we came fourth with St Philip's winning the overall trophy. Well done to everyone who had a go. I hope the Challenge has encouraged the students who took part to realise that maybe they can try new things more confidently in the future. After all we don't learn how capable we are in life by trying only easy things. Nothing that is really worthwhile is ever achieved without challenge.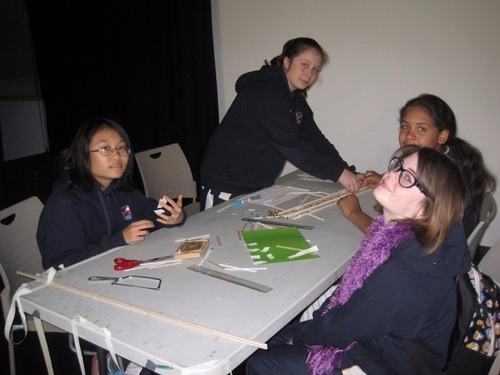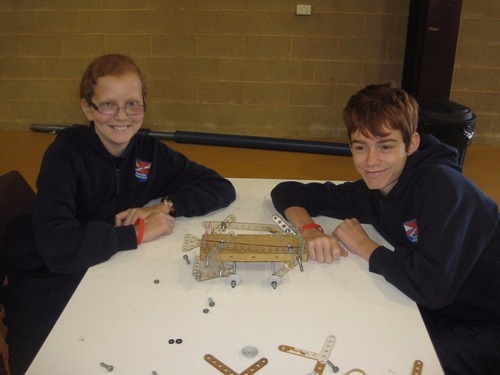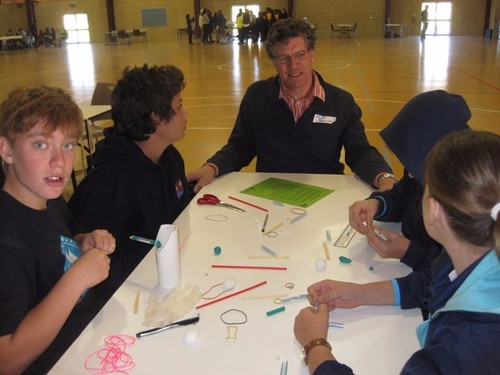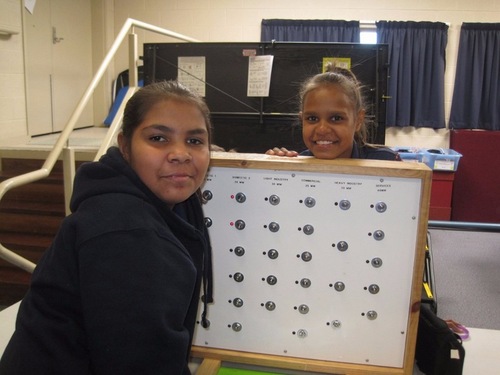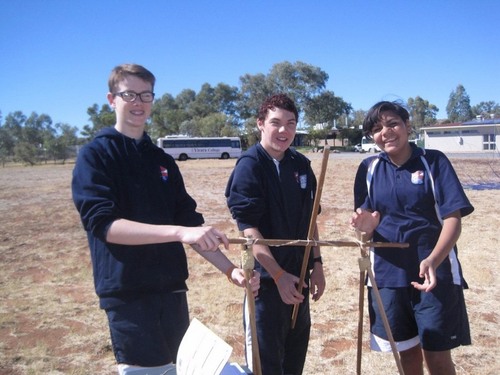 VET Hospitality Assessment
Parents and staff were treated to a delicious lunch at the Desert Lantern at the CDU campus, with food and service provided by our Year 9 VET Hospitality students.
The lunch menu included steak or club sandwiches served with a variety of barista coffee prepared by our students.
Next term our students will be studying tourism.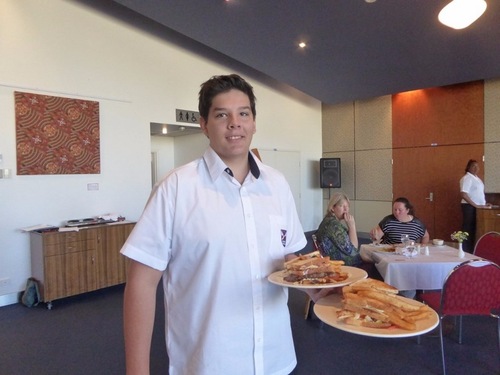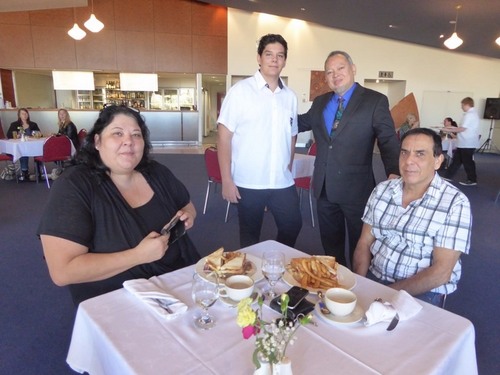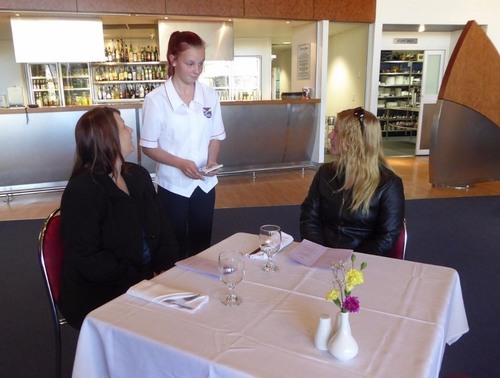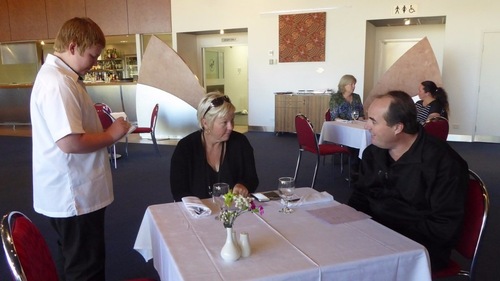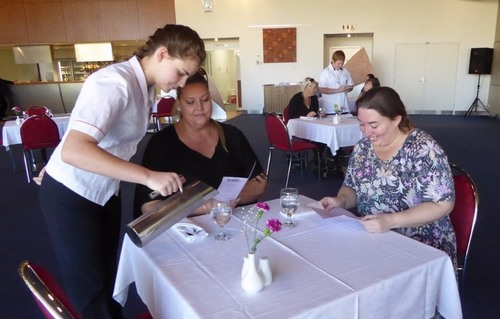 Figure and Ground Exhibition
Students in Visual Arts went on an excursion to the Araluen Art Galleries. We went to see the Figure and Ground exhibition that looks at the intimate knowledge of country reflected in paintings by Aboriginal artists.
We also visited the Albert Namatjira exhibition that was very inspiring to see the beautiful watercolour landscapes.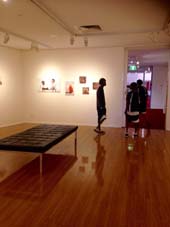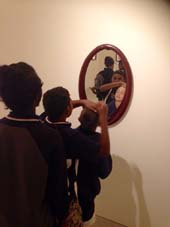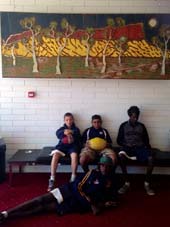 Polynesian Day
Thank you to Miss Vicky and Anita Fuamatu for preparing an amazing traditional Samoan feast of taro with coconut cream, supa sui and banana donuts. Thanks to the staff and students who were involved in the traditional activities; Samoan traditional dancing 'The Siva', wood carving, clay models of Easter Island Moai heads and tattoos. Traditionally Samoan men are tattooed from the waist to the knee and women, thigh to knees. Most students settled for temporary tattoos on the forearms or the face.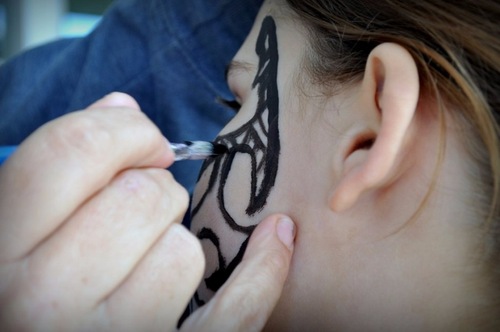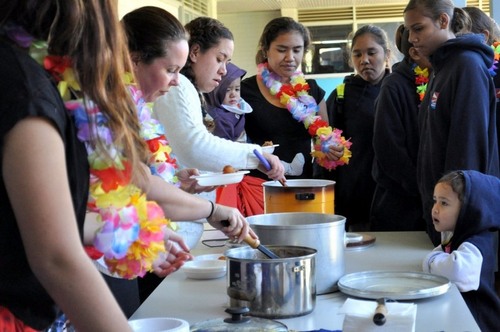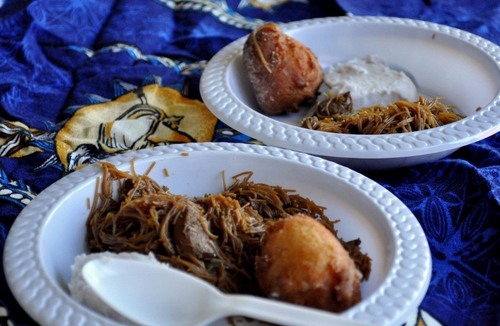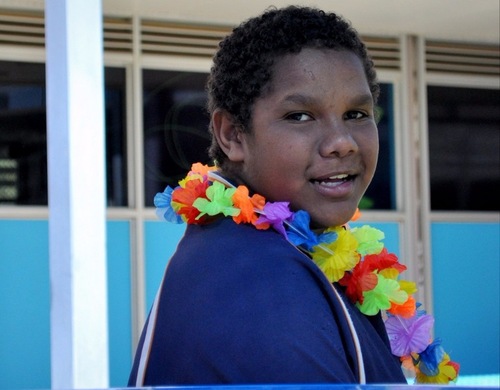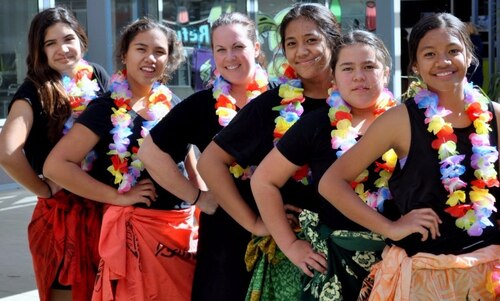 Year 7 English Expo
Year 7: Information Report Expo
Over the last few weeks the Year 7 students have been busy researching 'Inventions'. They had to write up an Information Report on their topic and think about a creative way of displaying their information. We invited both Parents and Gillen Primary School over to see the displays. The Expo was very impressive - students went to a lot of effort to design engaging activities to help others learn something interesting about their topic. Well done to everyone who participated and a special thanks to Miss Axten for organising the event.
Just some of the Inventions/Expo featured:
Food Dye - The Internet - Credit Card – Donuts - Smell-O-Vision – Basketball – Lollies - Video Games – Crossbow – Wheel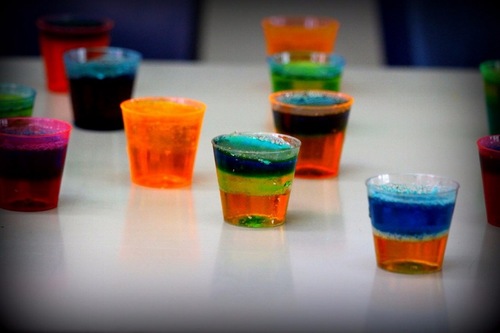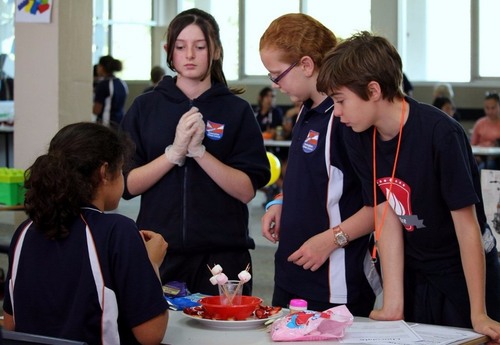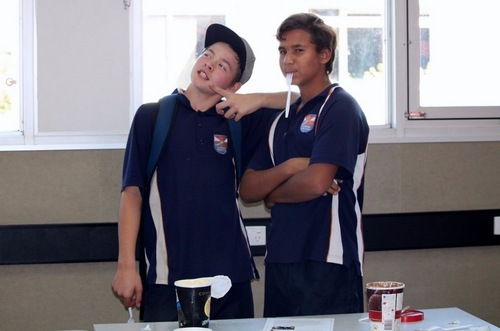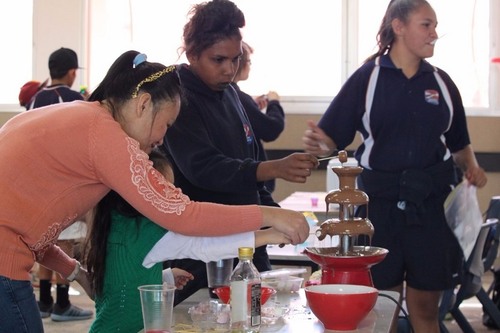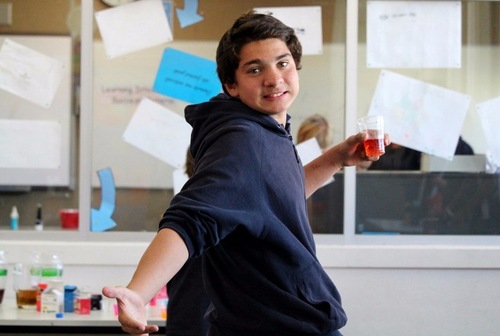 Community News
Keeping Healthy
Energy Drinks – Red Bull, Mother etc
Some students are starting the day at school drinking an energy drink or two. We would like to let you know the dangers of these products for young adolescents. Energy drinks can interfere with your child's concentration and learning ability. Please read on for some information on these drinks. As CMS is a Healthy School Campus, we follow the recommendations of no drinks containing caffeine and sugar e.g. no Coke, Pepsi etc. Please encourage your child to be responsible with what they drink to ensure they remain healthy.
Top Ten Dangers of Drinking too Many Energy Drinks at One Time
Cardiac Arrest

: Those with underlying heart conditions have gone into cardiac arrest after just a few energy drinks. Before drinking energy drinks or caffeine, be sure to know your heart's health.
– A new study showed that energy drinks cause more forceful heart contractions, which could be harmful to some with certain heart conditions.
– One study showed that between 2009 and 2011 there were 4854 calls to poison control centres regarding energy drinks. 51% of these calls were involving children.
– Another study shows the link between energy drinks and cardiac events among teens. This study recommends that teens consume no more than one 250 ml energy drink per day and not before or during sports or exercise.

Headaches and Migraines

: Too many energy drinks can lead to severe headaches from the caffeine withdrawal symptoms. Changing the amount of caffeine you ingest daily can cause more frequent headaches.

Insomnia

: Energy drinks do a good job of keeping people awake, but when abused, they can cause some people to miss sleep all together. This lack of sleep causes impaired functioning and can be dangerous to drive or perform other concentration heavy tasks.

Type 2 Diabetes

: Because many energy drinks are also very high in sugar, they can eventually wear out the insulin producing cells of the pancreas, which leads to type 2 diabetes.

Drug Interaction

: Some of the ingredients in energy drinks can interact with prescription medications especially medications taken for depression.

Addiction

: People can become addicted to caffeine and energy drinks. This can lead to lack of functioning when unable to have the energy drink or a financial stress from having to buy several energy drinks daily.

Risky behaviour

: There was a study published in The Journal of American College Health which showed that teens are more likely to take dangerous risks when high on caffeine. This could result in injury or legal trouble.

Jitters and Nervousness

: Too much caffeine from energy drinks causes some people to shake and be anxious. This can interfere with performing needed tasks or cause emotional issues. A study out of Perth, Australia found that even just one 250ml energy drink can

increase anxiety

in young men.

Vomiting:

Too many energy drinks can lead to vomiting. This causes dehydration, acid erosion of teeth and oesophagus if frequent.

Allergic Reactions

: Because of the many ingredients in energy drinks reactions could occur, from minor itching to airway constriction.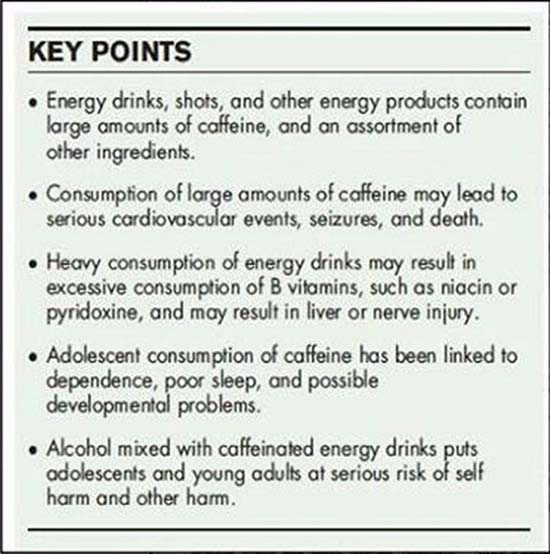 http://www.abc.net.au/catalyst/stories/3826162.htm