21 August 2015
Newsletter Articles
Principal's Blog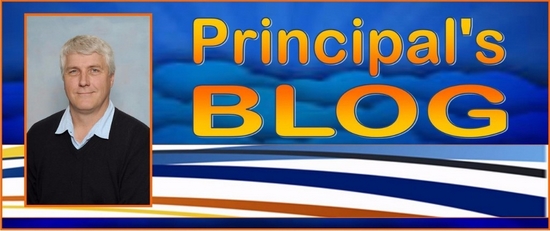 Students seem to have settled well this term. We have welcomed many new students, to facilitate this, we have introduced a class which helps students settle into their new surroundings and engage with their learning.
The remainder of the term is jam packed with opportunities for families and friends to participate in our school community. I hope to see you at the Chalk 'n' Talk Café this Saturday, 21st August. Our cafeteria offers a great setting for great coffee, homemade cakes and entertainment. We also have an Open Night on Wednesday, 2nd September of Week 7. We hope the community will come and see our outstanding school and enjoy a free barbecue and activities.
As always we value our student and family's feedback, I am asking students and families to complete a survey. Students will be completing their surveys during class. Families will be sent links to the parent/guardian survey. I have also provide the links below
https://www.schoolsurvey.edu.au/s/CMS2015Student
https://www.schoolsurvey.edu.au/s/2015cmsparent
Thank you all for your support as I join your community
Eddie Fabijan
Principal
What's on
Chalk 'n' Talk Café
This Saturday 22 August 2015 9am til 12noon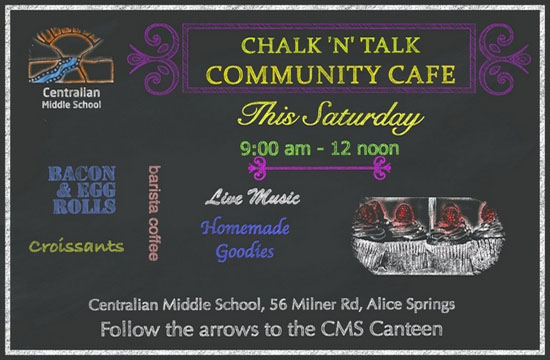 Open Night
Now Wednesday, 2nd September – Week 7

We hope to see families and students at our Open Night, Wednesday 2nd September from 5pm to 7pm. There is a free barbecue, lots of fun activities and a great opportunity for students to show family and friends their school.
Year 7 Camp
Week 22 September – 24 September
As part of the Centralian Middle School year 7 program, we will be travelling to Ross River Resort. Students and staff will depart for camp on Tuesday 22nd at 9:00am on the CMS buses and will be back to school by 2.30pm on Thursday 24th of September.
The cost is $120 per student which will include all meals, snacks, accommodation and travel for the three days. Please complete attached forms and return to homeroom teachers:
CMS Presentation Night 2015
Thursday 26th November 2015.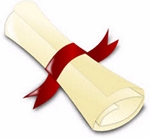 The 2015 CMS Presentation Night will be held at the Convention Centre on Thursday 26th November 2015 commencing at 6 pm. Awards will be presented and we will farewell our Year 9 students so please keep this date free.
Student and Survey
We need student and parent feedback! Students will be completing a CMS Student Survey in their pastoral care lesson. If you miss this lesson, you can still complete the survey below. Parent will be sent a links by email or you can following the link below.
https://www.schoolsurvey.edu.au/s/CMS2015Student
https://www.schoolsurvey.edu.au/s/2015cmsparent
Around the School
Cross Country
Our annual cross country event was held on Friday 7th August at the Telegraph Station. The 4km course was along the Bradshaw Track. SRC provided a delicious barbecue. A big thank you goes to Miss Thompson for organising another successful event. The CMS champions will be competing in the Interschool Cross Country on Friday 21 August 2015
Results: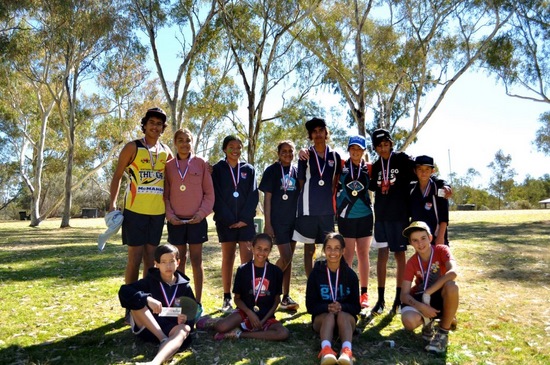 Year 7 Boys
Champion: Sean Xiao    Runner Up Mallee Pietsch (check spelling)
Year 7 Girls-
Champion Taylor Moldridge Runner Up Lie Lie Mulitalo
Year 8 Boys
Champion - Marley Tilmouth and Liam Badenoch Runner Up Tyrell Woodbury
Year 8 Girls-
Champion Shanikwah Pepperill Runner Up - Kantaris Turner
Year 9 Boys-
Champion Damian Peace Runner Up - Dominic Forbes
Year 9 Girls
Champion - Timika Nibbs Runner Up - Taigan Satour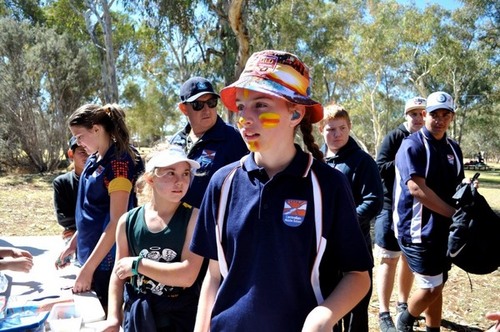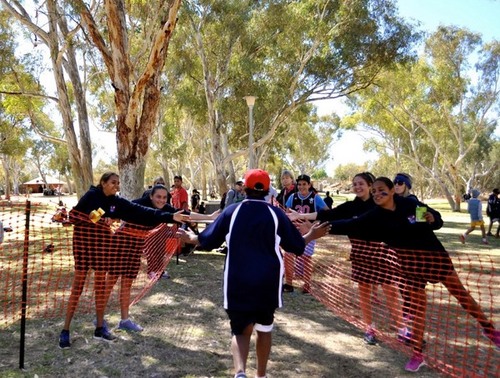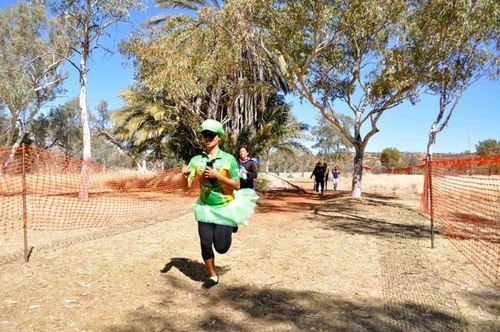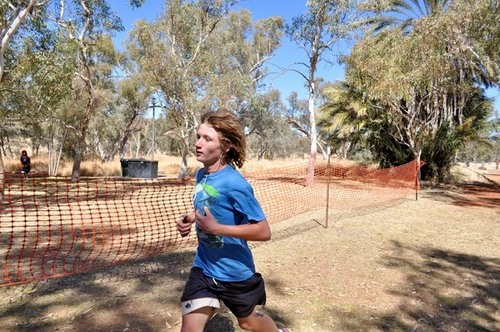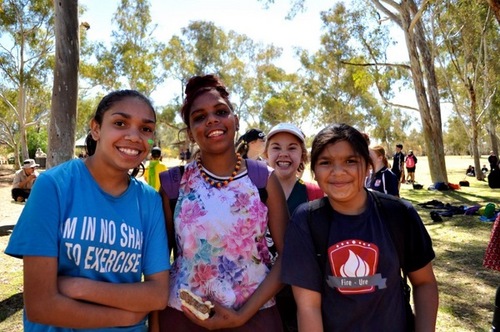 Goodbye Kat
Kat Sherrin, front office guru, student access specialist, librarian extraordinaire and first aid expert is leaving us after four years at CMS. Kat is travelling to Nepal, a place devastated by an earthquake earlier this year, to work in an orphanage. She has been fundraising for a toilet block for the orphanage. If you would like to help Kat go to:

Congratulations Miss Axten
Miss Axten has been recognised for her achievements from local community members by being awarded Alice Springs NAIDOC Female of 2015
Check out Kate's trip to South Africa over the term break.
http://www.australianvolunteers.com/volunteer/stories-from-the-field/classic-wallabies-exchange-south-africa-2015/
Cut Above
We are pleased to announce that Courtney Anderson from year 8 is the overall winner of the Centralian Beef Breeders Cow Competition at the 2015 Alice Springs Show.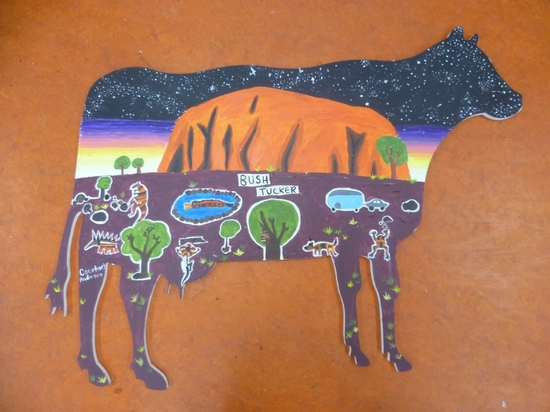 International Artist visits
Some year 9 students (integrated study) are working with American artist, Joseph Swayze, from Watch This Space to create puppets for this year's Desert Festival.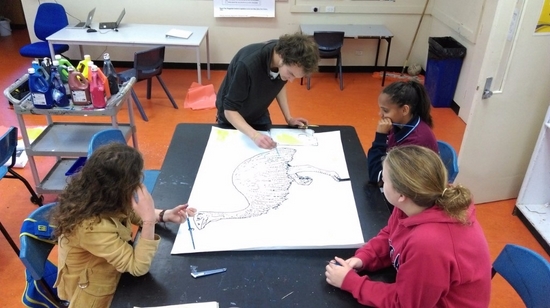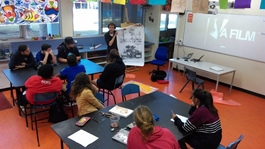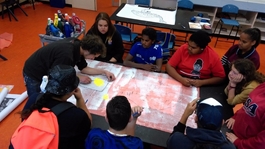 Year 7 Author Visit
Miss Axten's year 7 English class had a visit from Australian author, Will Kostakis. Mr Kostakis held a work shop for the students. He kindly donated copies of his latest books; The First Third and Stuff Happens to the library. For more information on Will Kostakis, please visit his website.
VET
Year 9 students involved in our VET Program are working towards their Certificate I in Business and Retail. They have been looking at Discrimination in the Workplace and produced some discerning posters.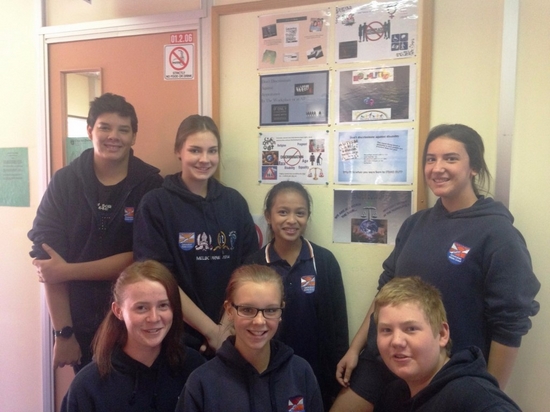 Design and Technology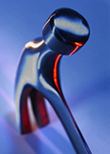 The students who have been participating in Design and Technology classes this Semester have had the opportunity to be exposed to many practical components of this area. They have learnt how to successfully measure, mark out timber and cut and drill using both hand and power tools and assemble items. In the process they have made timber name plaques, dice and small boxes. For the Community Garden we have also started 10 nest boxes for placement in trees around the garden and seats for a shady spot to rest. We have also been working with Joseph on the cutting out of animals for the Mega Fauna Project which will be part of the Art Festival later on in the month. The next project we will be working on is making a clock using a combination of timber, metals and plastics. Most students have been challenged in this area where they have learnt how to finger gauge, square items, use a hand saw and hammer correctly but it is great to see all having a go and learning skills which they will be able to use later on in life.
Don't forget about our upcoming Open Night where young people can come in and learn how to use hand tools in making smaller items with timber.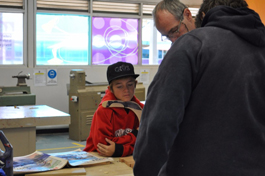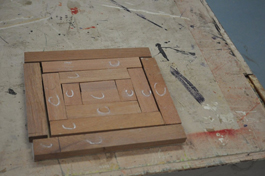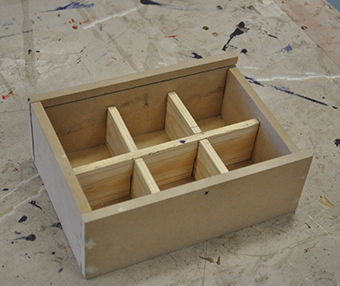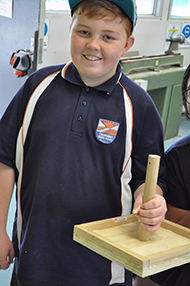 Questacon Visit
Students were set various engineering-based challenges designed to build confidence, encourage teamwork and celebrate success, while investigating scientific concepts in a hands-on way. By the end of the two days, students had prototyped, tested and refined an innovative solution to set problems, and were encouraged to share their designs with each other.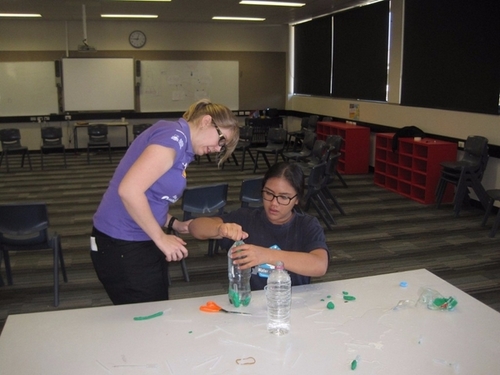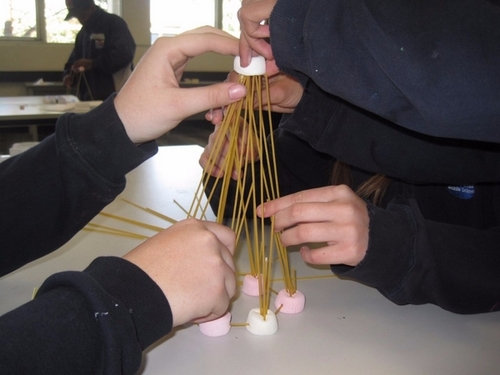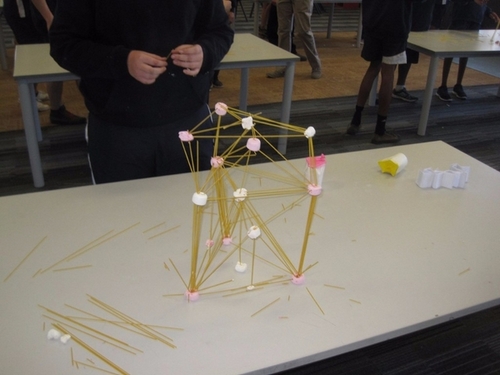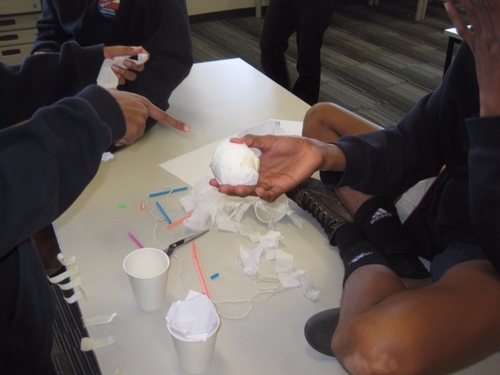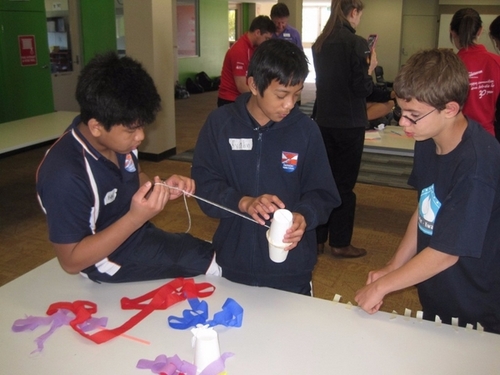 Peanut Allergies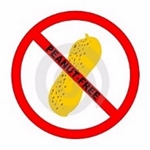 We have a number of students attending CMS who are allergic to peanuts and carry their EpiPens with them. This allergy can be life threatening to them if they come in contact with peanut products. Parents are advised that we are trying to support these students by not having any peanut products on the school campus. This can be in the form of paste, food cooked with peanut oil or spray, health bars with peanuts etc. Please support us in this matter and contact Barbara Glover, Health Promoting School Nurse on 89502504 if you have any questions
Girls Programs
Centralian Girls Academy
Please click on our logo to get the latest news on our girls.
Girls @ Centre
It has been a great term at Girls at the Centre so far!
The girls have been participating in afterschool activities twice a week. On Tuesdays we head over to Traeger Stadium to learn how to play wheelchair basketball. And on Thursdays we have Crafternoon sessions where we participate in different craft activities such as making dream catchers, bracelets, tie-dyeing and card making.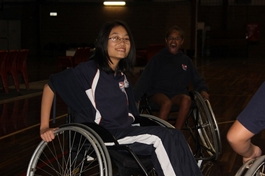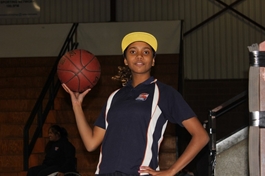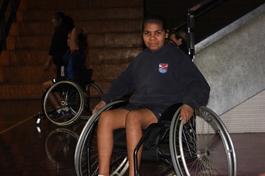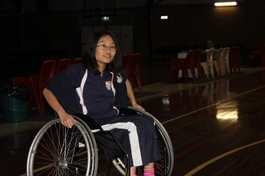 The Year 9 girls have been participating in a Work Readiness program and have learned how to apply for jobs, how to write resumes and prepare for job interviews. The girls will now spend the rest of the term doing work shadowing and industry tours around town. This week we are off to the Desert Park where we will learn about how the staff takes care of the land and the animals. We are also looking forward to our visit to the Alice Springs hospital where the girls will see what it's like to work in healthcare.
The Year 8 girls have been learning all about healthy relationships this term and how to look after themselves and one another. The rest of the term will be spent participating in a self-defence course facilitated by Reclink Australia.
The Year 7 girls will be participating in the Reach Program this term, which is all about inspiring the students to believe in themselves and to be as happy and healthy as possible. We will be doing some fun activities that focus on Bullying, Mental Health, Celebrating differences, Self-Confidence and Inspiring Resilience.
Samarra Schwarz
Program Manager
Girls Academy

Amanda Freestone
Coach, Shelly Bestmann
Program Manager,
Jenna Browne Coach

Nicolette 'Sissy' Dunn
Development Officer
Girls Academy
Samarra Schwarz
Program Manager
Girls Academy

Nicolette 'Sissy' Dunn
Development Officer
Girls Academy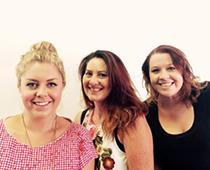 Amanda Freestone
Coach, Shelly Bestmann
Program Manager,
Jenna Browne Coach
Clontarf Academy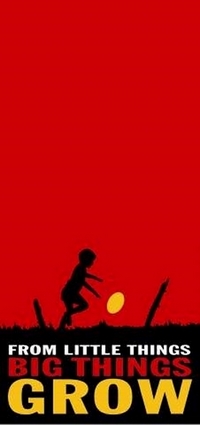 Old Timers Fete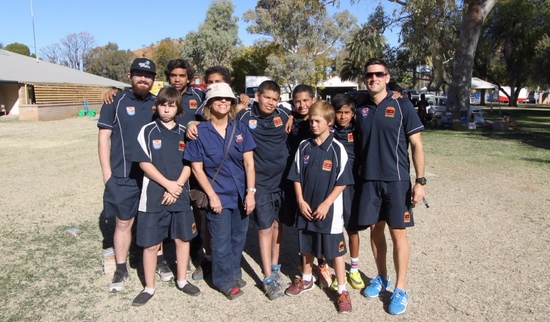 On the 8th August, the CMS Academy took 7 really helpful and generous students to the Alice Springs Old Timers Fate to assist in arranging and packing up as well as the removal of rubbish at the end of the day. The fellas were really good and respectful and were rewarded for their efforts with their choice of free leftover items and even some food from the Asian stall. Well done guys.
Fred Hollows Foundation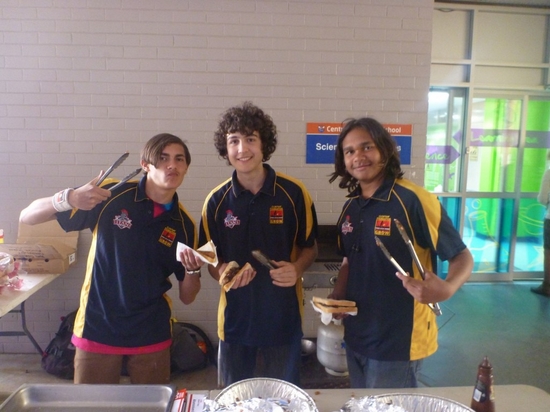 Last Friday the CMS Academy hosted a fundraising BBQ for the Fred Hollows Foundation. The BBQ was brilliantly supported by both staff and students who generously bought the delicious steak sandwiches and sausages on offer. Special thanks to Nelson Satour, Jae Clarke, Ben Williams and Sean Musgrave who helped with the cooking and serving. Top effort guys.
Henley on Todd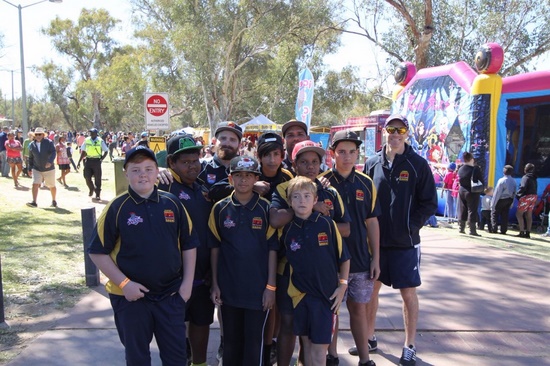 This past weekend, the CMS Academy took 9 very helpful and well-mannered students along to the Henley on Todd to assist the committee with their statistical postcode survey. It was a valuable experience as the guys developed the underrated skills of public speaking as well as remaining confident after being turned down. It was a hot day in the Alice and the guys to their credit carried out their duties for the duration. Super work by all.
CMS Clontarf Academy
Centralian Middle School