25 September 2015
Newsletter Articles
Principal's Blog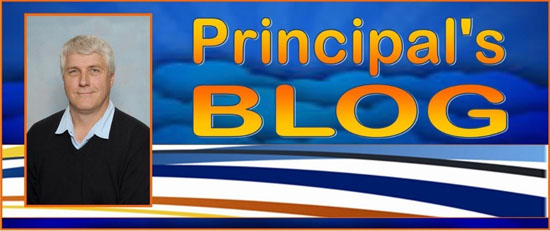 To all of our students and families,
End of Term 3 has come and we have had a great 3rd term.
Week 2, next term will be diagnostic testing in Maths and English. Please encourage students to strive for excellence as the data will be used to inform the next learning challenge.
Eddie Fabijan
Principal
Playground Changes
We have made a few changes to the out of bounds areas during break times around the school.
To encourage use of the facilities at the rear of the school, students may no longer meet at the front of the school during break times.
We have been watering the back oval which is now looking very green. Students are able to sit in the green part of the oval (no further west than the peppercorn Tree). This now allows students to use the goal posts.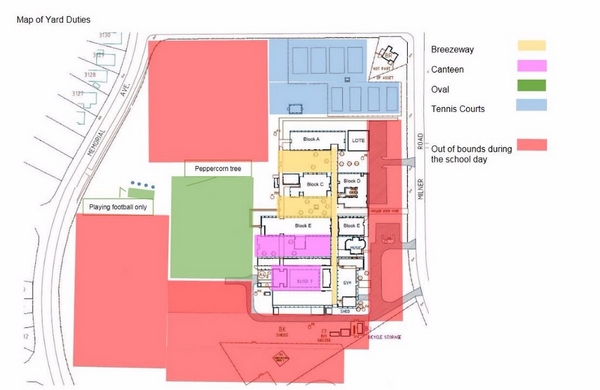 Presentation Night
CMS Presentation Night 2015
Thursday 26th November 2015.
The 2015 CMS Presentation Night will be held at the Convention Centre on Thursday 26th November 2015 commencing at 6 pm. Awards will be presented and we will farewell our Year 9 students so please keep this date free.
Interschool Athletics
Last Friday, 45 students represented CMS at the Interschool Athletics Carnival held at Head St Oval. The school couldn't have been prouder the way students conducted themselves both in their respective events and in supporting one another. Students displayed outstanding skill level, sportsmanship and determination which was evident in the number of ribbons students took home with them. Overall, we came in a close 2nd place to St Phillips, an incredible result. A special mention to Taigan Satour who was awarded Senior Age Group Champion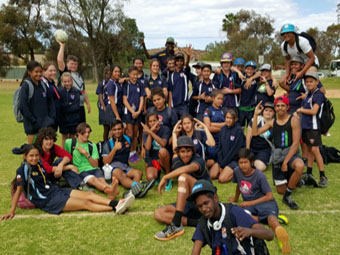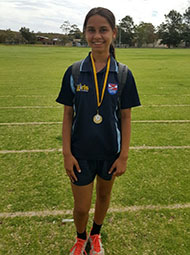 Alice Springs Police Incentive
Congratulations to the CMS students who received Maze Runner movie tickets from the Alice Springs Police Department for positive attitude to learning, improved behaviour and academic achievement.
| | |
| --- | --- |
| Trixia Calica, Mikaela Stennett, Taze Gregurke, Ethan Staniforth and Constable Fonz | Constable Fonz with Naomi Des, Leonie Padam |
Deal or No Deal
Principal and student choose no deal on her probability challenge. Students were given an experience to learn that all gambling is designed to provide a poor chance of winning big money.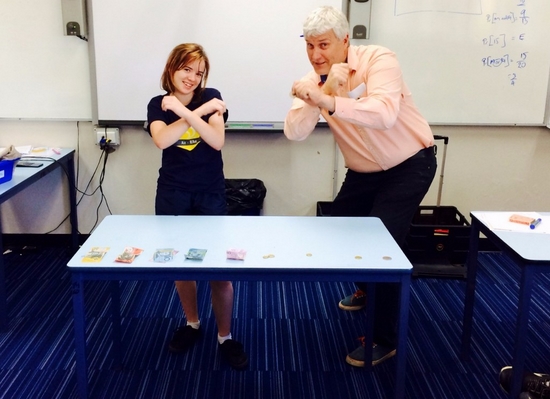 CMS Touch Footy
We had a great season in last term's Desert Storm Touch Competition. CMS put in two teams from which Copelan Ford, Taylor Moldrich, Ariki Lowe and Tallulah Ford were selected to play for the Alice Springs side, who in turn were all selected in the Northern Territory Squad. Madisen Davis Tahere went up with the team and helped referee throughout the week.
A big thank you to; Ms Thompson, Ms Hunter, Ian and John Bancroft for coaching, Liam Badenoch, Damo Day and Oneill Bancroft who refereed many of the games. Without these volunteers, Friday afternoon touch just wouldn't happen.
Curtis Bancroft - Best Male
Madisen Davis Tahere -
Best Female

CMS Blue and
CMS Red

Taylah Moldrich - Best Female
Copelan Ford - Best Male
Busy Fundraising
August Chalk 'n' Talk
August was our most successful Chalk 'n' Talk, so far. A big thank you to the Year 7 and SGC students whom baked, served, help make coffee and clean up on the day. The students were fundraising for their school camps.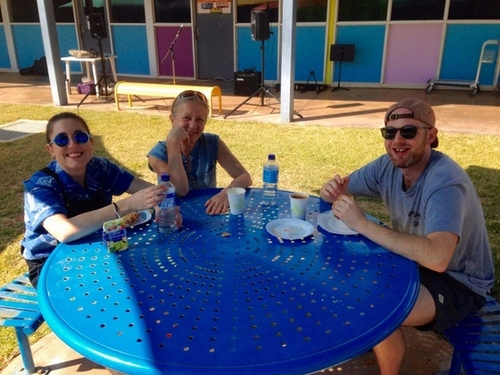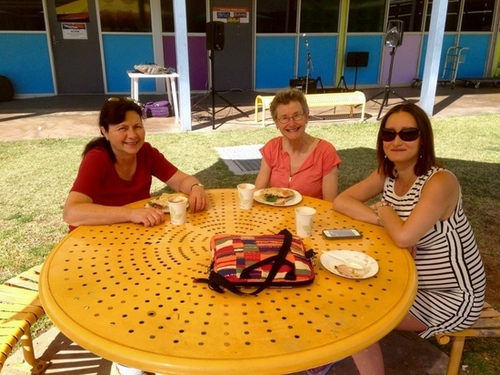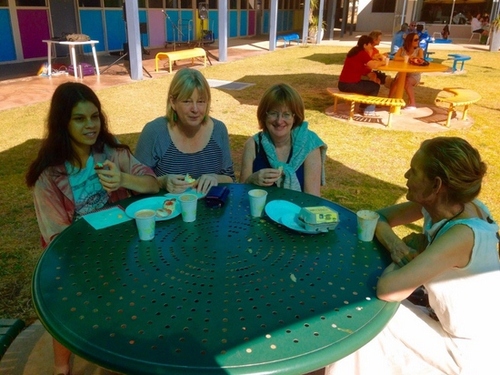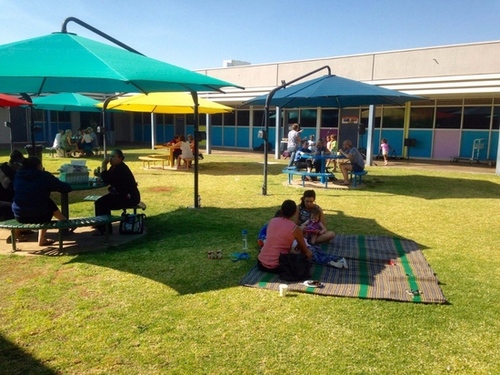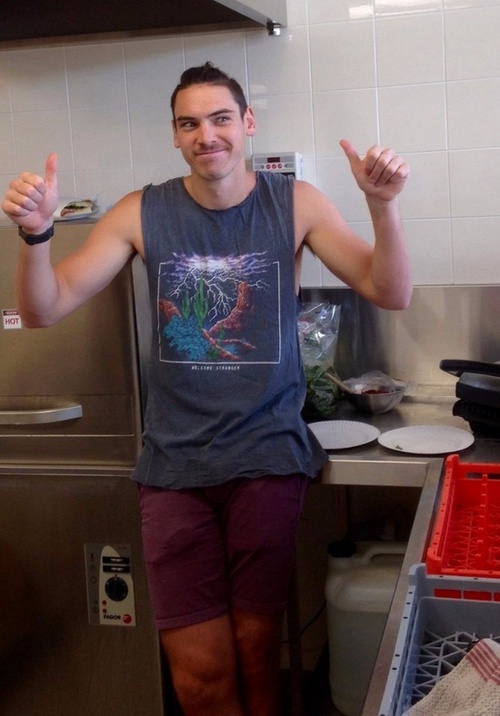 Kmart BBQ
SGC Students fundraised for their camp with a sausage sizzle at K Mart. A fun way to spend Saturday morning.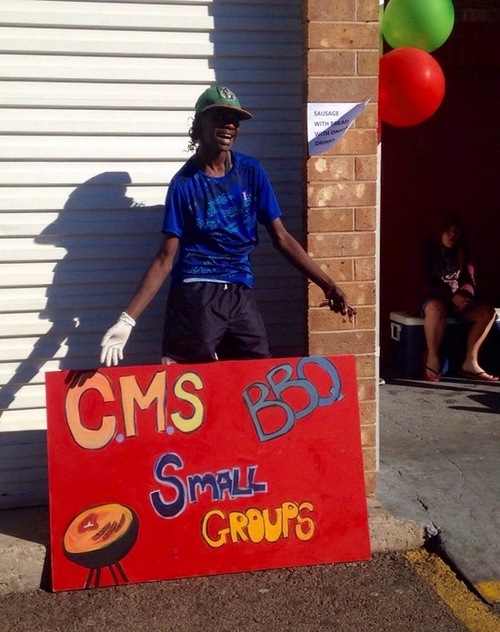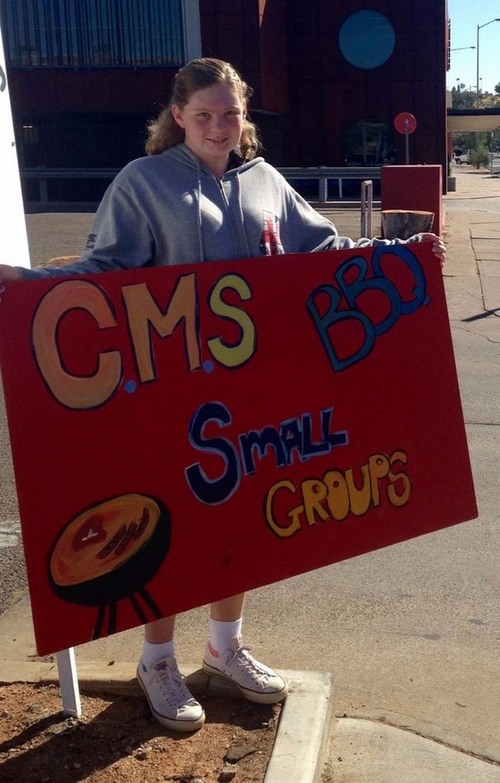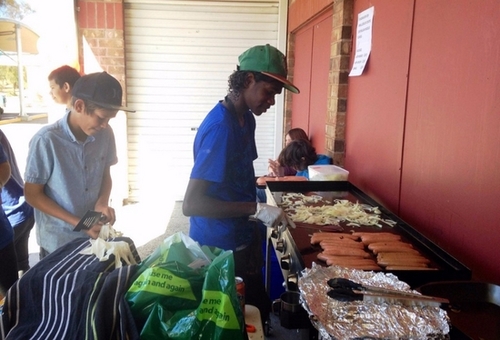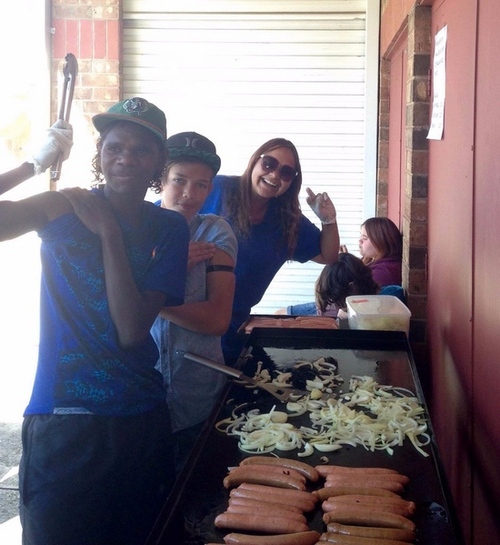 Year Six Sports Day
Centralian Middle School held its second annual Year 6 Athletics Carnival on Tuesday the 15th of September. Over 200 year 6 students from all the feeder primary schools participated in an action pack day of sports, team building activities and a barbeque lunch to finish it off.
The year 7 students helped on the day by being the 'tour guides' and walking the teams around the school to the different activities. A big thanks to our onsite programs who supported on the day by running some of the activities.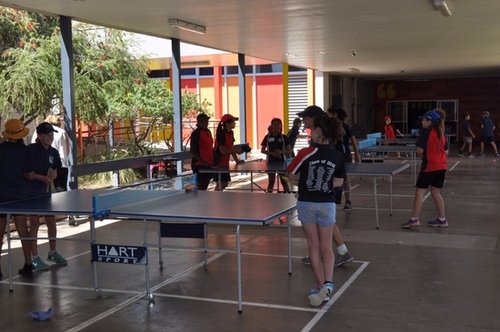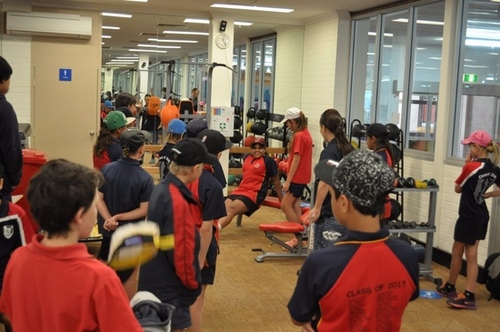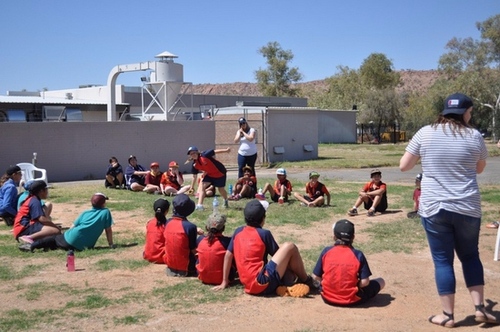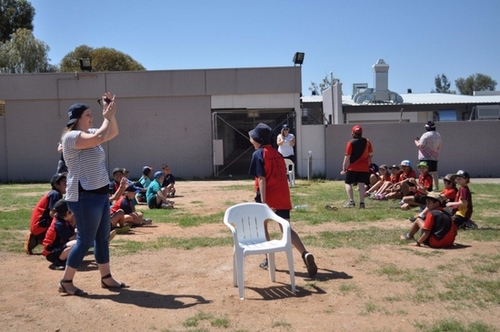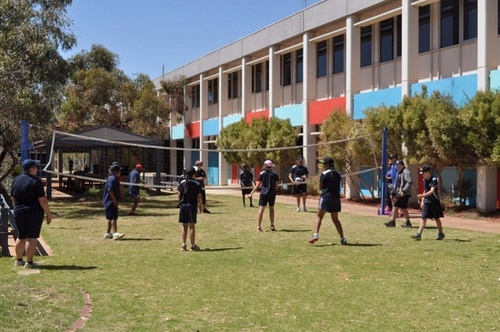 Around the School
Lanterns
SGC students have been busy making the world a brighter place.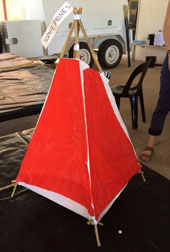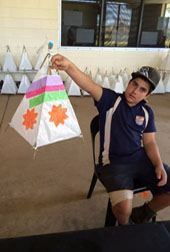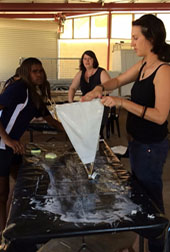 Design & Tech in the Dog House
Tyler was definitely not in the dog house when he took home his wood work projects last week.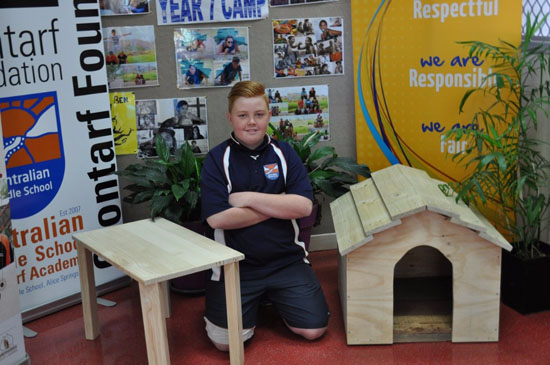 Cinderella the Real Story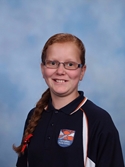 By Jasmine Hughes Year 7
Allow me to introduce myself; I'm Cinderella's step mother, Andria.
The stories you might have heard are all lies! I was there when it happened, I saw and heard everything and here's the real story.
It started off with me marrying her father. It was great at first, but then a couple of days later he started getting all wrapped up about her wellbeing. He said that my daughters were picking on her. I said that was absurd! It was her picking on them! "My daughter's an angel," He said calmly. "She's very kind and always does as she's told." That's when an idea wriggled its way into my head. That little beast was putting on an act for her father so my girls would get into trouble. I walked off to go and find Cinderella. She said nothing as I scolded her but just looked at me as if she didn't know what I was talking about. She apologized as I walked out of the room.
A few years later my husband died and I was left alone to care for my two little angels and that horrid girl. We put her up in the attic and gave her a few chores to do each day. I mean, around 80 chores each day isn't a lot. Anyway, she went out of her way to try and not complete all of them. If I wasn't there to enforce it, nothing would get done! A while after she was up there, she made friends with these disgusting rodents called rats! Of cause she would make friends with rats! She has no friends to start with and it's just like her to make friends with rodents. My precious daughters grew up gracefully and were very kind to one another. Cinderella grew up with my love but she still didn't grow up as I planned. Cinderella caused fights with my little girls and at first, I thought they were turning into ungrateful girls, but when my daughters told me what happened I realized Cinderella's version was a lie and my poor helpless little girls were being bullied. I knew I had to do something. And the perfect opportunity came when there was an invitation to a ball at the palace. That day I made sure I gave Cinderella some extra chores so she wouldn't be able to come. I wouldn't let her ruin my daughters chance to marry the Prince My daughters were with me as I said to her. "You may come if you finish all your chores and have something sensible to wear."
"Thank you! Oh thank you." Cinderella cried and ran off to go do some chores. "Mother what did you do?" Anastasia and Drizella yelled at me in unison. "Didn't you hear me? I said if." I replied.
"Oh," They said with a laugh. "If" I got Cinderella to tend to Anastasia's and Drizella's needs. I don't think Cinderella would've finished her chores and made her dress if it wasn't for those rats! While she was helping Anastasia and Drizella, those rodents were making her dress and helping her with her chores. But I took care of that. When she came down that night, I saw she was wearing pieces of Anastasia's and Drizella's clothing and jewelry. I immediately had an idea. "Anastasia,"
"Yes mother?."
"Isn't that your sash?" I said with a smile. She had a quick glance at it.
"No it isn't." But then she took a closer look and screamed. "How dare you!" She screamed at Cinderella.
"You stole it." Cinderella had a shocked and scared look on her face as Anastasia ripped it off wrecking part of her dress.
"And Drizella, aren't those your pearls?" Drizella stormed over to her and ripped the pearls off her neck. Anastasia and Drizella were then noticing more things of theirs and ripping them off, but by that time I was already enjoying myself. By the time they were done, Cinderella's dress was nothing but a pile of rags. "Come on girls, the coach is here. Goodnight Cinderella." I glanced at her as we walked out the door and knew she would start crying. We arrived at the ball a couple of minutes later and not long after my girls were introduced. But there was a problem, he caught sight of someone and pushed past my girls to see her. He grabbed that girls hand and started dancing with her in front of us. I realized I've seen her before and tried to go after them when they left but the curtains closed and so I couldn't. The ball was over after that and the girls went home cranky and jealous. Cinderella was in bed when we got home and when I saw her face I realized she was the one at the ball. I decided I would give her some extra chores for disobeying me and I went to bed. The next day there was a letter in the post saying that the duke would be coming to every house to every woman trying on one of the glass shoes that Cinderella left at the ball. Cinderella heard me and dropped everything and started daydreaming. She went to her room to get ready even though the girls were screaming at her to pick up their clothes while they were getting ready. I walked up to her room and locked her in there. She started screaming and banging on the door begging me to let her out. But instead of opening the door, I walked off to welcome the Duke. "Where are the ladies waiting to try on the glass slipper?" He asked exhaustedly. "Right over here my Duke." I replied. Anastasia and Drizella walked down the stairs quickly nearly knocking each other over. Anastasia was first and it was a perfect fit! Until we found out her dress was covering most of her foot so we couldn't see it. As there was no hope for Anastasia, Drizella was next. She was the same; her foot wouldn't fit unless we squished it and forced it in there. "Well madam, if there are no more girls in this house…"
"No, there's no one else."
"Okay then I'll be off."
"Wait! Wait!" Cinderella cried. "I'm here." The Duke looked at me with a sour expression. I tried to stop him from letting her try the shoe on but nothing worked. "It's a fit!" The Duke cried. "It's a fit! Oh my girl, the Prince will be wanting to meet you." I couldn't believe my ears. She was going to marry the Prince. She stole all the glory for herself again. She went off for her honeymoon a few days later and we didn't see her for a very long time.
School Social
Neon Night
Thank you to Miss Axten and the SRC for a great night. A big thank you to the staff who gave up their Thursday night to show the students how to limbo.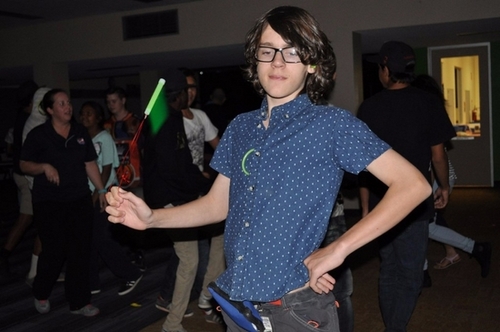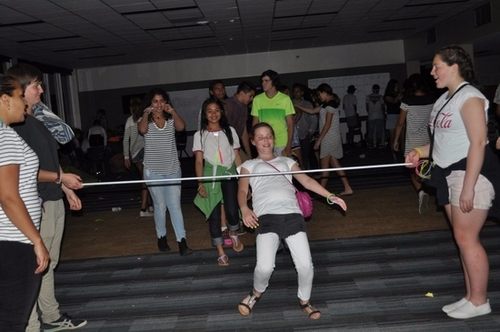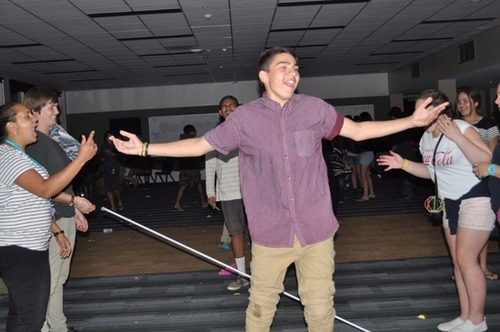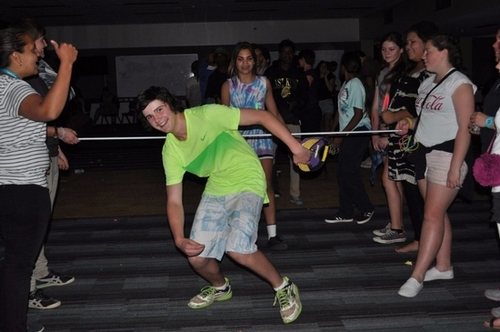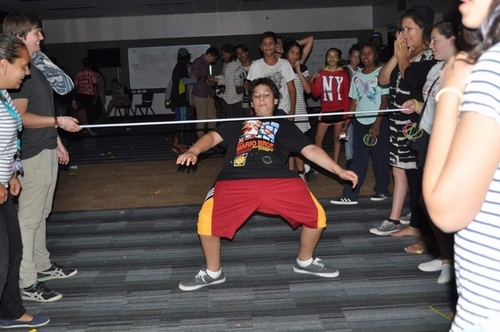 Clontarf Academy
Welcome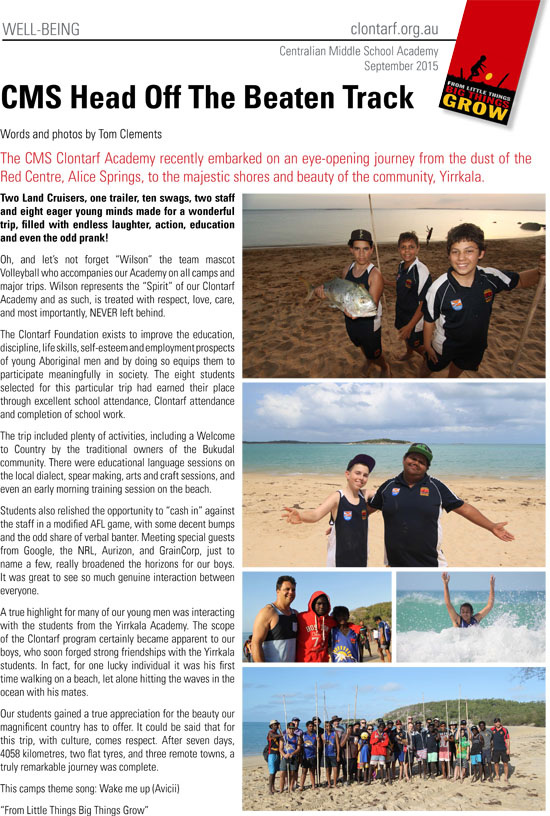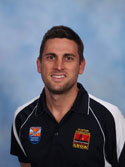 Warm Regards,
Tom Clements | Director
CMS Clontarf Academy
Centralian Middle School
Healthy Teeth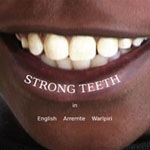 The Department of Health (DoH) provides a FREE dental service to all children attending primary and secondary school. If your child/children require a check-up or treatment, please contact Flynn Drive Dental Centre on 89516713. A parent or guardian MUST attend with their child/children
Adult Migrant English Program (AMEP)
Are you a migrant who wants to learn English?
The AMEP offers free English classes to eligible students. Day, evening and distance learning classes are available in Alice Springs. Free childcare is available during day classes.
English courses are also available for people not eligible for the AMEP.
For more information or to enrol:
T: 08 8946 6578 or free call 1800 019 119
Or at Alice Springs campus: P: (08) 8959 5254
E: rhonda.drew@cdu.edu.au or
E: migrantesl@cdu.edu.au
The Adult Migrant English Program (AMEP) is funded by the Australian Government Department of Education and Training.


Centralian Girls Academy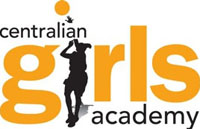 Samarra Schwarz –
Program Manager

Nicolette 'Sissy' Dunn –
Development Officer
Girls @ Centre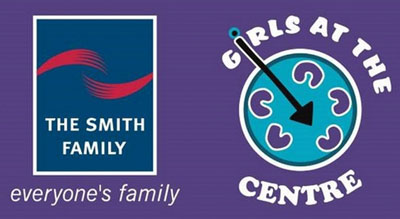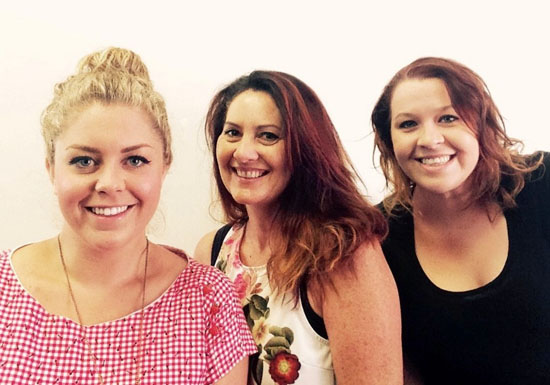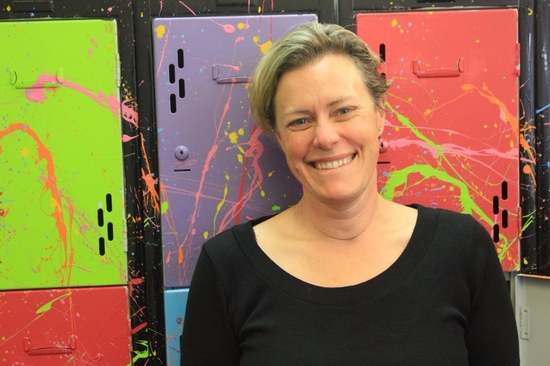 Amanda Freestone Coach, Shelly Bestmann Program Manager, Jenna Browne Coach
Jodi Lennox, Acting Program Manager