18 October 2016
Newsletter Articles
Key Dates:
5 - 12th November – Year 8 Camp to Top End Adventure Camp
6 - 11th November – Year 9 Camp to Adelaide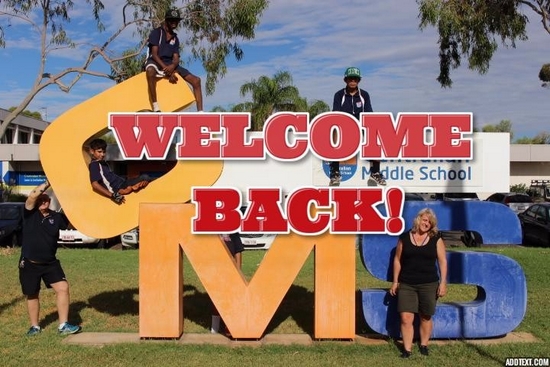 Year 9 Update
Dear Year parents and carers
Thank you for all your support in terms 1, 2 and 3.We are now at the crossroads. Our students are at a critical point where they are going to do transition visits which will enable them to settle well and succeed at Centralian Senior School. We need your support at this critical moment and l am confident you will always be there are we travel this last part of our students' middle school journey.
These are issues l presented to the Year 9 students about how they can make sure they successfully prepare for senior school.
Time management. Being on time. Balancing socialisation with work.
Managing work, attempting all tasks.
Paying attention in class and concentrating so that they can grasps all concepts being taught.
Being punctual and attend all classes.
Managing emotions and relationships maturely (with teachers and friends).Knowing what matters and picking the right battles to fight.
The school values.
Reminder to parents
The school expects all students to be in full school uniform.
The school still has a no phone during school policy.
We always encourage our students to be mindful of the language they use.
All students are expected to have their own pens, pencils and books. Teachers are not expected to buy pens, pencils and books for students.
What's happening in Year 9?
Adelaide trip is coming up. Final payments to be done by 15th October. For most students, all we need is that final $300 payment. We will be inviting parents to a Pre-Adelaide trip meeting very soon, so look out for letters and text messages from school. It is very important that parents with children who are coming on this trip attend this meeting.
Transition Visit to Centralian Senior College on Wednesday and Thursday next week. 19th and 20th October

PAT testing is happening. As part of good teaching and learning practice, we test our students periodically to get information on students' growth and areas they are struggling in. This information helps us as teacher to plan further learning and also celebrate growth with our students.
I encourage parents to have discussions with their children about the importance of these tests and urge them to put in maximum effort.
Once again thank you all Yr 9 parents for your support.
Regards
Wellington Pasi
Year 9 coordinator, CMS
Year 9 Poetry SLAM
Year 9 students have explored the fundamental elements of poetry to build a mini-magazine of their works, addressing world issues, injustice, friendship and life experiences.
The anthology, or Poetry Zine, has been hailed by teachers Wendy Cowan and Wellington Pasi as a tribute to the students' intelligence, sense of justice, adventure, friendships and humour.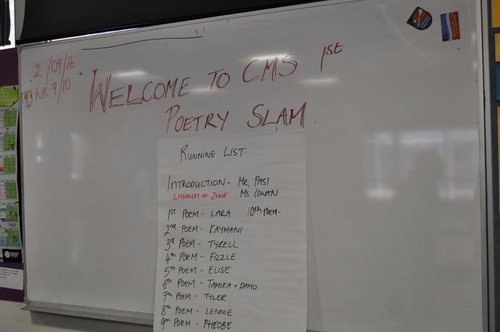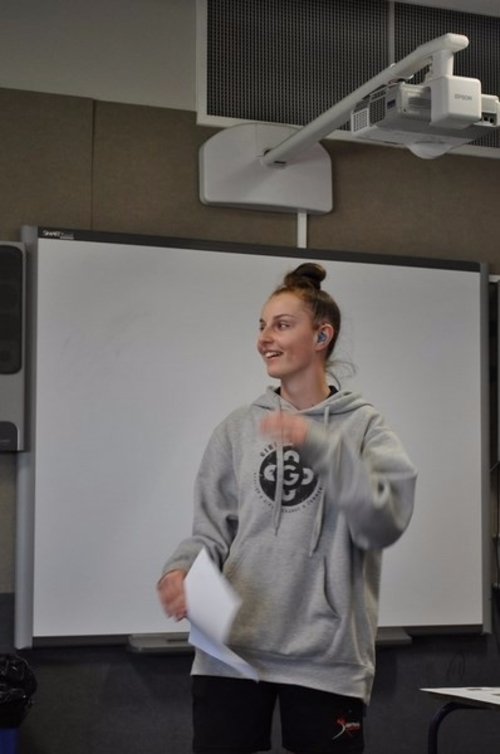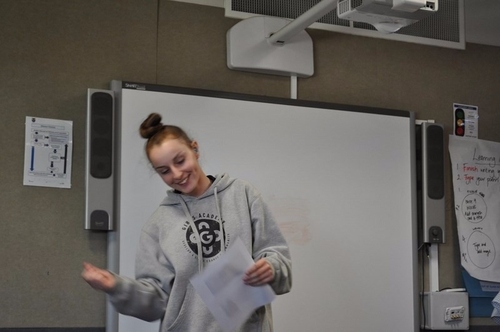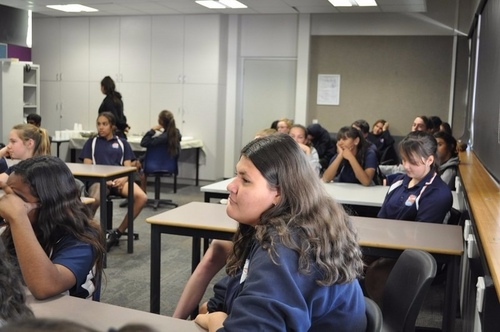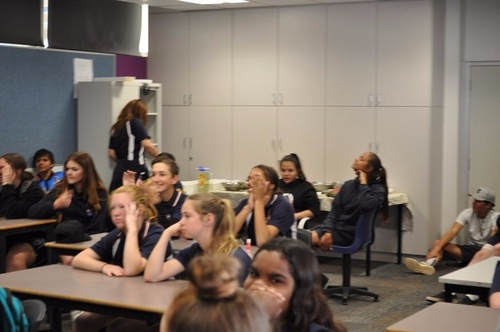 School Captains
Applications OPEN!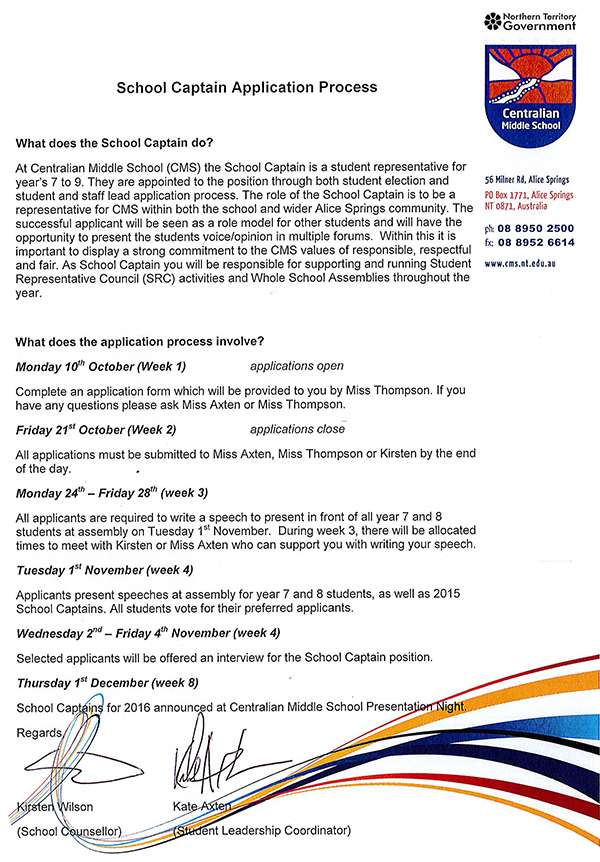 Year 8 Camp
5 - 12th November
Students will be visiting the Top End Adventure Camp. A Trivia Night fundraiser will be happening on Wednesday 28th of September from 7pm.
Please contact Annie Thompson for more information annie.thompson1@ntschools.net.
Year 9 Camp
6 - 11th November
Students will be visiting Adelaide. Please note that the cost of this camp has reduced from $1050 to $600 due to fundraising, payment for Year 9 camp needs to be received by the end of September. For more information please contact Wellington Pasi on wellington.pasi@ntschools.net.
Year 7 Camp
Awesome Trip to Glen Helen
In September, 62 year 7 students and 5 Staff participated in a 4 day camp to Glen Helen Homestead. The camp was set to be a combination of relaxing, getting to know each other and also a chance to discover more about the landscapes of Central Australia and the West McDonnell Ranges.
Whilst the students did get rained on slightly throughout the camp, all students had a fun time and appreciated the visits from Clontarf, Girls Academy, Mr Algate and Mr Fabijan.
As often happens, our plans needed to be adapted; on the Wednesday, we were to tackle the pound walk at Ormiston Gorge, just after our photo at the Lookout – the heavens opened and we all got wet – hence to say we had to shorten the walk. This led to an impromptu visit to Serpentine Gorge.
On Thursday, we adventured to the Ochre Pits, where we saw a 4WD show filming some segments for their show about the West Macs. Again, an impromptu walk happened, which led to Mr Balmer and 11 students walking about 7 kms!!!
Colin – one of the Managers of the Homestead spoke about the history of the West McDonnell Ranges and the formations of the gorges (he even likened the rock formations to Lasagne)
Each evening dinner was provided by the homestead and the students were able to have a great feed, A big thanks must go to the Glen Helen Homestead and their staff for being so accommodating, as well as feeding 62 hungry children.
All in all a great time was had by all! We all look forward to the next one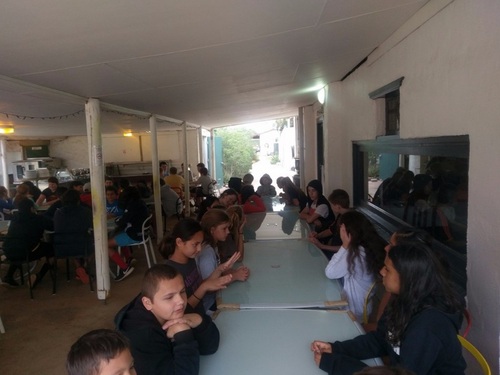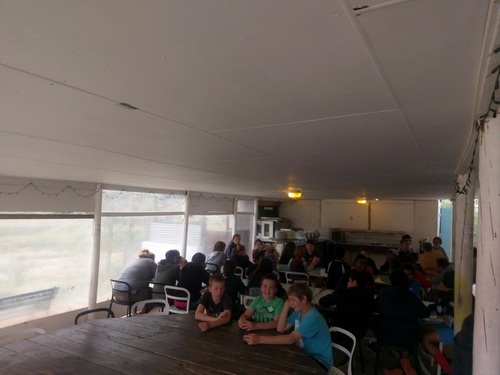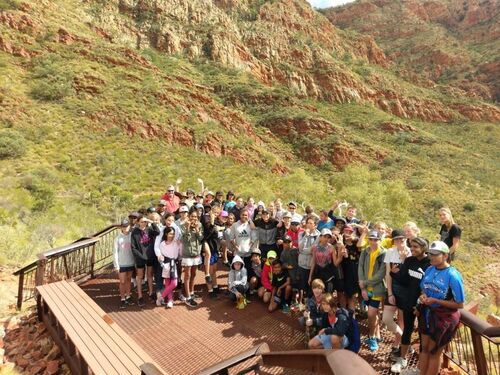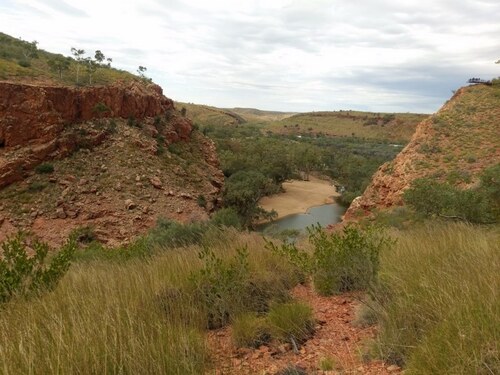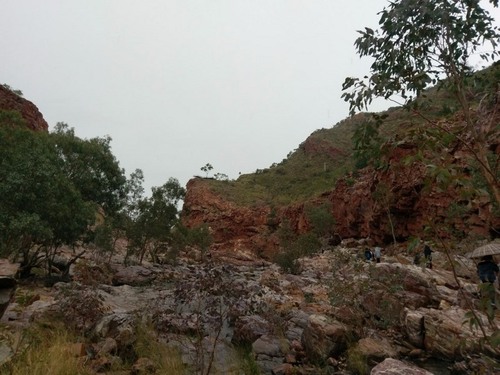 VET Information
VET information has been sent home for Year 8 student. Please have a read of all the courses on offer, if you have any questions please call Annie Thompson.
Presentation Night
Save the date : Thursday 1st December, 2016
2016 Presentation Night will be a special evening for our graduating students. Please save the date and keep an eye on information in the mail. We look forward to sharing this important evening with the school community
Student Achievement
Art Expo, Taylor Moldrich and Mikayla Wesley Cole
Eddie and Lyndsay are pictured with Year 8 art work purchased at the Art Expo last term. Paintings were sold to raise money for the Year 8 camp. Eddie is holding Taylor Moldrich's and Lysdsay is holding Mikayla Wesley Cole's work.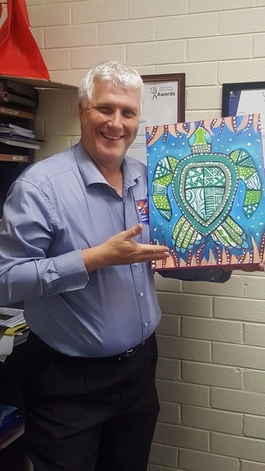 Student FREE Day
Friday October 28th
There will be a student free day on Friday 28 October, please make other arrangements for your children.
Wearable Arts Awards
You are invited to attend the Wearable Arts Awards on 5th of November!
New Library Management System
Action Required to Update Student Details
The Library is updating our management system to something much simpler and user-friendly that will allow students better access to educational resources, flexible account management and the ability to search our catalogue from any internet connected device.
Our new management system called OCLC Worldshare is located outside of the Northern Territory therefore, we require your consent to transfer and store your child's information in this new system.
To allow your child to continue to use library follow the link below and fill in the online form.
http://www.cms.nt.edu.au/library