11 May 2018
Newsletter Articles
Important dates
15-17th May – NAPLAN
5.30pm 17th May – School Council Meeting
23rd to 25th May – Year 7 Camp
7th June – Year 7 Telegraph Station Excursion
8th June – CMS Athletics Carnival
18 to 22nd June – Year 9 VET
20th to 22nd June – Year 8 Camp
26th to 29th June – Year 9 Camp to Uluru/Kata Tjuta and Kings Canyon
23rd June to 2nd July – Clontarf Camp to Adelaide
From the Principal
Dear families
Term 2 has enthusiastically started and it's been great to see the learning that is going on around the school.
Next week is a very important learning week for us as our Year 7 and 9 students will be undertaking the National Assessment Program for Literacy and Numeracy (NAPLAN). Much is heard about NAPLAN in the media, some positive and some negative. We approach NAPLAN as a good opportunity for our students to show off what they know and can do. We use the information gained from NAPLAN to look at how we can support each individual learner as well as looking at how our group of students have gone so that we can improve how the curriculum is delivered and allow more time for areas that students are struggling in.
NAPLAN is assessed in 4 areas – on Tuesday there is Language Conventions (spelling and grammar) and Writing; on Wednesday there is Reading; and on Thursday there is Numeracy. On Friday and in the afternoons there will be catch up testing if a student has missed an assessment. The Northern Territory continues this year with paper based testing; most other states have moved to online tests which we anticipate we will do next year if the testing platform works well.
NAPLAN is not really a test that students can study for as it aims to assess students' overall progress in literacy and numeracy. The best preparation is students engaging with and challenging themselves with their learning over the two years since there last NAPLAN assessment. There are however some important things that students and families can do. Top of the list is getting a good night's sleep each night leading up to and during the assessments. Following this is making sure students get a good feed each morning. School will also provide students with the opportunity to have some breakfast in case they missed it at home. Lastly, it's important that we talk about the assessments in a positive way and encourage students to put their best foot forward.
We want all of our students to participate in each assessment. To support positive participation and engagement we will raffle off four $50 vouchers after the tests are concluded. Students need to complete each of the assessments to go into the draw for the vouchers.
After NAPLAN there are a number of important school events happening. Each year level as well as Clontarf and Girls Academy have camps planned. The Year 7 camp has been finalised but it is still possible for forms and payment to come back for the Year 8 and 9 camps. The Year 8 camp paperwork has gone home with students today and students can pick up extra copies from there homegroup teacher or the Front Office.
We also have a Staff Learning day coming up on Monday 4th June. There is no school for students on this day. As improving students achievement in writing is a focus this year, most of the day will be focusing on the teaching of writing.
In PE at the moment students are learning and practicing their athletics skills in preparation for our first carnival of the year. Our Athletics Carnival will be held at the Rhonda Dianello oval on Friday 8th June. Please put this in your diary as it would be great to have as many families join us as possible.
We have made some changes in our leadership structure at the school recently. In Term 1, Ms Kristi Beynon, one of our Assistant Principals, was the Team Leader of both Year 8 and Year 9. To allow greater support to students, Mr Dominic Fecteau has taken over the responsibility for the Year 8 Team and students and Ms Beynon keeps the Year 9 team and students. Ms Beynon also works with students across the school for more significant matters.
Warm regards,
Paul van Holsteyn
Principal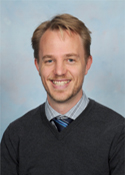 Mr Paul Van Holsteyn
Notifications
Wet 'n' Wild Family Fun Day
NDIS Preplanning Forum
School tour for prospective students
We have a school tour coming up for families thinking about joining the school in 2019. The tour will be at 8.30 on Thursday 31st May. Please invite any families that have students in Year 6 or at other schools.
School Updates
NAPLAN Schedule
Student Leadership
At the end of last term we selected our Year 7 Student Representative Council members and announced them at our first assembly of the year.
Congratulations to the following students who have joined out Student Leadership program:
Jamilee Ashenden
James Gregurke
Jack Knight
Ahnika Lennie
Latoya Miller-Martin
Daniel Peace
Honey Pearson
Chloe Rankins
Ariki Robertson
Ollie Turner
Lance White
Facebook
Keep up to date with all our news and updates
Head on over to 'like' our Facebook page to keep in touch with school news, highlights and achievements of our wonderful students. We encourage people to like and share our posts.
Please read the terms of engagement before posting comments.
https://www.facebook.com/CentMS/