3 November 2017
Newsletter Articles
Important dates
30th October – 3rd November – Year 9 Camp
7th November – School Social
8th November – Girls Academy Presentation Night
17th November – Swimming Carnival
20 – 24th of November – Year 9 VET
30th November – Presentation Night
From the Principal
Dear families
Inconceivably it is already November!
Its been a great two weeks with both our Year 8 and Year 9 groups heading out on camp. Last week the Year 8 students travelled to Ross River for a hot but very rewarding and fun time together. This week our Year 9 students are visiting Uluru, Kata Tjuta and Watarrka. We are very fortunate to have these incredible and world-famous locations in our back yard. For many of our students they were visiting them for the first time. While that concludes our whole year level camp program, we still have two significant camps coming up. In Week 9 Polly Farmer is taking a group of students to Melbourne for the week and Clontarf is taking a group of students to Adelaide. Students need to demonstrated commitment to their learning, our values and the programs involved to be able to attend these camps.
Over the last few weeks our students have also completed PAT testing in reading and numeracy. At the conclusion of the testing students conferenced with their teacher, looking at their Term 1 result, their Term 4 result and the growth in their learning that they had achieved over the year. This was a powerful opportunity for our students to understand where they are at in their learning and to consider next learning goals.
Last week we celebrated World Teachers' Day. This is a really important event in which we acknowledge the dedication and expertise of all of the educators and staff that make learning happen at CMS. On this day the Teacher Excellence Award Winners for the Northern Territory were announced and I am delighted to inform you that Ms Laryssa Montgomery was recognised as the regional Secondary Teacher of the Year. This is a huge and deserved accolade – congratulations Laryssa.
Another celebration coming up is our Presentation Night. This is one big celebration of the achievements of our students – please join us for this event. Presentation Night starts at 6pm on Thursday 30th November at the Convention Centre.
Next week we have our Scary Social which is being run by our Student Leadership Group and supervised by staff. This is from 6.30-9.00pm on Thursday 9th November. Entry is $5 is students purchase a ticket at recess next week or $7 if they buy a ticket at the door. Entry includes a sausage and a drink. Only CMS students can attend and if students commit a 'major' behaviour infraction prior to the social they will not be able to attend.
Our Swimming Carnival is also coming up – in two weeks on Friday 17th November. This is the culmination of the school's swimming program which has been occurring in PE classes since the beginning of the term. Please make sure your child returns their consent form as they will not be able to attend the event without the form completed and signed by you.
The end of Term 4 can be a bit of a difficult time in terms of motivation for students as the weather warms up and the Summer holiday approaches. I want to let you know that we maintain the same expectations for students right up to the end of the year and we will continue to make the most of every learning opportunity. Some students at the moment seem to think that they can relax in their application to their learning or behaviour standards; I can ensure you that we will continue to push students in their learning and address any behavioural concerns and appreciate your support with this.
Warm regards
Paul van Holsteyn
Principal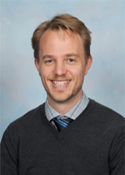 Mr Paul Van Holsteyn
Meningococcal ACYW vaccine program to be expanded
FREE Vaccinations at CMS on Tuesday 21st November
As you will know, there have been outbreaks of meningococcal disease in Central Australia recently.
Meningococcal disease is an uncommon but very serious disease. It is treatable with antibiotics but the infection can progress very quickly. It is important for people to be aware of the symptoms and to seek medical advice early for either themselves or children in their care if they have any concerns.
Symptoms may include fever, headache, neck stiffness, an aversion to bright lights, a rash and joint pain. Those affected may also have vomiting and diarrhoea, be difficult to wake up and babies may refuse food and drink and have a high pitched cry. People who have these symptoms should urgently seek medical advice.
The government has decided to roll out a free vaccination program for meningococcal to all young people in Central Australia aged 1 to 18. The vaccination will be the meningococcal quadrivalent (ACWY) vaccination.
Students will be vaccinated at school on Tuesday 21st November. Consent forms for your child to be vaccinated will be coming home shortly. Please sign and return this form quickly. If your child has already been vaccinated at Congress or another clinic, they will not be vaccinated at school.
Term 4 Assessment Schedules
Assessment schedules for all year levels are now available to download from our website and newsletter. Please familiarise yourself with what is coming up in each subject area. If you have any questions or concerns please contact the year level coordinator.
Swimming Carnival
Friday 17th November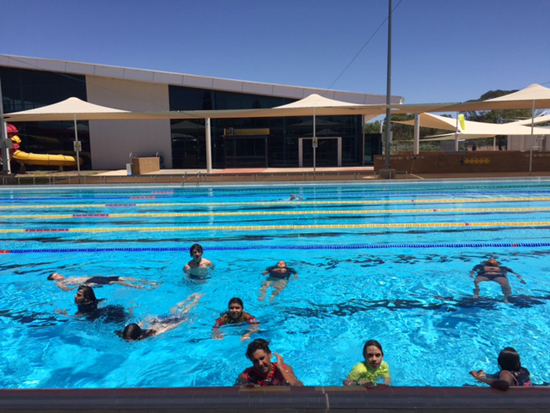 CMS is holding our annual Swimming carnival at the town pool on Friday 17th November.
Consent forms have been sent home for this event. Please sign and ensure your child returns the form ASAP so that they can participate in the day.
The day will start at school as normal – all students need to come to school and NO students can be dropped off at the pool. Teachers will mark the rolls at school and then all students will walk to the pool from CMS.
All students attending the day will be given a band according to their swimming ability. During the swimming program, students have been assessed against the swimming proficiency assessment to establish whether they can swim. Students will be issued with a coloured band indicating their proficiency. If students have not completed the proficiency assessment, they will not be permitted to enter the water.
Students are welcome to bring their own food to the carnival and the SRC will also operating a BBQ for students who wish to purchase food and drink.
Once students are at the carnival no one will be able to leave unless they have a parent / carer collect them. At the completion of the day all students will walk back to school to be dismissed from school at 3:00pm.
The Swimming Carnival is a normal school day, and your child's attendance is compulsory. These days provide a fantastic opportunity for students and staff to relate to each other on different levels and often build more successful relationships with each other. If students do not return the consent form then they will required to attend structured classes at CMS on this day. Parents / carers are also more than welcome to come along and support the school and your children.
Please ensure your child returns the signed consent form to their homegroup teacher by Friday 10th November.
Year 8 Camp
Last week 40 students from Year 8 went on camp to Ross River. The 3 days were filled with many different activities, including a walk at Trephina Gorge, orienteering, swimming and team building games. The students had a fantastic time and coped very well with the hot and dusty conditions. Thanks to all the staff for taking the students out and making the camp possible.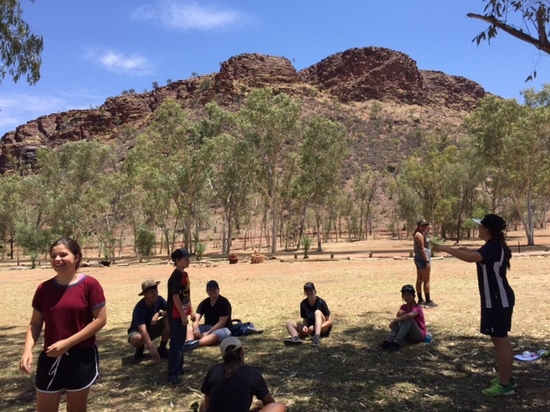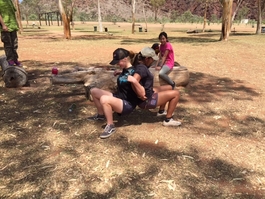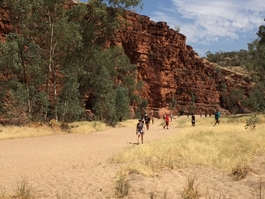 World Teachers Day
Laryssa Montgomery Wins Secondary Teacher of the Year!
Congratulations to CMS teacher Laryssa Montgomery. Currently teaching in Year 7 Laryssa has been with us for 2 years and has had an amazing impact on our students. The Teaching in the Territory Excellence Awards recognise the contribution of government school teachers, principals and support staff to quality education.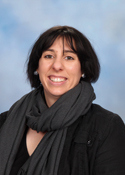 Laryssa Montgomery
Secondary Teacher of the Year
School Social
Thursday 9th November, 6:30-9pm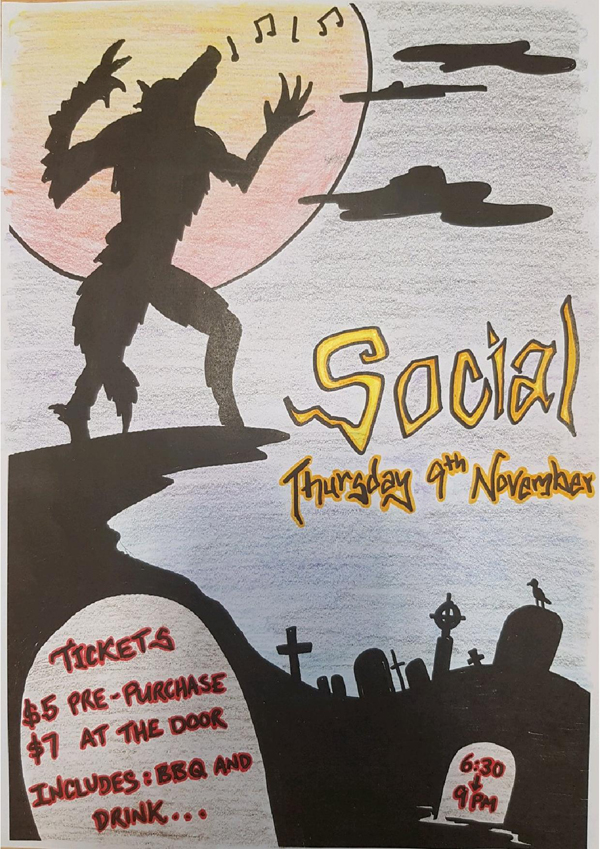 Our student leadership team have organised a social for Thursday 9th of November from 6:30-9pm. The theme is 'Halloween', costumes encouraged!
Tickets are $5 pre-purchased or $7 on the door. Food and drinks will be available to purchase during the event, all funds raised will go towards future events run by the Student Representative Council.
We look forward to seeing everyone there!
Enrolments for 2018
Now Open
CMS is currently processing enrolments for 2018, if you have a family member or friend aiming to attend in 2018, please see our office staff to obtain the necessary paperwork.
Year 7 Orientation Day
24th November, 9am-3pm
Orientation Day is a wonderful opportunity for our future Year 7 students to familiarise themselves with the day to day running of a middle School. For further information regarding Orientation Day please contact our office or your current primary school.
Overdue Library Books
Students are reminded that all overdue library books must be returned to CMS library as soon as possible. If returned books cannot be located families will be sent an invoice for replacement.
If you have any questions or concerns please contact the front office.
Facebook
Keep up to date with all our news and updates
Head on over to 'like' it to keep in touch with school news, highlights and achievements of our wonderful students. We encourage people to like and share our posts.
Please read the terms of engagement before posting comments.
https://www.facebook.com/CentMS/
Some reminders
We need your support to ensure the school day runs smoothly:
All students have to be in full school uniform every day. This includes a CMS jumper. Students will be required to remove non-school jumpers. Students can wear a plain white or navy long sleave top under their school shirt
School starts at 8.30.
Students need to have books, pens and pencils to be prepared for learning. A stationery pack is available from Student Access.
Students are not to have mobile phones between 8.30 and 3.00. Students can drop them off at the office or keep them switched off on their person during the day. Please do not call or text your child during the day. If you need to urgently contact your child, please call the office.
Soft drinks and energy drinks are not appropriate drinks for at school. These will be removed from students.
Healthy drinks and food are available for purchase from the canteen on a daily basis.
Community Notice Board